Whack Job: This Made-in-Japan Mystery Guitar Reveals a World of Uncommon Tones
Sold under a variety of brand names, this guitar looks sweet and sounds cool.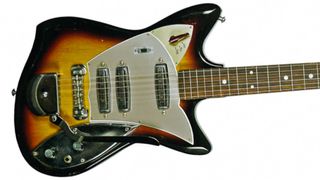 (Image credit: Future / May Yam)
Here's a weirdo you don't see too often. It's essentially a no-namer made in Japan from 1964 to 1966 by Zenon. These are most often seen under the Victoria nameplate, which was most likely a marque an American distributor slapped on it, although some examples carry the name Zenon or, more rarely, Zimgar on the headstock. Regardless of the branding, this axe is very cool and sought-after.
Weirdo Factor
The body is a cross between the off-center V found on the lower bouts of many 1960s Italian guitars (as well as on the über-rare '60s Fender Bass V) and the upper-bout "tulip" shape of early Rickenbackers.
But what grabs most collectors is the multilayered and multicolored pickguard layout, consisting of a triangular brass plate under the red pickup selector knob, a chrome plate under the black volume and tone knobs, and a gun-metal grey piece onto which the pickups are mounted. Together, they create what looks like a trio of waves.
Playability And Sound
For an obscure 1960s guitar, it's pretty good. The 20-fret neck has a full vintage thickness, but it's certainly not what we often refer to as "half a baseball bat." The frets are thin and low, which is great for soloing, but since the fingerboard lacks curvature as you go up, it's not friendly for chording. But that's a small price to pay for the interesting tones on tap.
The three single-coil pickups here are rarely seen on any other mid-'60s Japanese guitar. They have a P-90–like sparkle, but when the bottom two are both on, they exhibit a nice Fender-like phasiness. The neck pickup is brighter than you might expect, but a global toggle switch lets you choose between a setting for Rhythm and one for Solo that rolls off the high end for a rather pleasing bassiness.
Used with distortion, the Zenon doesn't howl or squeal uncontrollably the way some of these old guitars do, but the pickups are microphonic in a nice way. The various metal pieces, including the pickup rings and covers, and the plates on the top, add a little metallic resonance to the attack.
The six-inline tuners are open but functional, and the trem bar on my unit – a nice repro piece made by EZ-PZ, who also made the replica Zenon nameplate – works nicely after Ronni at Dinette added a new spring and modified a cover from an old Teisco unit.
Due to its lack of string tension, the Zenon can sound plinky, though later models have a towel-rack string retainer that undoubtedly corrects this. And despite the "Steel Reinforced Neck" badge at the base of the headstock, this guitar has no truss rod, so if you're buying one, give it a good look before you hand over your cash.
Value
New, the Zenon sold for $50 to $100. I paid about $200 for mine, but it was missing a couple of pieces. An example in good shape, with all its parts, could go for up to $1,000.
Why It Rules
It looks sweet and sounds cool, plus it's light and fun to play. You might have to wrestle with it, as Annie Clark and Jack White do with their weirdoes, but as the saying goes, "It ain't art if you ain't suffering!"
Thanks to Mike at EZ-PZ and Ronni at Dinette.
All the latest guitar news, interviews, lessons, reviews, deals and more, direct to your inbox!