Found a Box of Spare Guitar Parts? Dinette Can Turn Them Into Something Equally Weird and Cool
As a baritone guitar, this Dinette DIY Franken-Bari can take your tone to more interesting places than a real Vox Teardrop.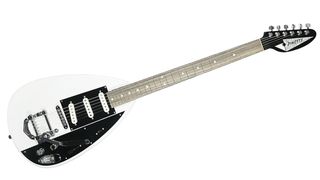 (Image credit: Future / May Yam)
I've always loved Vox guitars, no matter what country or decade they're from. I'm sure it's because their freaky body designs and easily identifiable sound hearken to the groovy, psychedelic '60s. In fact, some of my favorite guitars in my collection are made by Vox.
But it occurred to me recently that, even with all the different variations it has offered over the years – including solid- and hollowbody models, guitars with organ components or drum machines, and four-, six-, nine, and 12-string variants – Vox never made a baritone model. So while cleaning recently, I unearthed some extra forgotten components.
I dropped off a box of parts for my friend at Dinette to assemble for me, and behold: It's the 2020 Teardrop Franken-Bari!
Weirdo Factor
The teardrop shape has been used for centuries in the making of lutes, balalaikas, and mandolins, among other stringed instruments, but I still find it weird to see it used in the construction of an electric guitar. Weirder still is the fact that this is a baritone guitar.
Playability & Sound
Partscasters don't always add up to great guitars, but you never know until you slap it all together. Mine started with an older made-in-Japan Allparts baritone neck that features 24 frets on a beautiful slab of rosewood. As for the body, it's a mystery, though it might be a 1960s Kapa.
At first I tried using a trio of Vox pickups, but they were too dark sounding (perhaps that's why Vox never offered a baritone?), so I switched to Alnico Strat pickups. While the resulting tone wasn't very Vox-like, they did sound great. And come to think of it, Fender didn't offer a baritone guitar until somewhat recently, so that's a unique angle to this build as well.
While a standard five-way selector provides for five distinct sounds, this guitar features a phase-reverse toggle that affects the second and fourth positions, for a total of seven different pickup settings! The hardware consists of new locking Fender tuners and a newer Eko Bigsby-esque vibrato to use along with a Gotoh Tune-o-matic–style bridge.
As you might expect of a baritone, this guitar sounds rich and full, but it gets decidedly Stratty with the phase switch engaged. It's a really cool thin sound, but with the somewhat strange low-pitched voicings that only a baritone can offer.
Interestingly, with distortion, I couldn't get the guitar to speak the way that, say, a modern seven-string guitar can, but with a bit of overdrive, it can be used as a pretty aggressive rhythm instrument.
But where the magic really happens is with a clean amp setting, where you can really hear the subtleties in the seven different pickup settings. If you've never experimented with a baritone guitar, I highly encourage you to give it a try. The sounds are both wonderfully unique and chimey, but the Strat pickups deliver a pleasant familiarity.
Value?
Maybe six to eight hundred dollars in parts and labor. The satisfaction that comes from building your own baritone guitar? Priceless.
Why It Rules
Anyone can make a guitar from aftermarket parts, and many video tutorials will explain the particulars of pickup and bridge placement, neck angle, and so on. Or, if you don't want to do the assembly, just ask your local luthier.
Thanks to Dinette for the build and Synthia Petroka for the zebra-print comfort pad.
All the latest guitar news, interviews, lessons, reviews, deals and more, direct to your inbox!