Meet the 1967 Domino Californian – a Vox Phantom Doppelgänger at a Quarter of the Price
A bona-fide oddity with a groovy set of dials and switches, garage rockers will fall hard for this Domino.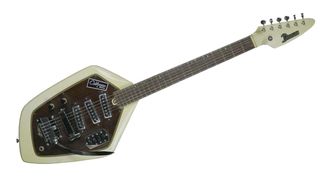 (Image credit: Future / May Yam)
As a kid playing in garage bands in the '60s, I lusted over the smorgasbord of electric guitars that became available in that decade. The more garish their shapes and features, the better.
The Vox Phantom, with its odd five-sided body, wasn't popular with a lot of rock stars of the day, but it made a deep impression on me and the guitar world at large. Teisco, Silvertone, Liban, Penncrest, Guyatone, and many others created their own copies of it.
The Domino Californian shown here is just such an example, made by Kawai of Japan for the Maurice Lipsky Music Company of New York City, which also sold a copy of the Vox V222 Mark VI Teardrop.
The Vox models were an odd choice to replicate, given that few big-name artists other than the Rolling Stones' Brian Jones and Bill Wyman played them at the time. Lipsky's Domino guitars were sold throughout North America for a fraction of what the originals commanded.
Today, however, these odd-bodied guitars have become extremely popular, and, not surprisingly, prices on the vintage market have risen to reflect that.
Weirdo Factor
The unusual shape recalls Salvador Dali's melting clocks. That aside, the Californian is actually quite nice, with all of the appointments of the day.
Playability & Sound
This Californian has low action and 22 skinny frets on a rosewood fingerboard, mated to a very narrow maple neck whose dimensions and feel are almost like a cross between a Fender Mustang and a Rickenbacker 325C.
Each of the three single-coil pickups has an on/off switch, and there's a tone bypass switch that provides a bit of a boost for lead/rhythm options. The two very groovy "ice cream cone" knobs are for global volume and tone. The tremolo unit works very nicely. It has about a half-step of pitch drop, and comes back in tune pretty darn well.
Look closely and you'll notice a chrome rocker lever attached to the bridge that brings up a foam-rubber mute beneath the strings. I suspect the foam on mine has hardened over the past 50-plus years, as it not only performs the equivalent of a heavy palm mute but also raises the pitch about a half step. Eat your heart out, Steinberger TransTrem!
The Californian sounds like most of the Teisco/Kawais of the day: raw and ready for garage rock! Its clean tone varies little from switch to switch, but throw on a bit of overdrive and it shows its attitude with a snarky midrange attack unique to this type of Japanese pickup.
Value
The Domino Californian retailed for just $75 – four times less than a Vox – in the late 1960s. Today, it commands up to $1,200, which is close to the neighborhood of what you'd pay for the real deal.
Why It Rules
Apparently, Domino thought the Californian moniker would give the model some cred with the L.A./San Fran crowd, something that this Californian appreciates. Beyond that, this is a solid, far-out and groovy guitar that plays nice, is quite light (just six pounds), and has a wonderful look and sound.
Thanks to GP reader Jeff Byrd, who sold me this guitar at a very reasonable price. My appreciation as well to Paul Connet for the great setup and for bringing the finish and chrome back to life.
All the latest guitar news, interviews, lessons, reviews, deals and more, direct to your inbox!