This 1964 Greenburst "Jetstar" M.I.J. Mongrel Mash-up Is Loud and Ready to Rock
The pitbull nature of its look makes you want to smack it around like Jack White or Dan Auerbach might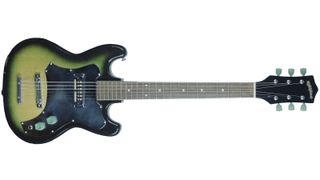 (Image credit: May Yam)
Over the years, the Jetstar name has appeared on guitars branded by Guild, Galanti and DeArmond. This guitar's nameplate came from a piece of vintage luggage. I just can't get behind an electric guitar that doesn't have a headstock logo, and neither can my buddy Ardy, who built this cool green mash-up.
The guitar pictured here was most definitely made in Japan, but just where and by whom is hard to say. Using Frank Meyers' wonderfully comprehensive History of Japanese Electric Guitars (Centerstream), I determined that the body, neck and bridge could be from FujiGen Gakki, while the gold-foil pickup looks to be made by Teisco and the pickguard could be by Sakai.
The Kluson-style tuners are mint-green aftermarkets, and the green knobs are from a discarded '60s Airline record player. But determining the branding is tricky. In the mid '60s, Japan's 50 or so independent guitar plants combined to churn out some 20,000 guitars a month.
Understandably, there was a lot of component cross-pollination and a couple dozen different brand names, depending on who was importing what and to where.
Of course, we all know of Teisco, but there are many guitars that look vaguely like this one with nameplates by Decca, Kent, Demian, Zenon, Knox and Sakai, to name a few.
Weirdo Factor
What's weird is that I'm writing about a guitar that looks to be a plain, stripped-down starter model with just enough electronics on it to qualify as electric. But what's weird about the guitar, or at least anomalous, is the headstock. None of the aforementioned guitars had the three-plus-three design shown here, but rather the six-on-a-side format.
Incidentally, the original headstock made the guitar look top heavy, so Ardy reshaped it to the more aesthetically pleasing Epiphone Wilshire-esque shape it has today.
Playability & Sound
The C-shaped maple neck is wide and chunky and fills my entire palm. Perhaps it's so substantial because it has no truss rod, but the feel is more like a classical acoustic guitar in width and a Guild 12-string in depth.
To make matters more challenging, the rosewood fingerboard is flat from the nut to the 21st fret. However, something almost visceral takes place when you pick up this rather heavy, eight-pound electric guitar.
The weight, the fat neck and the pitbull nature of its look makes you want to smack it around like Jack White or Dan Auerbach might. And to its credit, this guitar just takes it.
The Teisco pickup has an unbelievably high output. I compared it to my favorite Stratocaster using the same amp settings, and the Fender sounded like a banjo.
Ardy shimmed the neck for more pull on the strings, reshaped and/or reglued many of the frets, and proceeded to set it up beautifully.
They also changed out the tone cap to a .01uf (versus the more common .022uf). While it won't go full bass, it does produce at least three distinct and usable rhythm sounds. Just something to consider if you're facing a similar restoration mod.
Value
This guitar retailed for about 35 bucks in 1964. You can find it today for $150 to $350, but you may spend just as much getting one into good playing condition.
Why It Rules
It looks unassuming, but it wants to rock. It's been set up to play well and to be played aggressively.
Thanks to Ardy for another cool build, Frank Meyers for the tech info, and omnipresent YouTuber Mike Dugan for proving that these castaways have musical merit.
Got a whack job? Feel free to get in touch with me at rtcarleton@gmail.com. Who knows? Maybe I'll write about it.
All the latest guitar news, interviews, lessons, reviews, deals and more, direct to your inbox!