Santa Cruz Guitar's Happy Traum Signature Model HT/13 is a Fingerpicker's Dream Machine
The folk veteran's guitar "goes far beyond wood, strings, frets and bracing."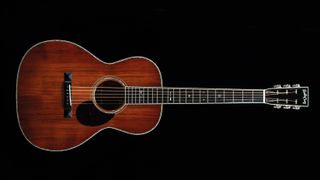 (Image credit: Santa Cruz Guitar Company)
Santa Cruz rarely releases a new signature model, so it's newsworthy when the coastal California handcrafters led by acoustic captain Richard Hoover herald a new crew member. The last one was designed in coordination with "Catfish" Keith about a half decade ago, and this article about choosing an acoustic blues box references his Catfish Special.
The scarcity of new models stems from Santa Cruz's modern status as primarily a custom shop, encouraging players to put their own stamp on a particular design platform and essentially create a signature model in each instance.
Happy Traum did just that using the H/13 base model to create his HT/13. Considering Traum's status as a legendary folk artist and educator (he was a Guitar Player columnist as well), it makes sense that Santa Cruz would choose to make his model available to the masses.
Traum is as core to folk guitar as they come. He was integral to the seminal New York scene, from Greenwich Village to Woodstock, and has played with the likes of Bob Dylan, Pete Seeger and John Sebastian.
He had a long, successful duo with his late brother, Artie Traum, and continues to dazzle as a solo artist. As the founder of Homespun Music Instruction, Traum was one of the first teachers whose work was widely distributed in audio and visual formats.
Back in the print-only era, he was a prolific educational author who played an influential part in Hoover's musical development. Long before founding the 45-year-old Santa Cruz Guitar Company, Hoover discovered Traum's book Fingerpicking Styles for Guitar, which helped set him on his path as a player and world-renowned acoustic luthier.
Hoover eventually returned the favor, working with Traum to create an H/13 with cocobolo back and sides and an Adirondack spruce top, followed by an all-mahogany OM with wood bindings, abalone appointments and custom inlay. This third collaboration between the two luminaries represents the story coming full circle. The Traum Signature HT/13 combines aspects from the previous pair, plus entirely new elements in a guitar that's chock full of chime and charm.
The H/13 platform is a uniquely popular Santa Cruz offering in the first place. It's inspired by vintage Nick Lucas-model Gibsons and, according to Traum, was further modified by Hoover and Paul Hostetter, who was the inspiration for the Santa Cruz model and its H designation. It's slightly smaller and deeper than an OM, with a neck that joins at the 13th fret rather than the 12th or 14th like pretty much any other acoustic. So it's a bit different right off the bat.
Traum's choice of a salvaged old-growth redwood top set upon genuine Honduras mahogany back and sides is an uncommon combination, making his signature model more distinct, even before being bound in ivoroid and laced with fabulous abalone appointments, including the rosette, purfling, 42-style fretboard inlays and script signature at the 18th fret.
As unique as it is, the overall aesthetic is traditionally timeless, classy and sophisticated. The ravishing redwood radiates forth through a fine finish, inviting a deeper delve into the gorgeous old-growth grains. Evidence of meticulous craftsmanship abounds and can be found in the clearly hand-buffed sunburst top as well as the intricate finish work inside the base of the headstock slots where a detailed gaze reveals the beautiful contrast between the rich reddish mahogany neck and the dark ebony headstock overlay.
Lifted from its case, the HT/13 seems impossibly lightweight. Give it a strum, and the whole guitar resonates holistically, with exceptional volume and ever-long sustain. Its relatively small body size makes it a natural lap dog, and its extended depth invites a slight turn upwards.
It's an incredibly immersive experience to sense the HT/13's body vibrating against one's own, feeling very much alive! As Traum notes, "When a dear friend whom you admire has put his heart and soul into building an instrument especially for you, it adds immeasurable to its quality, imbuing the guitar with a spirit that goes far beyond wood, strings, frets and bracing."
The HT/13 emanates the kind of pristine sound fingerpickers fantasize about. It's super articulate, with lightning-fast responsiveness, and rich with abundant overtones. Individual notes sing out loud and clear, and cluster together harmoniously into chords. This is exactly the opposite of a typical troubadour strummer, the kind made with warm and woolly rosewood back and sides that wants to be played with reckless abandon and masks small performance inaccuracies.
Well balanced from low to high, with a particularly sparkly top end, the HT/13 reveals every tiny nuance of a fingerpicked pattern. Play it with perfection and bask in the reflection. Don't expect it to cover for you, as it sonically magnifies everything you do to a Hubble telescope-like degree. Strings will readily ring out sympathetically when you play a note it "likes." Hit a harmonic note accurately and it sings out into the stratosphere with a seemingly endless decay trail. Heavenly.
The HT/13 is a smooth character with incredibly easy action. It may have a relatively small frame, but a full 25.375-inch scale length helps it produce plenty of pop. The very slightly V-shaped neck feels wonderful in hand. It's not too wide or thick, yet feels plenty full while allowing ample space for fretboard navigation and plucking precision.
Playing where the neck joins the body at the 13th fret takes a minute to get used to, but it ultimately felt more like a 12-fret with a little lagniappe rather than a 14-fret with one missing. Ditto for the effect on the tone. As Traum says, "It's hard to describe."
To our ears, it sounds more like a 12-fret guitar that gets an extra boost from the unique bridge positioning and bodacious body depth. Delicacy is the name of the game, as the dynamic response is off the charts. Go from a whisper to a scream in an instant by upping the attack, no electronics necessary.
The Santa Cruz Happy Traum Signature HT/13 is surely one of the most stunningly impressive acoustic guitars we've ever had the pleasure to encounter. It's an expensive guitar that truly looks, feels, plays and sounds like a million bucks. While it's probably too much of a good thing for a beginner, expert fingerpickers seeking a vehicle for ultimate expression will find the HT/13 is their dream machine.
Traum reports that he wasn't sure exactly how the guitar would sound until it arrived in the mail, and he was a tad anxious in that moment. Considering that he hasn't played anything else since then, and has already ordered another with Brazilian rosewood back and sides, it's safe to assume Happy is happy.
For more information visit santacruzguitar.com
All the latest guitar news, interviews, lessons, reviews, deals and more, direct to your inbox!
Jimmy Leslie has been Frets editor since 2016. See many Guitar Player- and Frets-related videos on his YouTube channel, and learn about his acoustic/electric rock group at spirithustler.com.