Acoustic Blues Musings, Part 1: How to Choose a Blues Box and the Strings to Make it Sing
Once the wood and wires are happening, there are some time-honored tricks that can help make playing acoustic blues easier.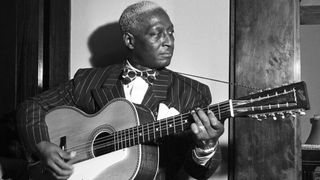 (Image credit: Stephen Deutch/Chicago History Museum/Getty Images)
Playing blues on an acoustic guitar is as natural as the sun in the sky. After all, that's how the thing got started.
In the modern era, some acoustics are built for blues and some aren't. An instrument that requires a little elbow grease is generally a good thing, and unless one seeks a contemporary sound, a vintage instrument or one designed along traditional lines adds an air of authenticity.
The choice of strings can make a significant difference in tone and playability. Here are some historical insights and musings on how to choose a blues box and the strings to make it sing.
Origins & Considerations
A blues acoustic doesn't have to be fancy unless you need a snappy guitar to play sophisticated licks. Consider "Catfish" Keith. He plays a dazzling signature Santa Cruz that helps him conjure tricky harmonics, and his Catfish Special is an upscale representation of guitars from the formative Great Depression era, when many cats played parlor guitars.
Martin 0 and Gibson L series models epitomize the style, the latter being favored by Keb' Mo'. With only 12-frets to the body, these guitars have their bridge further from the sound hole and closer to the center of the lower bout, giving the instrument a warm and powerful tone.
Having a shorter scale length and fewer frets also brings the frets closer together and results in less string tension. That means less distance for fingers to stretch, easier string bending and an overall slinkier feel.
These designs are still widely available, with Taylor a notable example of a manufacturer that embraces the 12-fret concept while adding modern touches, such as a cutaway.
Another school of bluesers prefers big 12-strings, often in lowered tunings. They include old-time players like Lead Belly, with his iconic Stella, and contemporary guitarists such as Leo Kottke, who recently reported that he had the chance to buy one of Lead Belly's Stellas but didn't because "it scared me."
Electric icon Jimi Hendrix hardly played acoustic in public, but in the most famous footage of him doing so he's playing a Zemaitis 12-string.
And of course, a resonator adds an air of legitimacy. Think of Taj Mahal playing a National Duolian on his classic albums such as The Natch'l Blues. These days he plays a Regal RC-56 Tricone Resophonic with a copper-plated brass body.
String Theories
Strings matter. Heavier gauges generally deliver more robust tones, but lighter strings are better suited to the treble-forward nature of the smaller guitars.
Some players leave old strings on as long as possible for the most authentic worn-in tone. As Luther Dickinson once noted, "Think about the situation of the old-time blues players. Those guys couldn't afford new strings."
According to Ben Harper, "The rumor and myth of the Lead Belly 12-string is that he used to get free piano strings from a piano refurbishing company. After they put on new ones, they'd give him the old ones. Those thick strings would bend the neck of his guitar if he didn't lower the tuning way down. That became the Lead Belly 12-string sound."
Nylon and gut strings have become the exception for American blues since steel strings became widely available in the 1920s.
The 80/20 bronze alloy introduced by D'Addario in the 1930s delivered strong highs and lows with reduced mids. It was succeeded by less corrosive phosphor-bronze strings, which D'Addario introduced in the 1970s. They remain ubiquitous for players of all styles, and are available standard or coated.
More recently, manufacturers have produced strings with alloys designed to let the sound of the wood speak. They include D'Addario's Nickel Bronze and Martin's Retro strings, made of nickel and copper.
It's worth auditioning a few string types to find the best sound and feel on a given acoustic. Once the wood and wires are happening, there are some time-honored tricks that can help make playing acoustic blues easier.
Buy the Definitive Lead Belly here.
Further reading...
All the latest guitar news, interviews, lessons, reviews, deals and more, direct to your inbox!
Jimmy Leslie has been Frets editor since 2016. See many Guitar Player- and Frets-related videos on his YouTube channel, and learn about his acoustic/electric rock group at spirithustler.com.