Master Fingerpicker Keb' Mo' Reveals the Craft Behind 'Oklahoma'
Last year's winner of the Grammy Award for Best Americana Album talks guitars.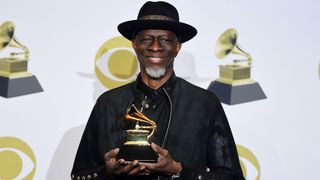 (Image credit: FREDERIC J. BROWN/AFP via Getty Images)
Keb' Mo' has been such a fixture on the acoustic roots scene for the past quarter century plus that it's easy to take him for granted. That would be a major mistake, however. The Grammy-winning master fingerpicker and slide stalwart is still challenging himself and listeners, both onstage and on record.
His 2019 release, Oklahoma (Concord), features inventive songcraft and interesting acoustic instrumentation, as well as important contributions from players like Robert Randolph, Taj Mahal and Rosanne Cash, and producer Colin Linden.
While Oklahoma would go on to win last year's Grammy Award for Best Americana Album the guitarist took his solo acoustic show on the road, giving him ample room to display his chops. As he reveals, when it comes to his shows, guitars and music, a great amount of technical and creative decision making is at work.
What design elements are most important to you on an acoustic guitar?
I like a smaller box with 12 frets to the body, and I prefer a wide fingerboard with enough string spacing to really get in between and do some fingerpicking. I like the sponginess in the way a 12-fret plays, and there's something about the anatomy, perhaps the location of the bridge in relation to the soundhole, that makes it sound sweeter and feel more resonant.
When I had a chance to work with Gibson on a signature model, I asked for a parlor-sized 12-fret because I wanted something I would actually play as my own main instrument on- and offstage. "The Way I" is a good example of its sound. Having 14 frets to the body can be convenient, but as Chet Atkins used to say, all the money is in the first few frets anyway. [laughs]
Didn't you also work with Martin on a limited-edition signature dreadnought with 14 frets to the body?
Yes, but that was back around 2003, when I was going for a bigger sound. I wound up combining the stylistic elements of a D-45 and D-18, and I chose Hawaiian koa for the back and sides, making it somewhat exotic. The Martin was my main guitar for a long time before I adopted the Gibson Bluesmaster as my primary flattop. I also use a Martin 00-18 quite a bit on gigs, in open tunings as well as standard tuning dropped down a whole step when I want a wooden-body sound for playing slide.
How about when you want a steel-body sound?
I mainly use a National Reso Rocket, which is a single-cone resonator that's based on a tri-cone design. The Reso Rocket is cool, because it delivers the resonance of a 12-fret guitar, and it's got a cutaway so you can slide up high on the neck. My other main resonator is a Republic guitar that I use to get that really nice cheap sound.
What kind of slide do you prefer?
I exclusively use the Mudslide by Moonshine Slides. I love the feel of the Mudslide because it's thick without being too heavy like some thick metal slides. I like the sound of a ceramic slide because it doesn't make any noise when you drag it across the strings. I use medium-gauge D'Addario EJ17 Phosphor Bronze strings for my slide guitars, including the Martin, and the light EJ16 set for fingerpicking on the Gibson.
What's your M.O. when it comes to finger picks?
I'm generally an either/or type of player. I use finger picks when I play steel guitar because I like the clankiness they bring, and I like the warm sound of fingers on a wooden guitar. But I'm experimenting with using just a thumb pick on the wooden guitars.
Did you use any other acoustic guitars on Oklahoma?
I used an acoustic guitar that was handmade by Will Hirsch out of Northern California to play the title track in DADGAD tuning. I also played a Bedell nylon-string on that song. Robert Randolph played lap steel over the intro vamp and on the outro.
How did all the elements on the title track come together?
I wrote the music and started singing "Oklahoma" over the hook. It sounded right, but I'm not from there, and I like to be authentic. I eventually did a songwriting session with a lady I'd just met named Dara Tucker, and it turned out she was from Oklahoma. We finished the song together.
Buy Oklahoma by Keb' Mo' here.
All the latest guitar news, interviews, lessons, reviews, deals and more, direct to your inbox!
Jimmy Leslie has been Frets editor since 2016. See many Guitar Player- and Frets-related videos on his YouTube channel, and learn about his acoustic/electric rock group at spirithustler.com.