Acoustic Blues Musings, Part 5: Choosing Strings & Slides
Sonny Landreth, Leo Kottke and Roy Rogers share their expert tips on slide playing and explain why materials matter.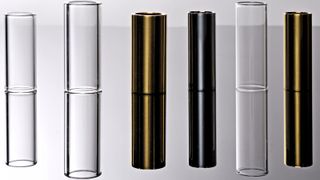 (Image credit: Future)
In our closing installment of Acoustic Blues Musings, we'll delve into how the tools of the trade inform three legendary slide stylists.
Roy Rogers explains why his robust string and slinky glass choices are perfect for his strain of Delta blues. Impeccable electric guitar slide whiz Sonny Landreth details his M.O. when switching to an acoustic. Finally, the incomparable Leo Kottke tells how his technical and tonal preferences led to his hallmark slide sound.
Rogers On Stringing Up Strong
Roy Rogers advises starting with thick strings. "A player should use heavier strings for playing slide," he told us, "because heavier strings deliver stronger tone, and tone is king.
"On my Martin 0-16NY, I use D'Addario's Silk and Steel set, except that I substitute heavier strings – a .013 and a .016 – for the first and second strings. I use a medium set of bronze strings on my 12-string Dobro, and I use heavy strings – .016 to .056 – on my National."
Slide Material Matters
It generally follows that a heavy slide would best handle heavy strings, but that all depends on your style, according to Rogers. "What slide you choose is really about comfort," he says. "Try a few, and then decide. Metal slides have more tonal bite.
"When I first started playing slide after seeing Muddy Waters perform, I used a short metal one like him. Now I prefer a shorter glass slide – a Dunlop 212 – because a lighter slide works well for the fast, horn-like riffs I often play, and a larger slide would be more cumbersome."
Sonny Says
When electric guitar ace Sonny Landreth showed his acoustic side playing resonators on Recorded Live in Lafayette, the glass master made the opposite switch.
"I used a metal slide that I hacked off from a motorcycle handlebar when I was a teenager," he explained. "It's longer and weighs more than glass, so I was able to get a bigger, smoother sound and wider vibrato. It helps me produce more energy and punch playing live.
"That's one of the adjustments I've been making because I have such a light touch on the electric guitar. The metal bar aids me in the challenge of approaching the acoustic, especially on the top strings.
"Even more to the point is trying to incorporate my fingernails to get more plucking power, rather than the flesh of my fingertips."
Learn from Leo
A big bronze bugger like the original Leo Kottke Acousta-Glide signature slide is excellent for achieving a robust acoustic tone that's a bit mellower than steel, although such a beast can be a bit unwieldy, requiring broader strokes. That slows your vibrato roll, which sounds more sophisticated than a quick quiver.
Once you get a feel for it, a big brass slide can help hold down a full barre across all the strings. Kottke explains, "I don't spend much time staying on one side of the neck or the other. I needed a slide that would allow me to do that without fuzzing out or lisping or, you know, all of that shit that can happen."
Slide On
In this five-part series of articles, we've covered everything from choosing gear to unlocking open tunings on seminal songs, as well as hip tricks and pro tips. Hopefully you've found inspiration to delve into the swampy waters of authentic acoustic blues. Its rich heritage is now at your fingertips.
An ocean of historic blues videos that were nearly impossible to track down in the not so distant past are now easy to find and fun to explore endlessly on YouTube. Enjoy mastering the vernacular and good luck amalgamating your unique mojo fingerprint.
Further reading...
All the latest guitar news, interviews, lessons, reviews, deals and more, direct to your inbox!
Jimmy Leslie has been Frets editor since 2016. See many Guitar Player- and Frets-related videos on his YouTube channel, and learn about his acoustic/electric rock group at spirithustler.com.