Acoustic Blues Musings, Part 4: Slide Song Suggestions
Essential listening for blues players with insights from Ben Harper and Roy Rogers.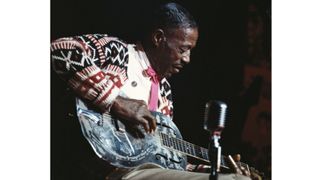 (Image credit: David Redfern/Redferns)
Their amped-up electrified cousins may garner the lion's share of modern limelight, but acoustic guitars and slides have gone hand in hand throughout the history of blues guitar, and they always will.
As we researched the last instalment of Acoustic Blues Musings on open roots tunings with the knowledge that this one would focus on slide, it was a challenge to find prime historic examples where the artist didn't incorporate at least some bottleneck.
Here are a few that do, and a few more contemporary ones too…
Slide Blues Tunes
Back in 2018, Ben Harper told us, "Blind Willie Johnson is the mojo hand for steel guitar. Start with 'Dark Was the Night, Cold Was the Ground,' tuned to open D. Low to high, it goes D A D F# A D. You can also take that tuning up or down a step, and it's sometimes called Vestapol tuning."
A fine folk blues example of Vestapol E would be Brian Jones' slide on the Rolling Stones' "No Expectations." For a cool Keef example on resonator in the open C tuning we touched on (low to high C G C G C E), check out the Stones' dirge version of "You Gotta Move." John Butler Trio's "Betterman" is a good modern example on a 12-string (actually his 11-string Maton) guitar.
Open "Spanish" G (low to high, D G D G B D) is perhaps the most historic and common tuning used for songs like Robert Johnson's original recording (and Led Zeppelin's cover) of "Traveling Riverside Blues" (Johnson's is either capoed up a step and a half, or the recording is sped up).
As noted in the last instalment of Acoustic Blues Musings, Son House's "Death Letter Blues" is another seminal example. It also exemplifies the ripping sound of a resonator being played with a steel slide on the third finger, which leads to a deeper discussion.
Mojo Finger
Once in open tunings, the world of slide guitar is at one's fingertips. Which finger you use is up to you, and the same basic considerations that apply to electric guitar apply to acoustic guitar as well.
With that said, most teachers would advise a slinky pinkie if possible, because it leaves the other three free to work behind the slide. Roy Rogers agrees. "I prefer the little finger so I can fret chords more easily than using, say, the third finger," the Delta blues master says. "But, remember, there is no right way or wrong way. Players have to figure it out for themselves."
Since acoustic strings are heavier, there is obvious logic in using a thicker finger for more power, like Son House. Regardless of the digit, an acoustic produces far less sustain and significantly more string noise, so it's perhaps even more important to be laser-focused on the fret line, pluck clean and true with perhaps a slightly heavier pick or more fingernail than one might on an electric, and use plenty of vibrato to create frictional string energy, like rubbing two sticks together.
Some players, like ace Sonny Landreth, swap slides when switching from an electric to an acoustic guitar. Next time we'll delve deeper into how string and slide weights and materials factor into various approaches with more insights from Rogers, as well as hip tips from Landreth and the legendary Leo Kottke.
Further reading...
All the latest guitar news, interviews, lessons, reviews, deals and more, direct to your inbox!
Jimmy Leslie has been Frets editor since 2016. See many Guitar Player- and Frets-related videos on his YouTube channel, and learn about his acoustic/electric rock group at spirithustler.com.