"I Just Don't See Any Need for Pedals": Walter Trout Shows Us How He Gets All the Tones He Needs From His Vintage Mesa/Boogie Mark IV Amp
"My pedalboard right now is this carpet and my shoes," says the bluesman in the final episode of 'Pedalpocalypse'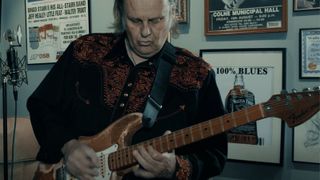 (Image credit: Future)
Pedalpocalypse – the popular show from Guitar Player, MusicRadar and Guitar World – returns for the final time.
Produced in L.A. by British guitarist Robin Davey and Growvision, this last instalment really is a stompbox apocalypse – as far as blues guitar veteran Walter Trout is concerned, anyway.
"I just don't see any need for pedals," says the Strat-wielding blues rocker with a nod to his trusty old Mesa/Boogie Mark IV tube amp. "I have this theory that if you get a kickass amplifier, why would you put it through a $100 pedal?"
In each episode of Pedalpocalypse, we asked guitar players, "If you could only take three pedals with you into lockdown, which ones would they be?"
"None," underscores Trout.
A true old school blues club performer, Trout used to goose the front end of his Fender Super Reverb with an Electro-Harmonix LPB-1 Linear Power Booster.
Introduced in late 1968, the LPB-1 plug-in device was Electro-Harmonix's debut product and is, strictly speaking, not a pedal.
Nowadays, the LPB-1 (opens in new tab) is available from EHX in pedal format, however.
"When I started playing in bars in the middle-to-late '60s, pedals didn't exist," Trout recalls. "At the time, I was playing through a Fender Super Reverb (which I still have out in my garage) and I wanted to get a little more out of it.
"At that time a pedal came out by Electro Harmonix called an LPB-1 (opens in new tab). It was just a gain boost and it plugged right into the input on your amp. It stuck out from the front of the amp – it was very elemental and kind of primitive – but I would plug that into the Super."
Trout discovered the joys of cascading gain in the 1980s during his John Mayall & the Bluesbreakers years.
"When I discovered Mesa/Boogies while I was with John Mayall, I realised that basically it's a Fender that's been very souped-up and modified and the overdrive is built into the amp."
So how does the guitarist manage to squeeze out such a broad range of tones from his amp?
"I control it all with the volume button," he tells us. "I have the amp set on Channel 3, which is the high-gain channel. I have the gain all the way up and I'm controlling the cleanliness and the whole thing with the volume on the guitar and I play all the time with my pinky wrapped around the volume button."
Order Walter Trout's most recent album, Ride, here (opens in new tab).
Visit the Walter Trout website (opens in new tab) for the latest news, tour dates and tickets.
All the latest guitar news, interviews, lessons, reviews, deals and more, direct to your inbox!
Content Director of Music @ Future plc
Scott is the Content Director of Music at Future plc, responsible for the editorial strategy for online and print brands like Guitar Player, Guitar World, Total Guitar, Louder, Classic Rock, Metal Hammer, Prog, Guitarist and more. He was Editor in Chief of Classic Rock for 10 years and Editor of Total Guitar for 4 years. Scott regularly appears on Classic Rock's podcast, The 20 Million Club (opens in new tab), and was the writer/researcher on 2017's Mick Ronson documentary Beside Bowie (opens in new tab).
Over the years Scott has interviewed players like Jimmy Page, Slash, Brian May, Poison ivy (the Cramps), Lemmy, Johnny Depp (Hollywood Vampires), Mark Knopfler, Robin Guthrie (Cocteau Twins), Will Sergeant (Echo & The Bunnymen), Robert Smith (The Cure), Robbie Robertson (The Band), Jonny Greenwood (Radiohead), Joe Bonamassa, Scotty Moore (Elvis Presley), J Mascis (Dinosaur Jr), Mick Jones and Paul Simonon (The Clash), Pete Shelley (Buzzcocks) and more.