Classic Gear: Fender Super Reverb
Favored by blues hounds and hard rockers alike, the Super Reverb was a fire-breathing wonder in its own right.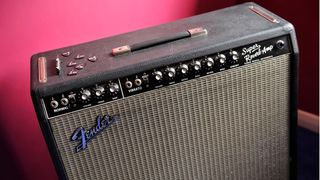 (Image credit: Future / Will Ireland)
Often viewed as a tweed Bassman with reverb and tremolo, the iconic blackface Fender Super Reverb combo is really a model entirely unto itself, embodying elements from the musical-equipment maker's best designs of the late '50s and early '60s.
Amplifier development was moving at breakneck speed at Fender in the early '60s. In 1960, the company concluded its run of the tweed 4x10 Bassman combo, one of the greatest rock and roll amps of all time.
Fender had already passed through its entirely new and short-lived line of brownface amps by late 1963 and early '64, when it launched a new range of what would become classic models. Among these, the 4x10 Super Reverb seemed to take on the mantle of the hallowed tweed Bassman. In fact, it was a different creation through and through.
The swift evolution toward the Super Reverb began with dramatic changes that took place throughout Fender's amp range from late 1959 through 1960.
To introduce its new series of amps, Fender brought out the 1x15 Vibrasonic in late '59 and 4x10 Concert in early '60. Both were covered in a light-brown vinyl-backed cloth called Tolex, and featured dark-brown control panels in a revolutionary new mounting position: with the chassis at the top of the cabinet and the panel facing frontward.
While the Concert model appeared to be stepping into the shoes of the tweed Bassman, which would be deleted at the end of that year, all brownface amps had considerably altered circuits, which gave them a different sonic signature. In addition, the Concert lacked the Bassman's tube rectifier, and its tubes ran on higher voltages, making it a somewhat stiffer- and punchier-sounding amp.
Meanwhile, the 2x10 tweed Super transmuted into the 2x10 brown Super of '61–'63 and embraced many of the circuit changes adopted throughout the range. Come late 1963, Fender was adding reverb to its core models, and the Super Reverb took on that lush effect, along with several other changes.
It retained the GZ34 tube rectifier of the previous 2x10 Super but stepped up to the large, detailed soundstage presented by the 4x10 speaker format, making it one of Fender's most articulate and room-filling combos in the 40-watt range.
Aside from the obvious inclusion of reverb and tremolo, many significant differences between the tweed Bassman of '58–'60 and the blackface Super Reverb of the mid '60s will be obvious, even to those unfamiliar with Fender's circuit topologies of the day.
These include the independent tone controls on the Super Reverb's two channels (with a middle control only on the Vibrato channel), its lack of a presence control and the additional bright switches on each channel. The latter pair of revisions provided a simpler and cheaper way to get more high end from the amp when desired – and it often was back in the day.
ESSENTIAL INGREDIENTS
• Dual channels with independent EQ and volume controls
• Tube-driven reverb and opto-cell tremolo
• Four 10-inch Oxford or CTS speakers
• Approx. 40 watts from two 6L6GC output tubes
• Four 7025/12AX7 preamp tubes and two 12AT7s (one for phase inverter)
In place of the tweed amps' 12AY7, the Super Reverb used a 7025 preamp tube (a more robust 12AX7) in the first gain stage of each channel, and it employed these tubes differently as well. Half of each of the first two preamp tubes provided the first gain stage for each channel, while the second half was used as a gain-makeup stage following that channel's tone controls.
And whereas the Bassman and other big tweed amps (as well as later Marshall and Vox amps) employed a cathode-follower tone stack, which used an entire preamp tube to drive the tone controls, the blackface amps sandwiched their tone controls between two more-traditional gain stages within the circuit, and that EQ stage comes before each channel's volume control, rather than after it as in the tweed amps.
The entire configuration plays a big part in the archetypal blackface sound. Clear, crisp and articulate, yet with very playable dynamics and an appealing breakup when distortion sets in, the blackface sonic template is defined by a slightly scooped (midrange-recessed) voicing, with firm lows and somewhat glassy, sparkling highs.
These characteristics not only make the Super Reverb great for twangy country or jangly West Coast guitar styles but also perfect for stinging blues and driving rock when cranked up, or even warm, rich jazz when reined in and EQ'd for a mellower voice.
The Super Reverb's detailed soundstage and dynamic, articulate transition from clean into overdrive when played hard has made it a favorite of many blues guitarists throughout the years.
Players like Muddy Waters, B.B. King, Mike Bloomfield, Robert Cray, Stevie Ray Vaughan, Derek Trucks and Joanne Shaw Taylor have plied their trade through the bold 4x10 beast. The amp has also proved surprisingly well suited to heavier rockers over the decades.
Wayne Kramer and Fred Sonic Smith of the MC5 delivered the cranked-to-the-max fury of their 1970 album Back in the USA through Super Reverbs, and Rush's Alex Lifeson often played his Gibson Les Paul and ES-335 through one.
Tom Verlaine and Richard Lloyd of Television threaded their extended guitar duels through Super Reverbs, and indie- and alt-rockers from Lee Ranaldo to Johnny Marr to Ira Kaplan have also used this great blackface combo at various times in their careers.
Like the rest of Fender's amp line, the Super Reverb transitioned to the new silverface styling in 1968, consisting of a silver control panel and – for one year only – an aluminum "drip edge" trim around the perimeter of the grille cloth. Initially, the amp's circuit itself would change very little, making early silverface amps virtually the sonic equivalent of late blackface models.
Gradually, however, the now CBS-owned Fender company introduced circuit and component changes aimed largely at improving efficiency and creating greater headroom. According to many players, some of these modifications proved detrimental to the amps' overall tone.
As a result, 1963–'67 models have earned vintage-classic status, inspiring the practice of converting later amps to blackface specifications. In 2001, Fender recognized this 4x10 combo's classic status by delivering the '65 Super Reverb Reissue, an appealing re-creation of the original amp.
Get the latest news, reviews and product advice straight to your inbox.
Dave Hunter is a writer and consulting editor for Guitar Player magazine. His prolific output as author includes Fender 75 Years (opens in new tab), The Guitar Amp Handbook (opens in new tab), The British Amp Invasion (opens in new tab), Ultimate Star Guitars (opens in new tab), Guitar Effects Pedals (opens in new tab), The Guitar Pickup Handbook (opens in new tab), The Fender Telecaster (opens in new tab) and several other titles. Hunter is a former editor of The Guitar Magazine (UK), and a contributor to Vintage Guitar, Premier Guitar, The Connoisseur and other publications. A contributing essayist to the United States Library of Congress National Recording Preservation Board's Permanent Archive, he lives in Kittery, ME, with his wife and their two children and fronts the bands A Different Engine and The Stereo Field.
Thank you for signing up to The Pick. You will receive a verification email shortly.
There was a problem. Please refresh the page and try again.