Five of George Harrison's Most Iconic Beatles-Era Guitars
From the Grestch Duo Jet used in the Beatles' earliest recordings to the late '60s prototype Fender Rosewood Telecaster, here are five of George Harrison's most celebrated guitars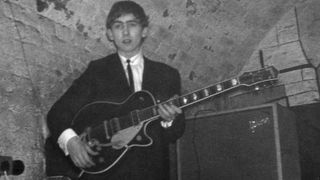 (Image credit: Mark and Colleen Hayward/Redferns)
This feature appeared in the the Spring 2012 issue of Guitar Aficionado.
George Harrison's guitars are as iconic and important as any instruments in the history of popular music. But for Dhani Harrison, they are also family heirlooms that have always been a fixture in his life and home.
George Harrison played many a classic guitar during the course of his career, popularizing some models so extensively that he is inextricably linked with them. In the Sixties, during his time with the Beatles, he helped make famous the Rickenbacker 360/12 electric 12-string, a rosewood version of the Fender Telecaster, and the Gibson J-160E acoustic-electric, among others, while his solo years saw him in possession of guitars by famed luthier Tony Zemaitis.
These instruments, and many others, have remained in (or were repatriated to) his private collection, but thanks to his son, Dhani.
When pressed to pick his favorite guitar in the collection, Harrison selects the 1968 Rosewood Telecaster that his father most notably played on the Beatles' rooftop performance of "Get Back," famously captured in the documentaries Let It Be and The Beatles: Get Back. "Other than the fact that it weighs seven times more than a normal Tele, it's so nice to play," he says.
1. 1961 Fender "Rocky" Stratocaster (Serial: 83840)
GUITAR BIO: In 1965, John Lennon and George Harrison bought matching Sonic Blue Stratocasters that cost £180.60. "We sent out our roadie, Mal Evans, and said, 'Go and get us two Strats.' And he came back with two of them, pale blue ones," Harrison recalled. "We used them on the album we were making at the time, which was Rubber Soul. I played it a lot on that album, most notably on the solo on 'Nowhere Man,' which John and I both played in unison."
"If I'd had my way," Harrison continued, "the Strat would have been my first guitar. I'd seen Buddy Holly's Strat…on The "Chirping" Crickets album cover, and tried to find one. But in Liverpool in those days, the only thing I could find resembling a Strat was a Futurama that had strings about a half an inch off the fingerboard."
Harrison's Strat underwent a trippy cosmetic makeover during the Sgt. Pepper's recording sessions. He painted the guitar in rainbow Day-Glo colors and dubbed it Rocky. George's psychedelic artwork inspired many guitarists, including Eric Clapton, to paint their own instruments.
On June 25, 1967, Harrison played his "Rocky" Strat during a televised performance of the Beatles' "All You Need Is Love" on a program titled Our World, the first live television event to be broadcast globally via satellite and seen by millions.
FEATURES AND MODIFICATIONS: Looking at the back of this guitar, one can see that Harrison's custom paint job does not cover most of the original Sonic Blue finish on the back. The neck, which is unusually fat for a guitar of this vintage, is made of highly figured bird's-eye maple. A faded dealer's sticker on the back of the headstock indicates that it came from Grimwoods, a music retailer with outlets in Maidstone and Whitstable, southeast of London.
APPEARS ON: "Nowhere Man" and "All You Need Is Love"
2. 1962 Gibson J-160E (Serial: 73161)
GUITAR BIO: In June 1962, Harrison and Lennon ordered a pair of matching Gibson J‑160E acoustic-electric guitars from Rushworth's Music House, one of the few shops in Liverpool where musicians could buy American-made instruments. The guitars had to be shipped from the United States, and according to Lennon's sales receipt, the J‑160E cost £161.05, approximately £2,050, or $2,850, today when adjusted for inflation.
The guitars were shipped to England during the summer of 1962, and George and John picked them up at Rushworth's Music on September 10. They put the instruments to use the following day, at EMI's Abbey Road Studio Two, to record the Beatles' first single, "Love Me Do" backed with "P.S. I Love You."
The two Beatles swapped guitars in 1963 for reasons unknown, and later that year Lennon's J-160E was stolen. Afterward, he and Harrison would often trade off using the remaining instrument, which has the unusual distinction of being the only guitar used on every Beatles album.
FEATURES AND MODIFICATIONS: The J-160E comes standard with a P-90 pickup installed between the sound hole and the end of its rosewood fingerboard. Harrison must not have been satisfied with its tonality, as he moved the pickup below the sound hole and nearer to the bridge in 1965 prior to the recording of Rubber Soul. The pickup was later returned to its original position, but the holes added by its displacement remain.
APPEARS ON: "Love Me Do," "P.S. I Love You," "Please Please Me," "And I Love Her," "Michelle," "Girl," "I'm Only Sleeping" and "Yellow Submarine"
3. 1968 Fender Rosewood Telecaster (Serial: 235594)
GUITAR BIO: In the latter half of the Sixties, Fender made plans to add a solid-rosewood Telecaster and Stratocaster to its line. To get maximum attention for its efforts, the company gave Harrison the Tele prototype. (A solid-rosewood Stratocaster, meant for Jimi Hendrix, was also built but never delivered.
The custom-built Telecaster was delivered in time for Harrison to use it during the sessions for Let It Be and Abbey Road, and the guitar can be seen in use during the rooftop performance sessions in the movie Let It Be and The Beatles: Get Back. In December 1969, Harrison gave the guitar to Delaney Bramlett of the American act Delaney & Bonnie. It was later recovered by the Harrison estate.
FEATURES AND MODIFICATIONS: The Rosewood Telecaster originally featured a satin finish, but Bramlett had the guitar resprayed with gloss. He also swapped out the original tuning machines for Schallers and modified the electronics, which have since been restored. An extra string tree was also added at some point.
APPEARS ON: "Get Back," "Don't Let Me Down," "I've Got a Feeling," "One After 909," "Dig a Pony," "Two of Us," "The Long and Winding Road" and "Let It Be"
4. 1957 Gretsch Duo Jet (Serial: 21179)
GUITAR BIO: George Harrison often referred to this Gretsch Duo Jet as his "first good guitar." He purchased the instrument in the summer of 1961, paying £75 to Ivan Hayward, a 25-year-old former Cunard Line merchant seaman.
"One night I saw an advert in the Liverpool Echo," Harrison recalled, "and I rushed right over to see it… I bought the Gretsch Duo from a sailor who had bought it in America and brought it back. It was my first real American guitar – and I'll tell you, it was secondhand, but I polished that thing. I was so proud to own that."
By 1963, Harrison retired the Duo Jet, and he eventually gave it to bassist (and Revolver album cover artist) Klaus Voormann, who kept the guitar for two decades. After reacquiring the Duo Jet from Voormann in the mid Eighties, Harrison posed with it on the cover of his hit 1987 solo album, Cloud Nine.
FEATURES AND MODIFICATIONS: The chambered mahogany Duo Jet's Bigsby tremolo is an aftermarket modification installed by Hayward shortly after he purchased the instrument in New York. The guitar has also been refinished, and the multiple switching and pickup modifications that were effected while Voormann owned the instrument were reversed when Harrison recovered the instrument.
APPEARS ON: "Please Please Me," "I Saw Her Standing There," and "Twist and Shout"
5. 1963 Rickenbacker 360/12 (Serial: CM107)
GUITAR BIO: When Francis C. Hall, owner of the Rickenbacker guitar company, found out that the Beatles would be in New York during the winter of 1964 to perform on The Ed Sullivan Show, he arranged a meeting with the band at the Savoy Hotel to show them some new instruments, including the company's new prototype Rickenbacker 360/12. Harrison was sick, however, and didn't attend. Luckily, Lennon did, and he thought the 360 might be the perfect match for his bandmate. "John Lennon played the 12-string, and he said, 'You know, I'd like for George to see this instrument. Would you mind going over with us and letting him play it?'" Hall recounted later.
"So it was the man from Rickenbacker who brought these guitars 'round for me," Harrison recalled. "As for my Rickenbacker 12-string, I started playing it for the first recording sessions we did after we returned from those three Sullivan shows we did in '64." The unique, chiming tone of George's new guitar led the British press to dub the Rickenbacker 12 "the beat boys' secret weapon."
FEATURES AND MODIFICATIONS: "I used to play the guitar in concerts for years, and it never gave me any trouble," Harrison once said. "It's a great classic guitar. That sound you just associate with those early Sixties Beatles records." The former Beatle also noted that, for the uninitiated, the guitar could take some getting used to. "The neck is narrow, so you have to be very careful when you're clamping the strings down there," he said. "The first and sixth strings can slip off the side if you're pressing at an angle."
APPEARS ON: "A Hard Day's Night," "Can't Buy Me Love," "You Can't Do That," "Eight Days a Week," "Words of Love," "Every Little Thing," "What You're Doing" and "Ticket to Ride"
All the latest guitar news, interviews, lessons, reviews, deals and more, direct to your inbox!
Guitar Player is the world's most comprehensive, trusted and insightful guitar publication for passionate guitarists and active musicians of all ages. Guitar Player magazine is published 13 times a year in print and digital formats. The magazine was established in 1967 and is the world's oldest guitar magazine.
When "Guitar Player Staff" is credited as the author, it's usually because more than one author on the team has created the story.