Watch Eric Clapton Demonstrate His Signature "Woman Tone" in This Classic Cream-Era Video
A young Slowhand explains how to operate his legendary 'the Fool' Gibson SG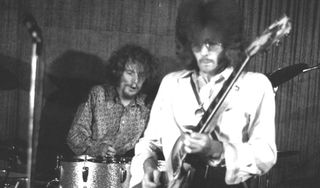 (Image credit: Michael Ochs Archives/Getty Images)
Cream were a tight, powerhouse electric blues trio when they recorded their debut album, Fresh Cream (opens in new tab), in 1966.
Shortly before its release, Eric Clapton came face-to-face with a force of nature called Jimi Hendrix and promptly permed his hair and upped his guitar game.
By the time Cream cut their 1967 follow-up, Disraeli Gears (opens in new tab), in New York City over five days, they had integrated psychedelia's surreal lyrics into a heavier riff-oriented blues-rock style.
By this point Clapton had begun playing a 1964 Gibson SG painted with psychedelic images by the Dutch art collective the Fool, an instrument that was key to the harmonically rich, vocal "woman tone" that would characterize his playing during this era.
He had also, notably, picked up a wah pedal that he slathered all over "Tales of Brave Ulysses" and through a fuzz box on "We're Going Wrong" and "SWLABR" (an acronym for "She Was Like a Bearded Rainbow").
Cream tempered their psychedelia against more traditional blues on their next two records, Wheels of Fire (opens in new tab) and Goodbye (opens in new tab), by which time both psychedelic rock and the group itself were calling it a day.
Clapton's longest-lasting contribution to the genre may well be his singular "woman tone" which remains both a hallmark of the era and a Holy Grail for many guitarists more than 50 years on.
In this classic clip from 1968, Clapton explains what each knob of his Fool SG does before going on to play some signature Cream-era licks.
First he gets something resembling his trademark "woman tone" before he turns up the treble.
But it gets even better.
Clapton then engages his wah pedal and plays a few more licks before carefully explaining – and demonstrating – his "woman tone" around 2:00.
Browse the Cream catalog here (opens in new tab).
All the latest guitar news, interviews, lessons, reviews, deals and more, direct to your inbox!