The LTD MH-1000 Deluxe EverTune is a lot of guitar for the money, and it should appeal to those looking for a superb-playing rock machine that delivers great sound.
Pros
+

Plays very well and stays solidly in tune

+

Excellent construction and finish
Cons
-

Gig bag has to be purchased separately

-

Some will miss the trem, despite the advantages that EverTune provides
You can trust Guitar Player. Our expert reviewers spend hours testing and comparing guitar products so you can choose the best for you. Find out more about how we test.
Always seeking to improve its electric guitars, ESP recently announced it was adding stainless-steel frets to all of its LTD 1000 Series guitar and basses. It's a notable update since stainless-steel can provide a smoother playing feel as well as better resistance to wear and corrosion than alloy-based fret wire.
The LTD MH-1000 Deluxe EverTune on review here is a beautifully made electric guitar that has a mahogany body with a flame-maple top finished in Dark Brown Sunburst, and a three-piece maple set thru-neck. The ebony fingerboard has hip-looking square/rectangular pearl position markers and carries 24 jumbo frets that are crowned and polished to perfection. There are elegant multi-ply bindings on the body and headstock, while single white binding adorns the fretboard edges.
Everything has been so well rendered and smoothed on this guitar – including a neck joint that literally flows into the double-cutaway body – that it's surprising the corners of the nut were left fairly sharp.
The electronics consist of a pair of active EMG humbuckers – a 60TW-R in front and an 81 at the bridge – along with a three-way blade switch and volume and tone controls, the latter being a push-pull for coil-splitting the pickups. Power for the system comes from a nine-volt battery housed under a cover that's secured with machine screws to make it easier to remove.
Our review instrument is special because it's also equipped with an EverTune bridge, a passive system that provides uncanny tuning stability. Once it's set by the user, the guitar will not go out of tune, regardless of how hard you play, fluctuations in ambient temperature/humidity or string breakage.
You can easily adjust EverTune to respond to your playing needs. For example, we used the guitar in the studio to layer some rhythm parts. By setting it to maintain constant pitch (which is called Zone 2), we found it impossible to inadvertently bend the strings out of tune, which made for more consistent-sounding tracks. Conversely, for performing, we set it to respond to string bending and didn't have to touch the tuners for the duration of the gig.
Setting the EverTune's bending sensitivity is easily done via the tuning machines. The MH-1000 arrived set to Zone 2, which might confuse someone who isn't familiar with the system.
To change it, simply tighten each string until the note goes sharp, then back it off until it's in tune again (referred to as the Bend Stop or transition point between Zone 2 and Zone 3). Now you can bend strings and apply vibrato as much as you like, and EverTune will keep the tuning and intonation absolutely solid.
EverTune certainly enhances the MH-1000's overall performance, and, coupled with an excellent factory setup, this guitar plays beautifully and has a lively and sustaining acoustic sound.
Played through a Victoria Double Deluxe 2x12 combo with a Fulltone OCD for distortion and three UAFX pedals (Astra Modulation Machine, Golden Reverberator and Starlight Echo Station), the MH-1000 sounded very even and balanced, and delivered a wide range of sounds. It was also dead quiet.
The EMG 81 at the bridge is great for everything from spanky cleans to heavily distorted tones, while the 60TW-R in the neck position delivers a full, round tone that stays firm and clear at all volume settings.
Both pickups kept their detailed composure when rolling down the tone control, and the push-pull switch provides crisp, single-coil tones that sound very cool for rhythm playing with both pickups on. We mainly used the MH-1000 in the studio in this mode, and we liked how it sounded with guitars that were pushing various amounts of overdrive.
The LTD MH-1000 Deluxe EverTune is a lot of guitar for the money, and it should appeal to those looking for a superb-playing rock machine that delivers great sound and won't leave you fighting with tuning issues, no matter how aggressively you play or what mother nature throws down.
Specifications:
NUT WIDTH 42mm, molded
NECK Maple three-piece set neck-thru, Thin U shape
FRETBOARD Macassar ebony, 25.5" scale, 14" radius
FRETS 24 stainless-steel extra jumbo
TUNERS Grover
BODY Mahogany with flame-maple top
BRIDGE EverTune F model
PICKUPS EMG 60TW-R (neck) EMG 81 (bridge)
CONTROLS Volume, tone (pulls for coil split), three-way selector
EXTRAS Dark Brown Sunburst, Snow White, See Thru Black
FACTORY STRINGS D'Addario XL-120 .009-.042
WEIGHT 8.3 lbs (as tested)
BUILT Indonesia or Korea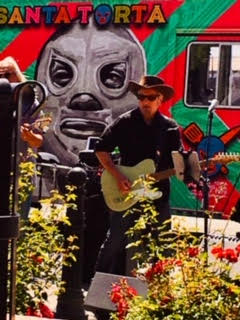 Art Thompson is Senior Editor of Guitar Player magazine. He has authored stories with numerous guitar greats including B.B. King, Prince and Scotty Moore and interviewed gear innovators such as Paul Reed Smith, Randall Smith and Gary Kramer. He also wrote the first book on vintage effects pedals, Stompbox. Art's busy performance schedule with three stylistically diverse groups provides ample opportunity to test-drive new guitars, amps and effects, many of which are featured in the pages of GP.