A worthy consideration, whether you're a beginner or a working player in need of an affordable backup guitar that will cut it onstage
Pros
+

Satisfying playability and tone

+

Great price
You can trust Guitar Player. Our expert reviewers spend hours testing and comparing guitar products so you can choose the best for you. Find out more about how we test.
Founded In 2012, Donner is a global brand manufacturer of pedals, acoustic guitars and electric guitars, ukuleles, electronic drums, MIDI keyboards, digital pianos and other instruments.
Relying on an R&D team of more than 200 people based in China, Donner has become well known for its wide range of innovative musical instruments since it started with a mini pedal 10 years ago.
On review for this issue is the Seeker Series DST-400, an S-style guitar that features a solid alder body finished in gloss green (also available in black) and a satin-finished maple neck with back stripe that's carved in a comfortable Slim C shape and capped with a laurel fingerboard carrying 22 medium frets.
As with any budget guitar, how it feels in the hands is everything, and the DST-400 passes the test, offering good playability thanks to the competent fret dress (the ends are a little prickly, but you can find that on much pricier instruments), a bone nut that's rounded on the corners and a factory setup that was good enough to allow taking the guitar on a gig right out of the box.
Sure, it could be adjusted to bring the action down a bit, but string buzz wasn't a problem, and the intonation was musically sound throughout the reaches of the fretboard.
Likewise, the two-point trem gets off to a good start with vintage-style bent-steel saddles and a push-in bar. That said, it feels stiff and needs a proper setup to make it easier to work either in floating mode or resting against the body as it is in stock trim.
Following on classic Super Strat form, the guitar packs three Seeker Series Pro pickups: a humbucker in the bridge position and a pair of single-coils in the neck and middle slots.
The controls are volume and two tone knobs: one for the neck and middle pickups and a dedicated tone for the humbucker, which pulls to cut the forward coil for a brighter single-coil sound. The only rub is the skirt-style knob slips out of the hand easily, which makes it tricky to grab it on the fly.
The DST-400 is a good playing guitar that's very useful as a spare on gigs and just fun to take out on its own because it performs well. The guitar feels nice in the hands, and, at seven pounds and a few ounces, it's an easy hang on a strap.
The tones delivered by the Seeker Series pickups are clear and balanced, and the humbucker did a good job of driving a Fender Deluxe Reverb, as well as a pair of new 1x12 combos: a Blackstar St. James tube amp and a Peavey Vypyr X2 digital modeler.
The neck pickup's warmth and body make it cool for blues guitar and jazz guitar playing, and the humbucker with its PAF-level output was right on for lead and dirty rhythm.
And if a traditional S-style pickup complement is needed, pulling the rear tone knob provides a decent bridge single-coil sound and delivers enhanced chime on position two and four.
In all, the DST-400 is a great value for a guitar that plays and sounds as good as it does.
Whether you're a beginner or a working player in need of an affordable backup guitar that will cut it onstage, the DST-400 is a worthy consideration.
Specifications:
BUILT: China
NUT WIDTH: 1 5/8", bone
NECK: Canadian maple bolt-on, Slim C profile. Headstock trussrod adjuster
FRETBOARD: Laurel 25.5" scale, 9.5" radius
FRETS: 22
TUNERS: Vintage style
BODY: Alder
BRIDGE: Two-point trem with bent-steel saddles and push-in arm
PICKUPS: Donner Seeker Series Pro singlecoils (neck, middle), Pro humbucker (bridge)
CONTROLS: Volume, tone (neck, middle), tone (bridge) with push-pull coil-split, five-way switch
EXTRAS: Gig-bag and strap included
FACTORY STRINGS: .009–.046
WEIGHT: 7.72 lbs (as tested)
Visit Donner for more information.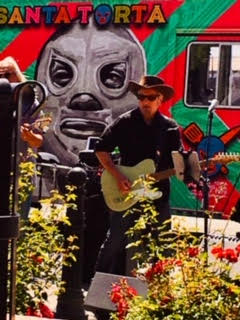 Art Thompson is Senior Editor of Guitar Player magazine. He has authored stories with numerous guitar greats including B.B. King, Prince and Scotty Moore and interviewed gear innovators such as Paul Reed Smith, Randall Smith and Gary Kramer. He also wrote the first book on vintage effects pedals, Stompbox. Art's busy performance schedule with three stylistically diverse groups provides ample opportunity to test-drive new guitars, amps and effects, many of which are featured in the pages of GP.