Putting a modern spin on a classic, this guitar looks cool, plays and sounds terrific and delivers a lot of bang for the buck
Pros
+

A nice playing and well-made guitar that delivers a wide range of roots-flavored tones
You can trust Guitar Player. Our expert reviewers spend hours testing and comparing guitar products so you can choose the best for you. Find out more about how we test.
Back in 1959, Danelectro founder Nathan Daniel introduced the Deluxe model, an innovative and low-cost electric guitar that featured a "shorthorn" double-cutaway body made of pine and hardboard, a pair of single-coil pickups housed in lipstick tubes (originally sourced from cosmetics maker Max Factor), and a bolt-on neck with a distinctive Coke-bottle headstock.
Springing from that platform, the new '59 Triple Divine embodies all the Sputnik-era charm of the original while adding features that make it suitable for guitarists of the SpaceX generation.
The most obvious update over Danelectro's recent dual-pickup '59 Divine is the Triple's trio of lipstick pickups, which recalls Danelectro's DC-3 model of the late '90s (discontinued in the early 2000s) that had three lipsticks and an adventurous switching scheme comprising a six-position Select-o-Matic rotary control and a separate toggle to activate all three pickups.
The Triple Divine keeps things simpler with volume and tone controls and a five-way blade switch that offers the usual pickup selections: neck, neck plus middle, middle, middle plus bridge, and bridge. The three "'50s-spec" pickups feature tape-wrapped coils around sand-cast Alnico VI magnets, which are stuffed into tubular casings made of 80/20 brass/zinc alloy.
The hand-soldered wiring inside the control cavity is neatly bundled, and with the shielded cover plate removed you can view a section of the center block nestled within the body of this gloss-finished black beauty (see specs for other colors). This chunk of solid spruce running down the middle provides better resistance to feedback and helps the sustain too, something that's noticeable when playing this light, resonant guitar acoustically.
The glossy, C-shaped maple neck with its fairly flat 25-inch scale fingerboard and nicely polished frets has a great playing feel, and the factory setup provides low action and musically solid intonation, aided of course by a chrome-plated bridge fitted with six adjustable bent-steel saddles. Details like smooth fret ends and a precise-fitting bone nut with rounded corners also help in the playability department.
Plugged into a selection of amps that included a Mesa/Boogie Mark VII, a Fender Deluxe Reverb and a Boss Katana-50 Mk II combo (as well as a selection of overdrive pedals from EHX, JHS and TWA), the '59 Triple Divine served up a cool range of characteristically clear and vibey tones.
These twangy-sounding, low-output single-coils are smooth and balanced, and with three to choose from you can cover a lot of bases.
Played cleanly, the neck pickup dishes out warm timbres that can sound jazzy with the tone knob rolled down a little, and it delivers a sweet blues tone when fired up with distortion from a pedal or high-gain amp channel.
The middle position is janglier and a little more hollow in the mids, making it cool for all sorts of rock/funk/pop rhythm duties (it even worked for faux-flattop strumming through the Katana's Acoustic preset), and it combines nicely with the neck pickup in switch-position two for a round, slightly phasey tone that also sounds good with some grind.
The bridge setting was killer for lead and dirty rhythm through the Boogie's Mark IV and VII modes with the gain cranked up. In cleaner modes, or through the Deluxe, it sounded plucky and Strat-like when combined with the middle pickup on switch position four.
These options enhance the Triple Divine's flexibility and make it a fun guitar for gigs and especially for recording, where you can really appreciate the pickups' textural coolness.
As the latest evolution of a guitar that Danelectro introduced more than six decades ago, the Triple Divine offers the same working-player appeal in an instrument that looks cool, plays and sounds terrific and delivers a lot of bang for the buck.
Danelectro has always done things its own way to serve guitar players' needs, and the '59 Triple Divine puts a modern spin on a classic, nabbing an Editors' Pick Award in the process.
Image 1 of 2
Specifications
NUT: Bone, 1.650" wide
NECK: Maple bolt-on, C profile
FRETBOARD: Rosewood with dot inlays, 25" scale, 14" radius
FRETS: 21 medium
TUNERS: Gotoh, 15:1 ratio
BODY: Spruce/plywood with hardboard top and back. Spruce center block
BRIDGE: U3 with intonatable saddles
PICKUPS: Three 1950s Vintage single-coils with sand-cast Alnico VI magnets and 80/20 brass/zinc alloy tubes
CONTROLS: Master volume and tone, five-way blade switch
EXTRAS: Available in Black, Blue Metallic, Dark Burgundy and Red
FACTORY STRINGS: D'Addario .010–.046
WEIGHT: 6 lbs (as tested)
BUILT: China
Visit Danelectro for more information.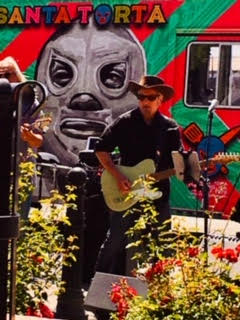 Art Thompson is Senior Editor of Guitar Player magazine. He has authored stories with numerous guitar greats including B.B. King, Prince and Scotty Moore and interviewed gear innovators such as Paul Reed Smith, Randall Smith and Gary Kramer. He also wrote the first book on vintage effects pedals, Stompbox. Art's busy performance schedule with three stylistically diverse groups provides ample opportunity to test-drive new guitars, amps and effects, many of which are featured in the pages of GP.