Vince Gill Picks Five Landmark Tracks From His Celebrated Career
With 22 Grammys, 20 studio albums and more than 40 charting singles under his belt, the country music legend says, "I've always wanted to be moved by music rather than impressed by it"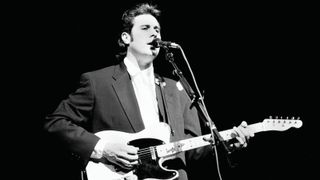 (Image credit: ; GARY GERSHOFF/GETTY IMAGES (1991)
Vince Gill is a country music legend, racking up 22 Grammys and selling more than 26 million albums. Although part of Nashville's ultimate power couple, with his wife Amy Grant, Gill is one of the friendliest and most unassuming stars one could meet.
Gifted with a distinctive voice, possessing the power to move even the hardest of hearts to tears, he is also an incredible guitarist who can play in any style.
Beyond his own extensive catalog, he's contributed to more than a thousand recordings by other artists.
"I always aspired to be the guy who gets to play on other people's records," he tells Guitar Player. "I never had a hairbrush in my hand in front of the mirror pretending to be Elvis; I always had my head down studying the harmonies and the guitar parts on records.
"I'm very lucky to have a solo career and to play on so many records. Even when my record company used to ask me to cut back on the sessions for other artists, I refused. To me, it's a harder job to bring something meaningful to someone else's record than it is to create your own music."
On top of his amazing recording career, Gill has been a member of the Eagles since 2017.
It's a dream gig for the guitarist, who was a fan of both the Eagles and Joe Walsh long before he ever found success himself.
When Gill joined the Eagles, they initially planned to play a handful of live dates, but the response to the shows reinvigorated the band's enthusiasm, and they've continued to tour ever since, interrupted only by the pandemic.
As for whether he's now a permanent member of the band, Gill replies, "So they tell me!"
For him, it's all about the legacy of the Eagles' songbook. "Those songs have been so powerful for nearly 50 years," he says. "I just feel that my role is to help keep this great collection of songs going.
"That's been the great lesson for me, that what creates longevity is great songs. There are a couple of real highlights for me every night. I love to play 'Desperado', which I've loved all my life, and to get to play power chords for Joe on 'Rocky Mountain Way.'
"I played that song when I was about 14 years old in a garage band. [laughs] Actually, I look forward to every song."
Given Gill's years of solo success, it is interesting to ponder the different challenges the role of band member presents to him.
"I'm perfectly happy where I'm not the main focus, but I'm also very comfortable to be the frontman in my own shows," he reveals. "I've done both roles for so long now that they both feel real natural to me.
"The coolest thing Don Henley said about me is when he was asked why they picked a country guy. He said, 'Because he knows how to be in a band.'"
As for the prospect of a new Eagles studio album? "I would be the most wrong guy to ask," he says with a laugh.
"That's what I love about getting to do this: I don't have to decide anything. I would suspect not, from the way that things have unfolded, but I don't know if it would be appropriate in some ways."
Gill's love of the guitar is reflected in his home studio, which resembles a top-shelf music store.
There are racks of vintage Martins, and cabinets with drawers containing old Stratocasters, Telecasters and Les Pauls.
"I'm sure I've got a couple of hundred guitars, but I don't have a boat or multiple houses or cars. I wouldn't say it's out of control, but it's borderline.
"Having said that, I see myself as a painter with musical instruments, and each guitar gives me a different color for my painting. I don't buy them and sell them to make money; I keep pretty much everything. I guess it's a hobby that makes a lot of sense."
Many of those guitars were previously housed in the Soundcheck storage complex in Nashville, but after the 2010 flood that saw many artists lose priceless instruments, Gill decided to keep everything at home.
"I live high up a hill; I think I'm pretty flood-proof now – unless Noah comes back. If the ark goes by, it won't matter anyway."
As far as Gill's solo work is concerned, there are a number of projects in hand to follow on from 2019's Okie.
"I've almost finished an album that I did with Paul Franklin, the great steel-guitar player, called Bakersfield, where we play half Buck Owens songs and half Merle Haggard songs," he reveals.
"I've been working on some Ray Price songs, and I've also written a bunch of new songs. I think I'll probably make two or three records in the not-too-distant future."
Given his ample guitar chops, Gill is often asked whether he'd ever make an all-instrumental album.
"I'm really a songwriter, and I really love to create songs," he offers. "Having said that, if I were to do an instrumental album, I'd want it to reflect my chameleon-like approach to the guitar – maybe have some smooth jazz, bluegrass, blues, some rock or whatever.
"Actually, I've got a studio in my house and a lot of time on my hands these days, so maybe I might."
After more than 40 years in the business, Gill takes nothing for granted. "Every time I play, I feel like it might be the last time," he says. "I never phone it in. I play the best that I possibly can, every single time.
"It's so deep that it's as simple as taking a breath. I was playing the guitar this morning, and when I put it down, I thought, When people ask who's your best friend, I'd say the guitar is. It's always been there when I needed it, and it's never let me down."
When it came to picking five songs to represent such a vast body of work, Gill was candid about his rationale.
"I think in a couple of days' time they might be completely different," he says. "But I tried to go with songs that had a real significance for me, rather than songs that were all about the guitar solos, because I think there is more to me than just being a guitar player."
"I guess there's a little of the J.J. Cale feel about this song – maybe a touch of Eric Clapton's 'Lay Down Sally' about it. As with most solos, the one on here was the result of editing myself and trying to hone down what I was playing to get something that really fit the song.
"I chose this track because I think it epitomizes the biggest perception about the way that I play, with chicken picking and the bends. I think it is possibly the most identifiable solo that I've ever played. Lyrically, it's certainly not War and Peace [laughs], but there are certain songs where their purpose is a vehicle to play on, and the whole idea was to create something for me to play guitar on.
"It's interesting in country music that there aren't a ton of guitar gods, like in rock and blues. I knew that going in, that my chances of having a successful career as a country artist would be more for having my songs and singing than as a guitar player. The guitar player in me got a little fired up for this one.
"Country has always been loyal to the guitar, even in its very earliest days, way back to Mother Maybelle Carter and Jimmie Rodgers. Everyone forgets that the first great lead guitar player in country was a woman.
"I've gotten to play this song live with some great players, like Albert Lee and Danny Gatton, and those are some special moments.
"I played my white Telecaster on this one, which has been my main Tele for my whole career. I found it in 1978 for $450. It was the first Fender that I ever bought, and the best. It was obviously meant to be."
"I chose this because of the steel-guitar solo by John Hughey. He was a really iconic steel-guitar player. He played in my band for about 15 years. He played on all the Conway Twitty country records – a legendary steel-guitar player.
"I always wanted to have a musician who was part of the identity of the music I make, like Don Rich with Buck Owens, and John was that for me in a really big way. That solo is one that steel guitarists look to as one of the greatest ever played.
"The interesting thing about this song is that when I first came up with the idea and the lyrics, it was about a couple who separate, so it wasn't a celebration of an enduring relationship. Me being me, it was going to be a breakup song. [laughs]
"The guy I wrote it with, Max Barnes, said to me, 'You're going the wrong way with it.' [laughs] The change in the direction of the song was really the key to its popularity.
"I've received so many thousands of videos and pictures of couples who've been together for years, saying how much this song means to them. I'm glad I was wise enough to take Max's advice."
3. "Go Rest High On That Mountain" from 'When Love Finds You' (1994)
"I think hands down, if somebody is going to remember a song of mine from my career – the one that had the biggest impact – it would be this one.
"I think that is largely in part because of the sentiment behind it. I wrote it after the death of my brother, but nobody knew at the time that it was going to become a mainstay funeral song like 'Amazing Grace.'
"The beauty is that it wasn't even a big hit record; it was a song that provided an awful lot of comfort to people in their hardest times, and to me that matters way more than a hit record. It cuts deeper.
"I love the playing on this song. The music is so haunting. Stuart Duncan's fiddle solo is one of the most beautiful things I've ever heard. Patti Loveless and Ricky Skaggs sing harmonies, and there are so many elements of the entirety of my life wrapped up in this song.
"It sounds like a sad song; I guess it is sad, but for me the real beauty of it is that, although it is about despair, the essence of hope is in there.
"I took a little inspiration from some of my heroes for the intro and the fills – people like Mark Knopfler, who taught me about playing with the meat of my fingers instead of a pick."
4. "Whenever You Come Around" from 'When Love Finds You' (1994)
"When I look through my catalog of songs, I think this might be my favorite one to play and sing. This song takes me back to a time that was impactful and changed my life. I love the melody and also the angst in the lyrics.
"I wrote it after I met my wife, Amy, for the first time, and I thought, I've met this beautiful human being; I'm really taken by her, but nothing's going to happen.
"The sense of melancholy was really powerful for me when I wrote it. I'm an emotional and romantic guy; I love the blue side of music and melancholy. It's all going to come out in my music and lyrics.
"I'm not crazy about happy songs, I never have been, and I never will be. I want to hear the angst and the emotion.
"I used a Strat on this one, again just using the meat of my fingers to get the tone. A lot of people have preconceptions of what I am, but I'm a little bit of a chameleon. I can take a Les Paul and fire it up and do what those things do, or play a Strat or a Tele, and I think it's all down to the ability to hear the differences and the subtleties of those instruments.
"I always reach for a guitar that serves the song best when I'm deciding what to play."
5. "Young Man's Town" from 'Next Big Thing' (2003)
"I chose this song because I think it might be one of the best songs lyrically that I've ever written.
"The sentiment of that song, the passage of time – I think it was the first time that I ever really channeled Merle Haggard in a song that I was really proud of, because he's always been my favorite. I've written other songs that sound a little Haggardy, that were close but not quite there, but this one hit the nail for me.
"I remember when I started playing with the Eagles, this is the song that Don Henley told me was his favorite song that I'd ever done, which really meant a lot to me.
"For the solo, I tried to keep the melody at the forefront. I've always believed that solo playing should not stray away completely from the melody of the song. On slower songs in particular, I always try to dance around the melody.
"My mindset has always been to think, If you had to sing this solo, what would you sing?, and then I try to play that.
"The reverse is also true actually, that I will sometimes try to sing what I might play. Melody doesn't seem to be as common in today's music. I've always wanted to be moved by music rather than impressed by it."
Bakersfield by Vince Gill & Paul Franklin is out now. You can order it here.
Browse the Vince Gill catalog here.
All the latest guitar news, interviews, lessons, reviews, deals and more, direct to your inbox!
Mark is a freelance writer with particular expertise in the fields of '70s glam, punk, rockabilly and classic '50s rock and roll. He sings and plays guitar in his own musical project, Star Studded Sham, which has been described as sounding like the hits of T. Rex and Slade as played by Johnny Thunders. He had several indie hits with his band, Private Sector and has worked with a host of UK punk luminaries. Mark also presents themed radio shows for Generating Steam Heat. He has just completed his first novel, The Bulletproof Truth, and is currently working on the sequel.