Ever Wondered What Mark Knopfler's Contemporaries Have to Say About Him?
Joe Satriani, Jason Becker, Nuno Bettencourt, and Sonny Landreth weigh in on the Dire Straits guitarist.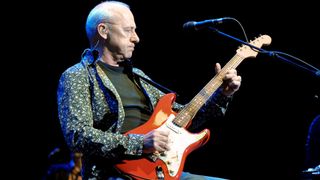 (Image credit: Andy Sheppard/Redferns)
Mark Knopfler has has done it all: recorded massive hit records, written critically acclaimed soundtrack work and collaborated with heroes and contemporaries alike. Here's what some of his fellow guitarists had to say about him...
Sonny Landreth
"I was already a big fan before I ever met Mark. Like so many others, I was won over with "Sultans of Swing." When that first came on the radio back in the day, it seemed like it came out of nowhere. The sound was so unique, so different.
"When I was touring the U.K. for my album Outward Bound in 1992, Mark got in touch with my manager and he said he wanted to come to the gig. That's how we met. After that, he came down to Louisiana and played on some tracks on my next album. Then we went up to Nashville, and I played on his first solo record.
"It's been a great experience for me, and I've learned so much from him. We all love hearing his playing on records and on the radio, but to experience that touch and tone in the same room, through a loud amp, while he's creating it right there in front of you – man, that's mesmerizing! It brings you to another level. It ups my game because it's so inspiring. I instantly find this deeper well that I can draw from.
"The funny thing is, he's known for his understated lines that just captivate you, but he's a real badass. In the studio he'll let loose with riffs that just turn my head around and make me say, 'What the hell was that?' But he's never about being flashy. For him, it's all about serving the song.
"I think he's truly the ultimate musician. Think about what he's accomplished as a guitar player, a singer, a songwriter, a producer and a film score composer. I've got friends and people who I admire big time who can maybe do three of those things. But I don't know anyone else who can do all of them."
Jason Becker
"The first time I heard Mark Knopfler was on his song "Wild West End." It gave me instant goosebumps, as everything of his does. His beautiful tone and touch come straight through his fingers from his heart.
"He knows how to inject his soul into a soundtrack like The Princess Bride or a rocker like "Money for Nothing." Not many people can do that. The two pieces that always get me all emotional are "Wild West End" and "Why Worry." I would love to work with this heartfelt genius someday."
Nuno Bettencourt
"He's probably made the quietest big impact on guitarists, if that makes sense. I wouldn't want to focus solely on "Sultans of Swing," but that song really is the epitome of what he does in my mind. I love solos where you can sing every note, like "Hotel California," where it's just melody after melody after melody. I feel that way about "Sultans." Every time it comes on the radio, I can sing every lick, and I look forward to every lick.
"So much of his stuff is that way. It's about his touch – it's so tasty. He's not doing it through aggression or distortion, the way most of us guitarists do. It's all about dynamics, taste and patience. I think that's what sets him apart. It takes a lot more to get your message across with a tone like his than by cranking a Marshall. It's easy to hear a clean sound and think that it might not be that powerful, but with him it really is.
"I would never say that he's underrated, because his music and his songwriting speaks for itself, but he might be one of the most undercelebrated guitarists. He has all these jazzy tendencies, but he made it pop. He made it singable. He got hits with it. Who gets that kind of guitar playing on the radio? Nobody except him."
Joe Satriani
"I was sitting down making bracelets at the Liquid Bracelet Factory in Berkeley, California, when I first heard Mark's guitar coming over the radio. It was 1978, and Dire Straits had just released their debut album. His sound was so pure and fresh, and personal too. It was as if he was sitting right in front of me singing and playing. Fantastic! I love how you can hear and almost feel his fingertips on the strings as he's playing. His touch is unmistakable, no matter the amp tone he's got dialed in. And the vibrato is all his.
"He's a great writer, singer, communicator, and a master storyteller. In Dire Straits, as a solo artist, with other artists, or with film scoring, you can hear his compositional voice. I like how he gets to the point but somehow takes his time getting there. How does he do that?"
Buy Mark Knopfler's latest solo album Down the Road Wherever here.
All the latest guitar news, interviews, lessons, reviews, deals and more, direct to your inbox!
Guitar Player is the world's most comprehensive, trusted and insightful guitar publication for passionate guitarists and active musicians of all ages. Guitar Player magazine is published 13 times a year in print and digital formats. The magazine was established in 1967 and is the world's oldest guitar magazine.
When "Guitar Player Staff" is credited as the author, it's usually because more than one author on the team has created the story.