Albert Lee's Five Acts of Legend
"He's the greatest guitarist in the world. The ultimate virtuoso. His skill is extraordinary, his ear is extraordinary, and he's gifted on just about every level." – Eric Clapton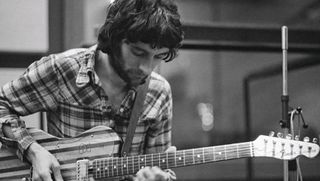 (Image credit: Michael Putland/Getty Images)
"He's the greatest guitarist in the world. The ultimate virtuoso. His skill is extraordinary, his ear is extraordinary, and he's gifted on just about every level." So said Eric Clapton of Albert Lee, known to many as both "the guitar player's guitar player" and "Mr. Telecaster." Here are five nuggets of knowledge about this killer guitarist.
1. Born in Lingen, Herefordshire, England, on December 21, 1943, Lee began studying piano at age seven but took up guitar in 1958, when rock and roll came along. His first guitar was a second-hand Höfner President, which he later traded for a Resonet Grazioso, the forerunner of the Höfner Futurama. Said Lee, "I always used to wish that I'd bought a Fender instead."
2. Lee was drawn to American country, rock and roll, and R&B, and his early influences included Jimmy Bryant, Cliff Gallup, James Burton, and the Everly Brothers. He left school at 16 to pursue his music career, and by the early 1960s he was one of many young rock and rollers, including the Beatles, cutting his teeth in nightclubs on Hamburg's notorious Reeperbahn.
3. In the early 1970s, Lee achieved guitar hero status with the British country-rock group Heads Hands & Feet, playing his Fender Telecaster at breakneck tempos. Though he's celebrated for his speed and virtuosity on the instrument, he's also held in high regard for his melodicism. Over the years, Lee has used both Telecasters and Music Man guitars equipped with B-Benders.
4. Lee's career kicked into high gear in 1974 when he moved to Los Angeles, where he performed session work on albums by Buddy Holly's former group, the Crickets. He subsequently worked with Emmylou Harris's Hot Band, where he replaced his hero James Burton, and in 1978 began a five-year stint performing with Clapton.
In 1983, Lee reunited the Everly Brothers for a concert and served as its musical director. He went on to perform with the duo for more than 20 years.
5. In the late '80s, Lee began fronting his own band, which over the years has performed with Clapton, Tommy Emmanuel, and Willie Nelson, among many others.
Lee has also toured with Bill Wyman's Rhythm Kings, performed at the 2002 George Harrison tribute show Concert for George, and appeared at the 2007 Crossroads Guitar Festival.
His numerous awards include a 2002 Grammy Award for Best Country Instrumental Performance for "Foggy Mountain Breakdown" from the album Earl Scruggs and Friends. He also notched five consecutive wins for Guitar Player's Best Country Guitarist and in 2017 was honored at the U.K. Americana Awards with the Trailblazer Lifetime Achievement Award.
All the latest guitar news, interviews, lessons, reviews, deals and more, direct to your inbox!
Guitar Player is the world's most comprehensive, trusted and insightful guitar publication for passionate guitarists and active musicians of all ages. Guitar Player magazine is published 13 times a year in print and digital formats. The magazine was established in 1967 and is the world's oldest guitar magazine.
When "Guitar Player Staff" is credited as the author, it's usually because more than one author on the team has created the story.