"A Lot of Cats Don't Work on Their Rhythm Enough…The Next Thing Is Pitch": Prince Shares Some Guitar-Playing Wisdom in This Awesome Interview From the 'GP' Vault
"When you get these things down, then you can learn how to solo," said the purple one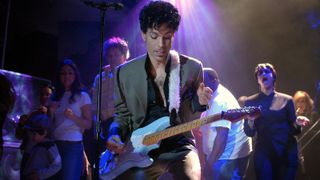 (Image credit: M. Caulfield/WireImage)
On this day in 1984, the era-defining Prince film Purple Rain was released. Regarded as one of the decade's greatest musical films, the Academy Award-winning Purple Rain movie was bolstered by the studio album of the same name released a month prior.
Fast forward 20 years and Prince was once again in the spotlight, gracing the cover Guitar Player's July 2004 issue having released his multiple Grammy-winning, top-five album Musicology.
That year, Prince was also inducted into the Rock and Roll Hall of Fame where his stunning display of six-string prowess during a rendition of "While My Guitar Gently Weeps" is still talked about today.
The following appeared in the July 2004 issue of Guitar Player
This is some year for Prince. With his induction into the Rock and Roll Hall of Fame (which will long be remembered for the jaw-dropping solo he played on "While My Guitar Gently Weeps"), his blistering performance with Beyoncé at the Grammy Awards (the show's producers hopefully sent him some flowers in appreciation), and the release of Musicology (widely hailed as his best work in a decade), Prince has reclaimed the funk-rock throne.
And who's going to argue?
Musicology delivers on all fronts with its savvy blend of greasy funk, soaring anthems, sweet ballads, and – who says funk and politics don't mix? – pointed assessments of George Bush ("Dear Mr. Man") and the war on terrorism ("Cinnamon Girl"). It's also loaded with hip guitar. Not that Prince will readily speak about his guitar playing or his gear. During our interview, he was more eager to talk about music education for kids, the record industry, and the flap over decency on the airwaves ("'Darling Nikki' was suggestive," he says, "but it wasn't nasty"), and the concept behind the new album.
"Musicology is all about music the way it used to be," says Prince, as we sit in his dressing room at the Mellon Arena in Pittsburgh, Pennsylvania. "And it's about getting the music to the people. That's why everyone who comes to the show gets a copy of the record. The CD is included in the ticket price, and we're giving out approximately 50,000 copies each week in order to keep increasing the exposure to the new album. Right now, we're only playing a few songs from Musicology in the show, but that will change as people become more familiar with it."
Although the massive giveaway seemed like an expensive way to promote an album, Prince disagreed. "It costs nothing to make the CDs," he says. "And the benefit of having your artistic freedom is that there won't be anyone forcing you to do a remix or anything else you don't want to do. I don't believe in remixing songs that are in the key of life. When the record people get in there and say, 'Why don't you do it like this?' Well, that's their prerogative if they own the contract. But bands break-up over contracts – just talk to the Eagles about that. I've asked record execs why they aren't under contract with each other, and all I get is, 'That's a very funny idea, Prince.' See, the fight for me has always been about freedom and ownership. It's simply preposterous to me that someone is going to own your work in perpetuity."
Prince is probably the most successful independent artist in the music biz, and his desire to be in control of every aspect of his music seems to demand that he also work on his records alone – a habit that seems puzzling considering the pool of talent in his band.
"On some songs, I just like the way I play drums and keys better than anyone I know," he explains. "My drummer, John Blackwell, can certainly do things I can't do, but, if I bring him into the studio, there are things he'll do differently than how I envisioned them. You know, I can't even play 'When Doves Cry' the way I originally envisioned it. It's like a painting – it is what it is. You know how [legendary director] Billy Wilder got such a seamless quality to his films? It was because he wrote and directed everything himself. It's the same for me."
One of the attractions of seeing Prince live is that he plays tons of guitar. At the Pittsburgh show, I witnessed what an absolute shred monster he can be when he kicks on a Boss DS-2 [Turbo Distortion] through his Mesa/Boogie Heartbreaker amp. But Prince is also a masterful rhythm guitarist with a unique funk style.
"I'm always trying to work in the bass notes when I'm playing funk rhythms," Prince says. "It's the same way that Freddie Stone [guitarist, Sly and the Family Stone] would always play the same parts as [bassist] Larry Graham, but just a tad higher. Kids don't learn to play the right way anymore. When the Jackson Five came up, they had to go through Smokey Robinson and the Funk Brothers, and that's how they got it down. I want to be able to teach that stuff, because kids need to learn these things, and nobody is teaching them the basics.
"See, a lot of cats don't work on their rhythm enough, and if you don't have rhythm, you might as well take up needlepoint or something. I can't stress it enough. The next thing is pitch. That's universal – you're either in tune or you ain't [laughs]. When you get these things down, then you can learn how to solo.
"Guitarists should listen to singers for solo ideas – especially women singers. Women haven't had a chance to run the world yet, so you still hear the blues in their singing. Try to play one of the runs that Beyoncé or Ella Fitzgerald does and you will surely learn something."
On the Musicology tour, Prince performs several solo-acoustic songs on a Taylor 612CE Custom – something he hasn't done since his Live Aid performance in 1986. "I might consider doing an acoustic tour," he offers. "I liked doing the acoustic performance of 'Reflection' [a lovely ballad that has been re-released on Musicology] with Wendy Melvoin on the Tavis Smiley Show. I thought it was the perfect song for Tavis' show. He's a friend, and I wanted to do something special for him. I always try to cater to the format I'm playing in. Like for Jay Leno, we'll play something like 'The Ballad of Dorothy Parker' and really jazz it up."
Over the past several years, Prince has steadily increased the presence of jazz harmony in his sound – which he explored in depth on the jazz-fusion odyssey The Rainbow Children and recalls in a furious interlude on Musicology's "If Eye Was the Man in Ur Life." Prince credited Blackwell and keyboardist Renado Neto – both certified jazz-rock mofos on drums and keyboards – for inspiring him to try new ideas.
"I like the audience to be as sophisticated as my music is," says Prince, "and, sometimes, I've had more fun doing challenging things in after-show concerts than playing the hits at the main show. The best players used to play rock and roll. The first time you heard Boston, it was this huge, amazing sound with all that guitar doubling. Same with Brian May – nobody sounded like him. I still think of Return to Forever as a rock band. Those guys could really play, but there ain't nobody doing that in rock these days."
With only minutes to spare before showtime, Prince concluded the interview by saying, "When I changed my name back to Prince, I went into intense study of the bible with my friend Larry Graham. It gave me a sense of the world that I didn't have before. For a long time, I was into living life to its fullest in every way possible – including spending as much time in the studio as I could. And while I still spend so much time in the studio that people say I should be in a 12-step program, at least now I know where I'm headed.
"Any musician who learns everything about their instrument will only know who they are if they spend the time to know God. That's why I don't like to talk about gear. People will go out and buy that stuff thinking it's going to make them sound like me, and that's not where it's at. Go get your own stuff and come up with your own sounds. If you need a path to follow, a good place to start is by listening to Ike Turner – he was as tight as they come – or James Brown, who is all about rhythm. Put any colors you've learned from Joni Mitchell on top of that, and then you've got something!"
What Prince Won't Talk About
Prince is way more into making music than talking about how he makes it, and, as a result, he seldom divulges the juicy gear details GP readers crave. In fact, responding to my query about the role of compression and EQ in the sparkling direct-into-the board tones he obtains from his '70s-era Hohner guitar, Prince said: "The idea is to do nothing – it's all about voltage through the board. I don't want it limited or compressed, I want to electrify it."
However, Prince's rig hasn't changed much since our January 2000 interview, when guitar tech Takumi helped us diagram his boss' setup. You can check out that issue for the full story, but here are some basics:
Guitars: '70s Hohner, Custom Schecter ("Habibe"), "Cloud" guitar (original made by David Rusan; Prince now plays a Schecter-made version), Ibanez George Benson, Fender Stratocaster (with bridge humbucker and Floyd Rose locking trem).
Amps: Mesa/Boogie Heartbreaker.
Speaker Cabinets: Mesa/Boogie Recto 2x12 (loaded with Celestion Vintage 30s).
Rack Gear: Digital Music MX-8, Roland GP-16, Zoom 9030, Rane ME30, Behringer Denoiser, Furman PL-8, Furman PL-Pro, Furman AR-117.
All the latest guitar news, interviews, lessons, reviews, deals and more, direct to your inbox!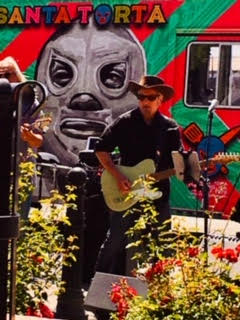 Art Thompson is Senior Editor of Guitar Player magazine. He has authored stories with numerous guitar greats including B.B. King, Prince and Scotty Moore and interviewed gear innovators such as Paul Reed Smith, Randall Smith and Gary Kramer. He also wrote the first book on vintage effects pedals, Stompbox. Art's busy performance schedule with three stylistically diverse groups provides ample opportunity to test-drive new guitars, amps and effects, many of which are featured in the pages of GP.