"The Best Plan Was to Make a Guitar I Would Enjoy Playing": Dave Rusan Reveals the Magic Behind Prince's Iconic Solidbody
Nearly 40 years on, the Cloud electric guitar is a lasting presence in the gear world firmament.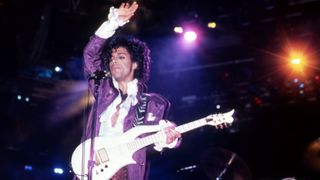 (Image credit: Ross Marino/Getty Image)
In the world of instantly recognizable custom electric guitars, perhaps none stands out more than the aptly named Cloud that Prince played in the final scenes of the 1984 film Purple Rain.
Luthier Dave Rusan designed and built the Cloud, with its whimsical curves and distinctive prong on the upper bout.
Rusan grew up in Saint Cloud, Minnesota, and became interested playing guitar as teenager. He says he didn't think of it as just a musical instrument, however, but as a beautiful and mysterious machine.
"Soon after my dad bought me my second guitar, a Mosrite, I took off the neck and removed the pickguard to see what was going on inside," he recounts to Guitar Player.
"I started modifying my guitars, but with almost no books to refer to, my efforts were based largely on trial and error. I improved, though, and was soon working on my friend's guitars. I felt I'd reached a major milestone when I finished my first re-fret."
Rusan was playing in "decent" bands in the Saint Cloud area, but, seeking to expand his horizons, he moved to Minneapolis to pursue the music scene there.
"I found better musicians to work with and played all the major clubs," he says.
"I had the opportunity to do session work at Sound 80, where Bob Dylan and Cat Stevens would do some recording. I also wanted to continue to pursue a career in guitar repair and started contacting music stores in the Minneapolis area.
"However, the owners of these stores were almost all at least a generation older than their customers, who played in rock bands. They had been in business for years, going back at least to the craze for accordions that had been engendered by The Lawrence Welk Show in the 1950s. It was like being in a store owned by your unhip uncle."
There was one music store that was cool, however, and it changed Rusan's life.
"Knut-Koupee Music was owned by two guys in their 20s who also played in bands, and it was a fun store and a hangout for rock musicians," he explains. "I offered to start a repair shop in the basement, which they agreed to, and I soon was working on the guitars of the hippest bands in town, including the Replacements, Hüsker Dü and the Suburbs.
"There was also a young kid, still in high school, who frequently came to the store and was rumored to be super-talented. One day he demonstrated it by riffing on a keyboard with his right hand while hammering a harmony part on a guitar with his left hand.
"About a year later, I heard an even more impressive demonstration when David Z [a.k.a. David Rivkin], a local recording engineer and producer, played a recording on a boom box that he put on the counter.
"I remember saying, 'Wow, David, it looks like you discovered the next Earth, Wind and Fire!' He replied, 'Nope, it's all played by that kid with the Afro who always hangs out here.' The demo I heard that day got Prince a recording contract, and he was on the rise."
How did you begin working with Prince?
I did some setups and modifications to his Gibson L6S, as well as to an unusual custom bass guitar he'd bought in New York City. But then I got an opportunity to take a sabbatical from my position at Knut-Koupee and work at a store in the U.K.
This was a dream come true, because it was a shop where many major British acts took their instruments for repair. I was soon working on guitars that belonged to the Rolling Stones, the Who and Def Leppard, and I got to spend some time with Gary Moore, Greg Lake and even Randy Rhoads.
Soon after I resumed my job at Knut-Koupee, I saw Prince at the counter talking to one of the owners, Jeff Hill. He told me Prince was going to star in a movie and he needed to have a custom guitar built that would be part of the plot. But it would have to be done quickly, since the movie was already in production.
Although by that time I was a competent repairman, I knew that guitar building is quite a different skill and different tools would be needed to accomplish the task. I contemplated declining the project, but I thought if I didn't give it a shot, I'd always regret it, so I accepted the challenge.
Did Prince tell you how he wanted the guitar to look?
His instructions were sketchy at best. At the time he often seemed painfully shy and talked as little as possible. He wanted design elements of his custom bass, such as the long horn, incorporated into this custom build, so I used that as my initial inspiration.
He said he wanted it to be white, with gold hardware, and he must have already had some experience with EMG pickups, since he requested them. Otherwise, I was on my own, and all the decisions – such as neck size and shape, fret size and the myriad other things I would have wanted to discuss with him – were left for me to decide.
I felt that the best plan was to make a guitar I would enjoy playing and hope that we both had the same taste.
I spent a lot of time making a step-by-step plan so that I wouldn't become overwhelmed by the task. Although I had already carved necks, I decided to use a neck from an unfinished guitar that was in the shop and shaped the headstock to my plans.
I decided to make the body of hard-rock maple, because it wasn't going to be a large guitar that could get heavy, and the hardness of that wood could help it survive the abuse that Prince often inflicted on his stage guitars.
Schaller hardware was top of the line at that time, so I used their bridge and tuners.
Were there any particular problems you had to overcome during the build?
The shop was poorly equipped for guitar building. There were a few items – such as a drill press, a band saw and a router – but none of the smaller specialized tools needed for this job, like chisels, a palm sander and a Foredom rotary tool.
The body carving was quite a task. There have been very few guitars with such a complicated shape, and I had to bring it to life with a Dremel tool and sanding drums powered by a hand drill. I also had a belt sander that had been mounted on its side, which proved to be quite helpful.
I really threw myself into the project, working six days a week for over a month. Then, Tommy Stinson [not the onetime Replacements bassist], who mostly did finishing in the shop, took over to paint it.
Nitrocellulose lacquer was used, which caused some problems, since the shape was hard to spray evenly, and clear buildup in certain areas caused the white to look a bit yellow, especially around the horn.
When the finishing was done, I took over, removing the lacquer from the frets, installing the hardware and electronics and doing the final setup.
How did Prince react when he saw it?
He liked it a lot and used it in the movie's most important final scene. Prince seemed to enjoy playing the guitar, because he requested two more Clouds for the tour. I later made a fourth one that was given away in London by Warner Records in conjunction with a music-store chain.
Has your business changed over the years and are you still a one-man operation?
I still make these guitars by myself in my workshop. They're demanding to build for a solid-body instrument, but carving wood into a graceful shape is rewarding, and customers always tell me how much they appreciate them.
The demand really picked up after Prince passed away, and I feel my work helps honor his memory. I've sent them all over the world, and my goals now are to achieve the highest level of attention to detail and playability I can muster, while keeping them true as possible to the originals.
It hasn't been easy, because some of the products have changed or disappeared, but after almost 40 years I can still find a way to make it happen. For example, the Schaller bridge I originally used was discontinued six years ago, so I have friends in Europe and Japan looking for new-old-stock ones.
EMG changed the style of their logo about two years ago, so I had to have a special run commissioned, with the old logo printed on the pickups.
Schaller also changed the logo on their tuners. Luckily, I found a guy on Reverb who had 50 new sets that he'd stored for 20 years, and I bought them all.
Have you updated anything?
One significant change I've made to the Clouds is the way that I install the frets. On the first one or two, I fretted them before the finish went on, which is common with painted fingerboards.
This method requires removing the finish from the frets, and it can be difficult to make it look good when the fingerboard surface is a solid color rather than just clear coats. The height of the frets is also diminished by the buildup of the paint between them.
I made at least one for Prince in which I installed the frets over tiny strips of veneer to add to their height. That worked pretty well but was quite labor intensive.
A few years ago I came up with a new method that, to my knowledge, has never been done: I fret the guitar before the finishing is done and bevel and shape the ends of the frets. Then I remove them and polish the ends. After finishing, I clean out the fret slots, reinstall the frets and do the leveling, being careful to center them on the fingerboard and not mar the polished ends.
When I'm done, I have frets that look their best and have smooth, slightly recessed ends due to the extra thickness of the paint.
It's clearly an improvement over every other method that I've tried. But I don't tell customers about this unless they ask, since some might prefer the method I used on the first guitars, even though the results were inferior.
Order Purple Rain here.
All the latest guitar news, interviews, lessons, reviews, deals and more, direct to your inbox!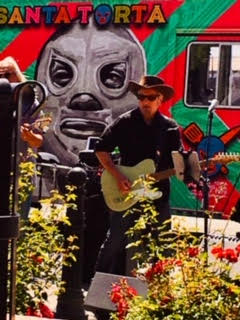 Art Thompson is Senior Editor of Guitar Player magazine. He has authored stories with numerous guitar greats including B.B. King, Prince and Scotty Moore and interviewed gear innovators such as Paul Reed Smith, Randall Smith and Gary Kramer. He also wrote the first book on vintage effects pedals, Stompbox. Art's busy performance schedule with three stylistically diverse groups provides ample opportunity to test-drive new guitars, amps and effects, many of which are featured in the pages of GP.