"There's Guitar Madness All Over This": Prince Talks Gear, Recording and His Creative Process in This Essential Interview From the 'Guitar Player' Vault
The Artist spoke to 'GP' from Paisley Park's Studio A at a milestone moment in his guitar playing career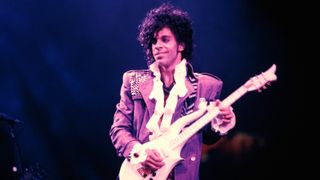 (Image credit: Richard E. Aaron/Redferns)
On this day in 1984, Prince released his iconic soundtrack LP Purple Rain. This era-defining R&B funk-pop rocker soon hit the Billboard 200 top spot and remained in the charts for well over two years. The artist's sixth studio effort is one of the best-selling albums of all time and spawned several top-ten singles, including "When Doves Cry," "Let's Go Crazy" (both number-one smashes), "I Would Die 4 U" and "Purple Rain."
As Billboard noted: "In 1984, there was only one man in America more popular than Ronald Reagan. His name was Prince, and he was funky."
Prince has graced the cover of Guitar Player for two exclusive interviews: once in January 2000 and again in July 2004. On both occasions he was interviewed by GP senior editor Art Thompson.
Here, we take a look at The Artist's insightful interview from 2000, shortly after the release of the Rave Un2 the Joy Fantastic album in November 1999.
The following was originally published in the January 2000 issue of Guitar Player…
The Artist looks wizard-like in the soft glow of Paisley Park's Studio A. Clad in red satin and seated behind the mammoth SSL console, he cues up some cuts from his new album, Rave Un2 the Joy Fantastic. "There's guitar madness all over this," he warns, firing up the title track at ear-splitting volume. Destined to be one of the album's sing-along hits, it features grinding guitar work and a lead melody that sounds as if a snake charmer is playing through a pair of flanged Marshalls.
"I recorded that in 1988," he quips, pulling down the volume. "It has two guitars going through Leslies. One was the Auerswald [the custom symbol guitar shaped like his unpronounceable name]. It's made of one piece of wood – and doesn't have much guts – but if you crank it, it sounds like a car is running over it!"
The preview continues. On "So Far, So Pleased" and "Baby Knows," I'm pinned to my chair by hurricane-force guitars over pounding rhythms. On "Tangerine," The Artist deftly picks fingerstyle acoustic over a trippy kick and fretless-bass figure. As the songs unfold, Rave Un2 the Joy Fantastic proves to be full of contrasts and revivals for the 41-year-old Artist Formerly Known As Prince.
It's the hardest-edged guitar record he has ever made, he performed all of the tracks by himself (something he hasn't done since the 1982 smash 1999), and it's his first major-label release since he jettisoned his Warner Bros. contract in 1995 (which involved legally changing his name to a symbol).
There's more: Production credit on the new album goes to the now returned Prince (apparently The Artist's fave producer), and there are cameo performances by Sheryl Crow, Ani DiFranco, Chuck D, Gwen Stefani, and Maceo Parker. Explaining why his former personality nixed guest appearances, The Artist revealed, "I'm competitive, and I've definitely let my ego control me. But I've discovered that when it comes to music, ego has to sit down." Rave punctuates this collaborative spirit with a cover of Crow's "Everyday Is a Winding Road" – a track that finds The Artist riffing over hip-hop beats with a stinging attack worthy of Albert King.
Is the notoriously sly funkster really the "brand new kid" he now claims to be? Perhaps. After all, a lot has changed in his world over the last few years. The split with Warner initiated a four-year span in which his only major-label affiliation was a distribution deal with EMI for the album Emancipation. Subsequent releases on his own NPG label – including the five-disc Crystal Ball (which sold more than 250,000 copies at $50 a pop), the EP The New Master (which features seven fresh versions of the hit) and the New Power Generation album Newpower Soul – have been marketed via the Internet.
By all accounts, The Artist has been successful at managing his own affairs. In fact, he talks of owning his masters (the original recordings) with the zeal of someone who's discovered the secret of eternal youth. But with all the complexities of running an operation the size of Paisley Park, who could blame him for inking a saccharine-sweet deal with a major record company and getting back to doing what he does best – writing and producing cutting-edge funk-rock, and playing awfully good guitar.
As if to underscore this last point, The Artist played a video clip from a recent live performance that showed him shredding like a madman. When the solo ended, he flicked off the VCR and said with a grin, "I just wanted you to see that I can do it live, too."
Why did you decide to play the majority of instruments on Rave?
I had always planned to revisit my sound. This year felt like the time to do it.
You mentioned coming full circle with your guitar playing. What is exciting you most about guitar now?
Habibe [a custom Schecter guitar], and the doors that metal has opened for harder-edged records.
Do you conceive songs and arrangements in their entirety, or do you play around with the music and lyrics until you get what you want?
I always know what the whole thing is going to sound like. It's all in here [taps his head], but it's here, too [points at the console].
Recording hardware is part of the songwriting process?
I use punch-ins and spot-erasing as a compositional style – that's how I build and edit arrangements and performances. I'm quick enough with the Record button that I can shave a letter off a word. But that's because I've been doing it for 20 years.
How do you create rhythm tracks?
I generally build my tracks one at a time, but sometimes I use the band to get the rhythm down. In a way, it's more fun to get it out of people. You know, an idea is still yours even if you give it to someone.
Is it easier for you to play all the instruments?
It's not easier, but when I play all the instruments I'm not as greedy. I'm more greedy when we play live. [laughs]
I like your solo on "Baby Knows."
I tried to go after Chuck Berry for that one. I think I used my Tele through a small amp. Sheryl Crow played harp on that song – she nailed it in one take.
Who's playing guitar on "I Love You, But I Don't Trust You Anymore"?
That's Ani DiFranco. I showed her the chords to the song, but I didn't tell her how it actually went. If I'd told her too much, then silence wouldn't have been one of the sounds.
How did you get such a massive tone on "So Far, So Pleased"?
I ran my guitar through a Boss Vibrato and Flanger. The octave and delay effects are from the Zoom 9030.
Do you double your guitar lines?
A lot of times, I'll sample a guitar that I've recorded, and then overdub the same part with a keyboard. The attack of the keyboard gives guitar lines more impact and punch.
Did you do that on "Man O' War"?
Yeah. I also had my Cry Baby cracked halfway open for that one.
Do you have any special ways of recording acoustic guitar?
Sometimes I record the guitar and vocals live – just sitting here at the console. That's how I recorded The Truth [the acoustic-only disc on Crystal Ball].
Speaking of Crystal Ball, how did you get that eerie lead tone in "Animal Kingdom" and the incredible rhythm guitar sound in "Da Bang"?
If I told you, you'd have to die.
Are you still playing the Cloud guitar?
Yeah, but it's painted blue now.
Who built that guitar?
It was made by David Rusan.
Do some instruments have a more spiritual vibe than others?
I'm spiritual by nature, and I appreciate the time it took someone to make an instrument. It doesn't matter if it's a guitar or a synthesizer, someone still had to take the time to make it.
What's one of the most important qualities for a musician to have?
You have to respect your spiritual base. You have to respect the instrument. The volume and tone of an instrument is so important.
You've recently produced albums by Chaka Khan and Larry Graham. Are there any guitarists that you'd like to produce?
Carlos Santana. I love his playing – especially on his early albums.
What guitarists have most influenced your funk rhythm style?
Sonny T. [one of the early members of The Artist's backup band, New Power Generation], Freddie Stone [Sly Stone's brother], and Tony Maiden [of Rufus].
How do you create such freedom in your songs without sacrificing the groove?
God gives you everything, and one of those things is freedom.
All the latest guitar news, interviews, lessons, reviews, deals and more, direct to your inbox!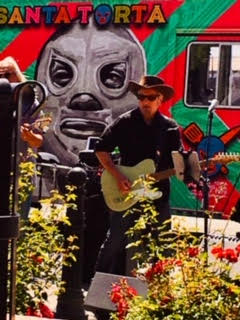 Art Thompson is Senior Editor of Guitar Player magazine. He has authored stories with numerous guitar greats including B.B. King, Prince and Scotty Moore and interviewed gear innovators such as Paul Reed Smith, Randall Smith and Gary Kramer. He also wrote the first book on vintage effects pedals, Stompbox. Art's busy performance schedule with three stylistically diverse groups provides ample opportunity to test-drive new guitars, amps and effects, many of which are featured in the pages of GP.