Jake Shimabukuro teams up with Warren Haynes, Sonny Landreth, Willie Nelson, Jack Johnson, Vince Gill, Billy Strings and others
The uke superstar hosts an all-star line-up on his new album 'Jake & Friends.'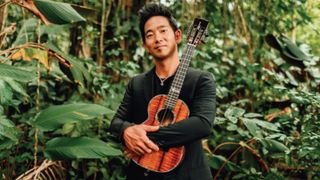 (Image credit: Sienna Morales)
As the modern ukulele craze rages on, with major manufacturers offering more models than ever, its explosive origin can be traced back to a Hawaiian maestro who remains the instrument's most recognizable face and primary ambassador.
Jake Shimabukuro has been the preeminent four-stringer on the planet since the millennium flip, and his luminous light has brought tons of attention to the ukulele, not only from aspiring four-stringers but also from oodles of six-stringers looking to rock some uke on the side.
Heavenly artists from across the musical universe respect Shimabukuro, and an astronomical collection collaborated with him on Jake & Friends (Mascot).
Guitarists share a lot in common with ukulele players, but real collaborations between true stars from the two camps are few and far between.
One might encounter an acoustic duo on occasion, but a uke and electric guitar combo is seldom seen, and during the course of the following conversation neither this editor nor Shimabukuro himself could readily cite a previous instance featuring a bottleneck slide player.
Jake & Friends includes a pair of epic tracks featuring slide icons Sonny Landreth and Warren Haynes.
"Sonny Days Ahead" is a dynamic original composition where Landreth and Shimabukuro soar through a slew of twists and turns spanning more than eight minutes.
The track with Haynes on guitar and vocals is a reworking of Alvin Lee's "On the Road to Freedom," and the interplay that develops throughout its expansive 13 minutes over a shuffling drum and bass groove is the kind of cosmic jam rarely achieved in a studio setting.
Shimabukuro's liquid lead chops and lush tone can sound so guitar-like that it's just wild to consider the source. Of course, the true source is his highly imaginative musical mind, and the way he melds with Billy Strings on "Smokin' Strings" is another treat in a totally different arena – or actually two.
It's a beautiful melodic ballad for about four minutes before the duo jumps into hyperspace for a bluegrass aurora capable of lighting up any set of speakers it passes through.
And Beatles fanatics will freak over three phenomenal covers featuring Vince Gill on "Something," Ziggy Marley on "All You Need Is Love" and Jon Anderson of Yes singing an otherworldly uke-and-vocal arrangement of "A Day in the Life."
How did you come up with such a cool collaborative album showcasing so many great guitarists?
Doing a collaborative album was an idea my manager mentioned, and it sounded great to me, but in the back of my head I thought, This is never going to actually happen. Luckily, Ray Benson from Asleep at the Wheel is an old friend who is also a great guitar player, and he agreed to co-produce with me.
Ray said, "I would love to get Willie Nelson in the studio with you." A couple of months later we recorded "Stardust," and that was the catalyst.
Ray took me to Willie's house on Maui the night before the session. I was super nervous and thanked Willie for the honor. He said, "So we're doing 'Stardust,' maybe we should run through it." Then there was an awkward silence before I realized that he meant right then and there standing in the middle of the living room. So I quickly took my ukulele out of the gig bag on my back.
I was surprised again to realize that he wasn't going to play guitar. I did my best to play the chords and follow him as he sang. He asked me to add an instrumental interlude somewhere in the middle and said, "Sounds great, I'll see you tomorrow in the studio."
We sat next to each other there and did it live twice. He sounded amazing, and I think the second take is on the record.
That was the coolest thing about doing this album. We recorded almost everything live in person. I overdubbed a few extra ukulele parts here and there, but otherwise it was all done live on the same ukulele that I had on tour: a Kamaka tuned standard, with D'Addario's EJ65T Pro-Arté Custom Extruded tenor set [fourth to first strings, G, C, E, A].
We'd schedule studio time wherever the artists were. Ironically, the one that lockdown forced us to do remotely should have been the easiest to do in person: Jimmy Buffett's "Come Monday." I recorded my part and sent it to Jimmy, and then he and Mac McAnally recorded their parts.
How did you connect with Sonny Landreth?
I first met Sonny through Jimmy, actually. When I was on tour with the Coral Reefers, Sonny would often sit in with us, and we played together at Jazz Fest in New Orleans.
It was Sonny's idea to write a song together, and we both like to start by recording ideas into voice memos on our phones. He loved the one that became the opening riff for "Sonny Days Ahead." We wound up sending ideas back and forth, and when we got to the studio it was a matter of putting them all together, like a puzzle.
We tracked wearing headphones, with Sonny's amp in a separate room and me basically going direct into the preamp, so there's no room video with the full audio, but I wish people could see everything he's doing, because the sounds he creates on that guitar are unbelievable!
I can usually figure out a player's sound by watching fingers and considering pedals, but not Sonny. I found myself sitting there across from him, watching his hands and shaking my head.
His phrasing, tone; everything is absolute perfection. He was getting all sorts of tremolo-like, vibey, pulsating effects without using any pedals. You can hear it at the end of the track.
I have a way to emulate a subtle whammy effect by rolling my right forearm over and pressing down on the soundboard, which moves the bridge up and down. So I'm physically smashing the instrument in a way. But he wasn't even touching the guitar.
Was he waving his right hand over the pickups?
Yes, exactly. He manipulates the magnetic field somehow. It's like magic. I'm a huge fan, especially of his live recordings, because it's unbelievable that he can create such a huge sound with just a trio.
I never thought I'd get to hear the sound of the ukulele along with Sonny Landreth's guitar. It was so humbling. That was a big deal for me. So was the incredible sound of Jon Anderson's voice with the ukulele, and of course, being able to trade leads with Warren Haynes.
What was it like to first hear him conjure that swampy psychedelic vibe with the slide at the opening of the track?
After we'd messed around for a while, we decided to go for a full take. We looked at each other, and then Warren closed his eyes. When he played that riff, all the hairs on my arm stood up. [laughs]
The situation with Sonny was more structured, because we were composing together, whereas with Warren the feeling was so free because we were doing a cover of "On the Road to Freedom," and we knew we were going to play out and do a fade at the end of the recording.
The problem was that we didn't have a time limit. We kept going for it, and we wound up playing for, like, 15 minutes.
Listening back, we didn't feel like cutting anything out. The feeling was so inspired and present in the moment. I don't usually get that in the studio. Warren is such an incredible improviser. If I caught on to a little theme I heard him play, he'd react right away. If I was quick enough to respond, he'd react to my reaction and throw something right back at me.
In the beginning, you can tell that I'm learning how to feed off of that. It's like having a conversation, and I'm nervous because the conversation is with Warren Haynes.
At first you can tell that I'm waiting for him to finish, and then I'll think of a response. But after about the first eight minutes, the relationship develops. I begin to feel comfortable and supported, and I get into a rhythm with him.
By the end, I feel comfortable enough to play at the same time. We're not stepping on each other; we're creating this experience together. The thing I love most about that track is the way you can hear how the relationship changes from the beginning to the end.
How about "Smokin' Strings," another heroic guitar duo with Billy Strings?
The thing I love most is that's a first take, and we didn't know it was even being recorded. They were still setting up cameras in the studio. We knew we were going to write something together, and the first half, the ballad part, stems from a little idea I had.
So we played through it, figuring out where to trade solos over the different sections. But I told him that, at some point, we've got to go into a jam, because everybody wants to hear you do your thing and shred, including me.
So we went for it off the cuff, smiling and playing without overthinking it, the way I tend to do when the recording light goes on, and at one point we looked at each other. I went into a new rhythm, and he took off.
When we were done, we agreed that was great and started trying to map out what we had just done so we could do it again. We tried a couple of times, but neither had the same energy or playfulness. That's when someone in the booth said, "Why don't you guys come in here and listen to the first one?"
We were so grateful they had captured it. The coolest thing is that was the first time Billy and I had actually sat down and played together.
What's the video on YouTube where he shows you a double-thumbing technique?
That's actually the second take. He was trying to show me claw-hammer technique, but it's hard for me to get a good tone on the upstroke of the thumb. It's also hard to get the fluidity and the feel of that rhythm right. I'm going to keep working on it. I'll get it one of these days.
Do you play guitar?
No, not really. I know a couple of chords and I can strum something very basic if I have to, but that's about it. I don't have the touch or the feel. I can get a decent tone on a nylon-string because the attack is similar to a ukulele, but I can't get a nice tone on steel strings.
I think it's a lot easier for a guitar player to jump onto the ukulele than the other way around because there are more strings, and the feel of steel is a totally different touch.
What are you most excited about playing right now?
My new ukulele. I play Kamaka tenor ukuleles, usually made of all koa, with a mahogany neck, and Casey Kamaka makes me a new one every three to five years. Then I'll use that for everything, on tour and in the studio.
The nice thing about the instruments I've been playing recently is the collaboration with Pearl Works. They do all of the inlays. A couple of months ago when I was on tour, a beautiful instrument was gifted to me.
It's the result of a collaboration between Kamaka Ukulele, Pearl Works and Hearne Hardwoods. They put an incredible instrument together. It's so gorgeous, and the sound is amazing. I haven't been able to record or tour with it yet, but I can't wait for people to see this ukulele, because it's absolutely stunning.
They actually made two of them. The other one is displayed at the Musical Instrument Museum in Phoenix, Arizona. Every time I get a new ukulele, I retire the old one. The one I played on Jake & Friends is now at the Rock & Roll Hall of Fame in Cleveland, Ohio.
I can't wait to start playing the new one on the road.
Buy Jake & Friends here.
All the latest guitar news, interviews, lessons, reviews, deals and more, direct to your inbox!
Jimmy Leslie has been Frets editor since 2016. See many Guitar Player- and Frets-related videos on his YouTube channel, and learn about his acoustic/electric rock group at spirithustler.com.