Jimmy Buffett Returns to His Folk Roots to Rework Deep Cuts From His Catalog
The mayor of Margaritaville on songwriting, desert island guitars, and the importance of telling a good story.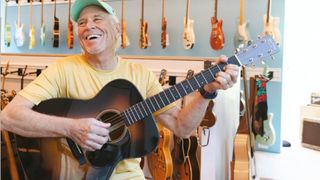 (Image credit: Julie Skarratt)
Jimmy Buffett has amassed an impressive bounty of instruments over 50 years, and the lengendary troubadour and buccaneer dug into his trove to render his latest acoustic endeavor, Songs You Don't Know by Heart (Mailboat).
The title is a play on his ubiquitous greatest-hits collection, Songs You Know by Heart, an apt title for most listeners whether they're a Buffett denier or a true-blue Parrothead aware of his every tune.
The guitarist's diehard fans voted for the nuggets on this latest album, which reimagines deep catalog cuts. Songs You Don't Know by Heart is the perfect album for every banana-bar minstrel who has sung "Margaritaville" or "Cheeseburger in Paradise" wishing they could turn the audience on to hipper choices from Buffett's catalog.
It's also ideal for anyone who has dug Buffett's imaginative songwriting but lost touch with it over time as the musician became overshadowed by his island image. Buffett has great affection for accomplished string-slingers and is actually quite the guitar aficionado.
Slide master Sonny Landreth is often seen playing with Jimmy's Coral Reefer Band in New Orleans at Jazz Fest (he jokingly refers to himself as the band's unofficial mascot), and Buffett employs a pair of aces: Lead Reefer Peter Mayer and multi-instrumentalist Mac McAnally, both of whom have been in tow since 1989 and 1994, respectively, to rip salty licks and create cool currents around Buffett's bedrock rhythms.
Along with percussionist Eric Darken, they help transform full-band arrangements into compelling scaled-down renditions. McAnally produced the recording and plays a boatload of stringed things on it, including mandolin, ukulele, and an Avante Gryphon 12-string terz guitar. Mayer tears up "Woman Goin' Crazy on Caroline Street" and drips with delicacy on "The Night I Painted the Sky."
Buffett puts his own sea-worthy solo on "Tonight I Just Need My Guitar," a lovely tune inspired by an ancient classical Martin. "Something So Feminine About a Mandolin" is simply delightful. Vividly documenting player life has paid off handsomely for Jimmy Buffett. Today, he's a lifestyle brand, making it easy to forget that he paid his dues slugging it out as a folk singer in countless sweaty dive bars.
Thanks to input from his rabid fans and the shepherding of this Covid-era jewel by his daughter, filmmaker Delaney Buffett, Songs You Don't Know by Heart is a welcome reminder of genuine Jimmy, unencumbered by "Margaritaville" marketing.
Despite having an empire with his name emblazoned on everything from restaurants to vacation resorts, and having done four short runs of signature Martins, Buffett isn't constrained to a particular musical endorsement.
He works with a wide variety of gear, including vintage acoustic instruments and a custom Benedetto archtop, and he raves about modern marvels like the Fender Acoustasonic Telecaster and Kemper Profiler modeling amp. Think you already know all you need to know about Jimmy Buffett? Read on, player.
Can you provide some insights into your early playing days that inform your acoustic approach?
Well, I guess I'll use the F-word right off the bat and say that the whole thing started because I was in fact a folkie. There were great venues and bands where I grew up on the Gulf Coast. I set my sights on doing that, figuring it beat the hell out of anything else I had on the horizon.
I only knew the three chords that a college roommate taught me, but I could draw a crowd at sorority parties. The pure joy of learning those three chords and seeing that reaction, it was like solo flying as a pilot. You can hear about it, but you don't fully understand or appreciate it until you do it.
I eventually became interested in electric guitar, but in those early years I was focused on improving my acoustic playing and the kind of guitar I played. The top of acoustic guitar heaven in 1967 was a Martin D-28. I'd see players in bands like the Journeymen playing beautiful-sounding D-28s at the Bayou Room in New Orleans, and I figured if I could achieve that, hell, I'd have made it.
I started out on a Stella 12-string and then had a Goya that I played for a long time. I got my first Martin when I became a headliner at that same club many years later. The D-28 was still out of my range. I bought a D-18 from Chappy's music store in Pascagoula, Mississippi, because it was $20 cheaper there than at Werlein's in New Orleans.
So it was about getting a great guitar rather than actually becoming a great guitar player?
Playing folk music didn't require a ton of technique. The instrumental section may have been four bars, and I've always had better players cover that aspect, including my partner at the time. I focused on being a good rhythm player, which I needed to be in order to make people dance without a rhythm section.
Listening to the simple but funky second-line stuff from street bands in New Orleans as well as the jazz rhythm players there made a big impact. But I mostly wanted to use the guitar to write songs like Bob Dylan, Gordon Lightfoot, Joni Mitchell, and Judy Collins. I was interested in the one- and two-finger versions of chords that can be found on the top few strings. I use them a lot in transitions from section to section.
Fred Neil's "Everybody's Talkin'" is a good example. I remember finding a book and learning all those little D-chord variations. I also remember working out how to play the licks on Dylan's "She Belongs to Me," and I still play that one.
I'll drop the pick and play a basic fingerstyle with my thumb and index finger when I want to use the thumb on little walk-downs like the one that starts off my new record on "I Have Found Me a Home."
Peter Mayer and Mac McAnally do an exquisite job handling the fancier licks with all sorts of interesting tones, and isn't it nice to incorporate such an arsenal of your own acoustic instruments on an album?
If you look at the long list of Coral Reefer guitar players, I've found some great players. I didn't want to be a member of the band. I decided long ago that it was a better use of my talents to write songs, put shows together, and run the band.
I was able to do that because I was the only one with an account at the music store to buy the P.A. system. [laughs] I've been able to acquire quite a guitar collection as well. As a flyer, it's nice to have an arsenal. I think of them as wingmen.
Did you write most of your seminal stuff on a particular guitar?
Yeah, it's a Martin D-28, and I used it to play a couple of tracks on the new record. I've got a big collection, and in pandemic world I've been able to play everything, remembering stories of songs written on certain guitars in certain places.
I remember exactly when that D-28 came into my life because it was 1969 when I moved to Nashville to make my claim to fame. I had a 12-string D-18 that was stolen out of the Holiday Inn parking lot the first night I got to town. Luckily, I had insurance, and I bought the D-28 [new] that we came to call the "Rancho Deluxe" Martin because it has a painting by Russell Chatham on it.
That came around the time of Rancho Deluxe [the 1975 movie starring Jeff Bridges and featuring a Buffett soundtrack], and there could have been some hallucinogens involved. I was looking for a painting of a mermaid, but it turned out looking more like the girl on the Herbal Essence shampoo bottle.
I wrote "Margaritaville" on that guitar, as well as a lot of other songs leading up to A White Sportcoat and a Pink Crustacean and Living and Dying in 3/4 Time. It's still one of my favorite guitars to play.
Can you remember which tracks you played it on for the current album?
There are studio videos we're going to post later, but it's hard for me to say now, because we set out a bunch of guitars and I grabbed whichever one was right, based on a sound or a story.
For example, I've got an 1848 Martin gut-string guitar that pre-dates Pennsylvania, when Martin was in New York. It has violin-style friction tuners made of ivory. It's hard to keep in tune, but I used it on "Tonight I Just Need My Guitar," and that has one of my few-and-far-between guitar solos.
The point of the song originally was that I'd just got that guitar and I knew I'd never take it on the road because it's so valuable, but I wanted to play it in the studio. So Mac and I finished "Tonight I Just Need My Guitar" in order to play that Martin on it when we did the Far Side of the World album in Nashville [recorded in 2001].
I picked up a 1951 Martin D-18 in Paris eight or nine years ago from one of the stores on Rue de la Guitare and wrote a song afterwards. I had talked to Mark Knopfler, and one of his favorite guitars is a D-18 from the same era.
Mark played the solo on his D-18 for the recording of "Rue de la Guitare" [on Buffett's 2013 release Songs From St. Somewhere]. That song isn't on this record, but the guitar is. I appreciate guitars that have stories, but I used the 1939 Gibson J-100 that Mac got me for my birthday because it sounds so good banging away on "Caroline Street."
What's the story of the ukulele you play on "Peanut Butter Conspiracy"?
That's the rarest piece I have. It's a Martin ukulele from the 1930s. I love to visit Martin just to look at the craftsmanship and be in that environment. The Martin Museum is one of the most amazing places a guitar player can visit and is truly worth the pilgrimage to Nazareth, PA.
When I was there, they let me play the Konter Uke that went to the North Pole on the [1926] Admiral Byrd expedition, and mine is a soprano ukulele similar to that one. When I told them what I had, they told me to make sure and take good care because that's a very expensive ukulele!. Right now I'm playing around with a new low-priced Fender ukulele.
Fender's Fullerton uke just made our list of top gear from 2020. Is that the one you're playing?
Yeah. Mine's shaped like a Stratocaster, and I'm going to take it to film a segment for Anderson Cooper and Andy Cohen's [2020] New Year's Eve broadcast on CNN. It looks cool, and the pickup makes it sound great plugged in.
Fender is doing imaginative things, and we have a good relationship where I do some consulting. Guitar builders have to do more than bend wood these days. In the background of the video for "The Night I Painted the Sky," there is a Fender Acoustasonic Telecaster.
Are you using that in your live show?
Yeah, I love that guitar because I've always been a Telecaster guy, and it really does sound acoustic with the flip of a switch. The Acoustasonic is the best bargain out there in the guitar world when you consider everything it does. That's what I'd go for if I were a solo performer these days.
My main stage guitar is the latest signature model we did with Martin a few years ago, the black Jimmy Buffett Custom, with the palm tree on the headstock. The whole idea was to do something I would play onstage.
I think they made about 100 of them that sold immediately, so there was never a marketing platform. My amp is the Kemper Profiler. I make profiles using all those great guitars in my studio, and then use them with my stage guitars.
What's your desert island guitar?
A Martin 00-18, because it's small and sturdy and made of all mahogany, which doesn't warp as easily as rosewood or spruce. A mahogany guitar goes with a boat. I actually had an old 00-18 on my first boat, and I wrote a lot of songs on that guitar, but it got stolen on the island of Nevis in the Caribbean.
Dan Fogelberg was on the boat with me. We went into the harbor and somebody stole my guitar. Then we found a guitar maker on the island who was making funky guitars, and I bought one. Fogelberg and I wrote a song about that called "Domino College."
You've certainly got the stories to back up your songs, and it's refreshing to hear the deep cuts from your old albums in a new way.
It would have been easy enough to do "Margaritaville" using the guitar I wrote it on, but that wasn't one of the requests for the Songs You Don't Know By Heart. I had to go back and learn songs that I'd written, because I didn't know them by heart. There was a whole lot of fun in the process of being challenged by my own fans to go back and play songs I hadn't played onstage in 30 years.
Jimmy Buffett's Songs You Don't Know By Heart is out now via Mailboat Records.
All the latest guitar news, interviews, lessons, reviews, deals and more, direct to your inbox!
Jimmy Leslie has been Frets editor since 2016. See many Guitar Player- and Frets-related videos on his YouTube channel, and learn about his acoustic/electric rock group at spirithustler.com.