Mac McAnally Shares the Music That Inspired His Incomparable Career
The Nashville session ace takes us from a porch in Belmont, Mississippi, to Muscle Shoals, Alabama, where he worked sessions as a teenager, and finally to Music City.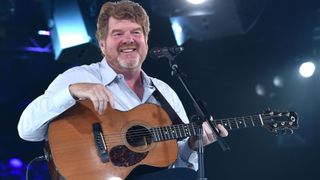 (Image credit: John Shearer/Getty Images for BMI)
It's unlikely that Mac McAnally's handiwork has escaped your notice. The master picker has been Jimmy Buffett's sideman and a hit songwriter, and he's been named Country Music Association Musician of the Year a total of 10 times.
Here are the top five riffs that shaped his life in music…
"Wildwood Flower" – Maybelle Carter
"We had an old Silvertone archtop guitar. It was too big for me to reach around, but my dad would sit and play 'Wildwood Flower,' and that was one of the first things I tried to play. Neither of us had a pick, so the Mother Maybelle thing was hard to do, but I used the back of my nail as a pick. I kept on with that for quite a while. Over the years in studios, I've played with a pencil, a razor blade. Anything that will make a racket on the guitar, I enjoy."
Lester Flatt Lick
"The first band I had a job with was a country band in Iron City, Tennessee. The lead singer wasn't much of a bass player – he would play random bass notes. I would reach over to his amp and flip the standby switch and kill his bass for the whole song. But his signature thing was at the end of every song, he would play the Lester Flatt lick in whatever key we were in.
"So he kept turning up his amp through the whole song, and at the very last chord I would flip the standby switch back on, and he would play an ungodly loud [sings lick]. That taught me a lot – maybe the edge of what you can get away with."
Intro to "Alive" – Mac McAnally
"I grew up worshipping Chet [Atkins]. I got a little record deal when I was 19, and the folks at ASCAP brought me to Nashville right after the record came out and carried me to meet Chet. He said, 'First song, second side of your album, you're doing some weird frailing thing in E minor. Show me what you're doing.' So the way I met my hero was him asking me how I played something. That gave me a little boost in confidence, severely needed."
"Blackbird" – The Beatles
"One of the songs that was kind of a hurdle I wanted to clear was 'Blackbird.' When I figured out Paul was just ringing the G string all the way through the whole song, I thought that was awfully cool. I was never trying to play it like Paul did; I just loved the notion of that common tone that rings in every chord in the song."
"Give It Away" – George Strait
"Every once in a while in the studio you'll get put in the hot seat, where someone says, 'Come up with a little intro.' I got it a few years ago on a George Strait record. I don't know how good I played, but it got heard a lot. The swampy aspect probably comes from a combination of Mississippi Delta and Muscle Shoals, Alabama – all the R&B I played mixed with the country I played."
Pick up a copy of Mac McAnally's latest studio album Once in a Lifetime here.
All the latest guitar news, interviews, lessons, reviews, deals and more, direct to your inbox!
Jim Beaugez has written about music for Rolling Stone, Smithsonian, Guitar World, Guitar Player and many other publications. He created My Life in Five Riffs, a multimedia documentary series for Guitar Player that traces contemporary artists back to their sources of inspiration, and previously spent a decade in the musical instruments industry.