Sonny Landreth Shares Some Sweet Memories of "Colorful Genius" Howard Alexander Dumble
The slide statesman remembers the world class custom amp builder who passed away January 16, 2022, at age 77.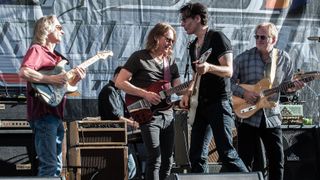 (Image credit: Larry Hulst/Michael Ochs Archives/Getty Images)
I met [Howard Alexander Dumble] in 1994 through a good mutual friend, the late great Stephen Bruton. Stephen had been raving about the Dumble amps he'd played out in Los Angeles, bought an Overdrive Special (ODS) and then brought it to Grant Street Dancehall in Lafayette, Louisiana, where we had a gig booked.
He insisted that I try it out at soundcheck, so I did and was instantly hooked.
Then, prompted by Stephen's word on my behalf, Alexander called me out of the blue while I was in the studio recording South of I-10. He was very courteous and most complimentary about one of my albums and invited me to come out to his place so that I could try out some of his amps.
I was in and out of Los Angeles a lot back then, so it worked out for me to visit him at his stronghold in Pasadena and, later, when he relocated to Sunland. We hit it off right away, and once he got me into his workshop, a 28-year adventure began.
It was like being in a mad scientist's lab, unbelievably full of gear, gadgetry and boxes of stuff piled up everywhere (think the reality TV series Hoarders meets Science Channel's Beyond Tomorrow).
I spent countless hours with him tweaking while I played, even after he built my amp and cab. It was big fun. He had a gentle spirit with a great sense of humor and had an incredible ear for capturing his instincts sonically.
He was always coming up with something new and would be excited to tell me about the latest.
"Well, sir" – often said, in a lighthearted, endearing way – "I've developed a new technology and I'm calling it Ultraphonix."
Or a new amp: "I've built a class A amp, and it is so chimey that I've named it…" – pause for dramatic effect – "Angel's Breath."
And then there were Alexander's tried-and-true options that he offered up, like adding the HRM mod. In his articulate, scholarly voice, he asked, "You know what that stands for?" Then, like a little kid, he blurted out, "Hot Rubber Monkey."
He reveled in conjuring up names for everything, especially if there was a story involved.
Ironically, the only time he ever got upset with me was when he finally came up with a name for my amp. He'd learned that a woman at one of my shows said, "Oh, baby" after one of my songs, and, without fail, it would crack him up every time it came up in conversation.
A year later, after our friend Robben Ford played on some of my tracks and Alexander was digging the sound of both of our amps recorded together, I made the mistake of asking him what he would think of making my amp sound a little more like Robben's?
He was at his bench. He turned around and fired, "I can't believe you asked me that! Your amp isn't anything like Robben's! It isn't like any of the others!"
Yikes! I knew I'd hit a nerve. "Well, sir?" he asked, not so endearingly, arms folded, clearly wanting a response. I played my only ace: "Ohhhhhh, baby!" He started laughing so hard that I was afraid he'd fall off his chair.
From that moment on, ODS serial #0188 had a name that stuck.
I believe Alexander's greatest satisfaction came from creating technology that translated into art by the individual artists he specifically tailored his designs for. It was very personal for him.
Yeah, he was eccentric and could be quirky and difficult, but he also had a big heart, was always in my corner and connected me with a lot of great people and projects.
He was a dear friend whose colorful genius made life a hell of a lot more interesting.
Browse the Sonny Landreth catalog here.
All the latest guitar news, interviews, lessons, reviews, deals and more, direct to your inbox!
Guitar Player is the world's most comprehensive, trusted and insightful guitar publication for passionate guitarists and active musicians of all ages. Guitar Player magazine is published 13 times a year in print and digital formats. The magazine was established in 1967 and is the world's oldest guitar magazine.
When "Guitar Player Staff" is credited as the author, it's usually because more than one author on the team has created the story.