"It Was Pretty Obvious It Was a Song That Was Going to Go a Long Way": Glenn Tipton Explains How John Lennon's Home Inspired Judas Priest's 1980 Classic "Living After Midnight"
"It was just born from nothing and worked immediately," recalls the guitarist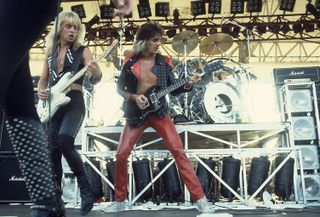 (Image credit: Paul Natkin/Getty Images)
Whether you're a Judas Priest fan or not, chances are good you know "Living After Midnight," the rock and roll celebration from British Steel, the 1980 album that also includes such perennial Priest favorites as "Breaking the Law" and "Metal Gods."
Written by singer Rob Halford and Priest's twin guitarists at that time, Glenn Tipton and K.K. Downing, it's probably the easiest song to play in Priest's entire catalog, with an eight-bar solo that is the very essence of economy.
And as Tipton explains, the song actually has a Beatles connection. "We were working on the songs for British Steel at Tittenhurst Park, which had been John Lennon's old home before he sold it to Ringo Starr," the guitarist explains. "We'd been out at the pub, and when we got back quite late, I started working on some ideas in the living room, but the noise woke Rob. His bedroom was right above.
"He came down and said he couldn't get the riff out of his head, so I asked him to sing some lyrics right there on the spot and he came up with 'Living after midnight, loving till the dawn.' That was how we used to live our life back in those days."
It's Easy if You Try
While Lennon's old home might not seem the kind of place to fire up some classic metal, Tipton says the space inspired the band's creative impulses.
"I think we realized that we were unafraid to write simpler songs that were, perhaps, much more direct," he explains. "The way that we opened up 'Living After Midnight' – with a drum intro and then went straight into the chorus – I think that approach was really influential to a lot of the rock bands that came along later and were unafraid to be commercial.
"Incidentally, I should mention that it was very surreal sitting in the living room with John Lennon's white piano there — the one he played 'Imagine' on in the video for that song."
Given all that, it's not surprising to learn the song came together quickly. "It was really a very simple riff that just worked," Tipton says. "We finished the music before Rob worked on finishing the lyrics. We didn't have a working title or anything other than the idea that Rob had come up with for the chorus.
"I think the riff just spoke for itself and like every great song that we ever wrote, it came together really fast. The best songs always do. It was almost fully formed from the outset. It didn't evolve through any different approaches or stylistic changes; it was just born from nothing and worked immediately."
Flash-Free Zone
The recording process proved to be equally efficient. "We didn't demo it at all," Tipton recalls. "We just went into the studio and nailed the whole thing in either two or three takes. I played the solo on it, although I can't remember now, after 40 years, how that decision came about.
"I was using one of my Gibson SGs into a 50-watt Marshall with a treble boost. The solo was one of those things where you come up with something simple that really lifts the song. Any sort of flash, shred kind of part would have just ruined the feel."
Unsurprisingly, Priest knew right away that they'd written a monster. "I think it was pretty obvious it was a song that was going to go a long way," Tipton says. "It was unencumbered and easy to remember. We were really excited to hear it blasting out of the speakers on the playback."
Solid As Steel
As Tipton explains, he's entirely pleased with this particular era in his career. "There is absolutely nothing that I would change about that song, or the British Steel album," he says. "I think that they are both perfect! I never lost the thrill of playing it live since the day that we recorded it."
Unfortunately, he no longer performs with Judas Priest since he was diagnosed with Parkinson's Disease in 2018. "After my diagnosis, I couldn't really play a lot of the more complex Priest tracks, but there have been quite a few occasions where I've joined them onstage to play a handful of songs, and 'Living After Midnight' is always one of them.
"When we walk out onstage we are at one with the audience. It's immediate – and heavy metal!"
Order Judas Priest's British Steel here.
All the latest guitar news, interviews, lessons, reviews, deals and more, direct to your inbox!
Mark is a freelance writer with particular expertise in the fields of '70s glam, punk, rockabilly and classic '50s rock and roll. He sings and plays guitar in his own musical project, Star Studded Sham, which has been described as sounding like the hits of T. Rex and Slade as played by Johnny Thunders. He had several indie hits with his band, Private Sector and has worked with a host of UK punk luminaries. Mark also presents themed radio shows for Generating Steam Heat. He has just completed his first novel, The Bulletproof Truth, and is currently working on the sequel.