How George Kooymans, and Michael and Rudolf Schenker, Put a European Spin on Hard-Rock Guitar
Look back at three guitarists who drove hard rock's European evolution with the Scorpions, Golden Earring, and UFO.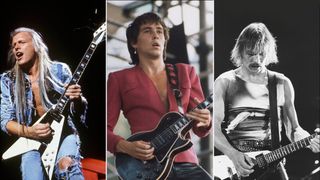 (Image credit: George Kooymans: Michael Putland/Getty Images; Michael Schenker: Ebet Roberts/Getty Images; Rudolf Schenker: Chris Walter/WireImage)
As part of Guitar Player's look back at the guitarists who shaped hard rock music over the decades, today we examine the genre's formative European voices.
With Golden Earring, UFO, and the Scorpions, George Kooymans, and Michael and Rudolf Schenker, drove the genre's European evolution, influencing plenty of American guitarists in the process.
Michael Schenker
Michael Schenker is about to celebrate his 50th anniversary in the music business, since joining Scorpions in 1971. His first appearance on record was at the age of 16 in 1972, on Lonesome Crow, the debut Scorpions album.
Soon after, the band was on tour opening for the U.K. hard-rock act UFO when Schenker accepted their offer to join.
"I always said to the guys in Scorpions that if an English band asked me to join them, I wouldn't hesitate," Schenker recalls today. "England looked like the place to be if you wanted to have a career playing rock and roll, not Germany."
Schenker's work with UFO saw him quickly join the ranks of the great '70s guitar heroes. His style influenced legions of subsequent legendary names, including Randy Rhoads, though unlike Rhoads his style remained more hard rock than metal. Ozzy courted him after Rhoads' untimely death in 1982, but Schenker turned him down, as he had Aerosmith and many others.
Following the glory days of the '70s and '80s, Schenker's profile took a dip as he withdrew from performing in the early '90s while dealing with personal issues. He acknowledges that difficult period as necessary to his spiritual development, and he is at peace with himself these days, enjoying life to the max.
His playing is more fluid and inventive than ever, and he is currently riding the most successful wave of his career since the late '70s. Schenker released Immortal under the Michael Schenker Group banner in January and, coronavirus permitting, a world tour is set to follow later in the year.
Immortal is a strong album. It features many of the musicians in your Michael Schenker Fest band, so why are you releasing it as an MSG album?
Well, call it MSG, Temple of Rock, Michael Schenker Fest – it's all really the same thing, as long as Michael Schenker is in there. [laughs]
The different names were created for particular musicians, but it also implies certain eras in my life and is a shorthand for those periods. There's always going to be some kind of a band around me; I can't do it on my own. But the names and lineups can be fluid because it always sounds like me.
What first inspired you to play?
My brother, Rudolf, who is six years older than me, got a guitar for his 14th birthday. He struggled with it at first. I used to pick it up and play it when he wasn't there, and I was fascinated by the sound. I started picking out single notes, and I quickly realized that I could, with the aid of a tape recorder, slowly work out how to play songs by the Shadows.
The guitar came very quickly for me, to the point where I would teach Rudolf how to play songs… at a rate of one Deutschmark per song. [laughs] After about five years or so, I joined Scorpions and played on the Lonesome Crow album. I wrote all the music for the songs, although I didn't get the proper credits.
When did you feel that you'd started to find yourself as a player?
When I was 14. I started to listen to Deep Purple and Black Sabbath. That was when I started to realize what the guitar could do with the power of distortion. I knew that it was the best instrument on the planet to express human emotion.
I became very successful very quickly, but the funny thing is that I never tried to become famous. When I had my time away from the spotlight, I wasn't thinking about fame or fortune – I was concerned with my spiritual experiences and development. The years from 1990 to 1995 were the most profound of my life and enabled me to develop as a person.
You have been associated with the Flying V for most of your life, but your first pro-level guitar was a Les Paul. How did you come to make the switch?
When I was playing with Scorpions, Rudolf was playing a Flying V. I remember I broke a string and as I didn't have a spare, we swapped, and I played his V into his 50-watt Marshall. The feel of the guitar and the sound of the 50-watt amp – it instantly felt right. We swapped a couple more times, and I realized that was what I needed for my sound, so I bought the V off Rudolf.
I've told the story in the past of how, when I was in school, before I ever played, I built a V-shaped guitar in woodwork class. Amazingly, my sister recently found this guitar and I now have it, over 50 years later. I was predestined to play a Flying V. I instinctively knew how to get the best out of it.
I would lock the lower part of the guitar between my knees to hold it in place and use my whole arm to get my vibrato. I looked like I was doing all the classic rock-star poses without even trying. [laughs]
The third and final piece in your tone quest was a cocked wah pedal. How did that come about?
I was a huge fan of Mick Ronson's playing with David Bowie, and I saw him live several times. He was using his wah in the fixed position. I was experimenting with the pedal and found the sweet spot.
I took the pedal apart to understand the mechanics of it. I put it back together so that it was fixed in the one place and I could just knock it on and off for a solo boost. I never liked the sound of the wah at the extreme ends.
What songs or albums are you most proud of from your long career?
I'm not. I don't think it's good to be proud of things. I am very happy that I have been able to make so much music and be able to make playing the guitar my life. I have never lost my enthusiasm and excitement for playing the guitar. That's a wonderful gift.
How are things between you and Rudolf these days?
I say, "Love and peace, Rudolf, I wish the best for you!" But we need to maintain a social distance, as I feel he is dangerous for me. He has taken advantage of me over the years, but I wish him power and success, as that is something that is very important to him. I am better off on my own. I have my own vision of what a successful career in music looks like, and it isn't the same as Rudolf's.
You arrived at your signature sound very early on. What advice would you give other guitarists trying to carve out their own identity?
It is a complicated thing, although perhaps it isn't if you know who you are. If you don't know who you are, you can become obsessed with chasing success and money. If you are creative, you will become consumed with the enjoyment of the moment and playing notes.
Putting notes together when you're in that state of pure appreciation is where the chemistry develops that makes you sound like who you are. Ultimately, you can hopefully reach what I call "the art of guitar playing with pure self-expression," which is how I would describe my own playing. Remember that you are unique. Nobody can do what you can do if you aren't afraid to reach inside yourself and be truthful.
Michael Schenker's new album, Immortal, is out now via Nuclear Blast.
George Kooymans
For millions of American teens in the 1970s, there was no more perfect song for late-night cruising than Golden Earring's "Radar Love." Its shuffling boogie rhythm encouraged pedal-to-the-metal driving, while the lyrics captured the thrill of joyriding and, hopefully, getting lucky.
Pushing it all along was the insistent riffing of guitarist George Kooymans, who punctuated the space between Barry Hay's lyrics with some of the tastiest licks outside of a Dairy Queen drive-thru. "Radar Love" was and remains the quintessential American hard-rock road song.
So imagine how surprising it was for young listeners to discover Golden Earring hailed not from the U.S. but the Netherlands, or that the group had been a going concern for more than 10 years by the time it scored its breakthrough hit.
Kooymans and bassist Rinus Gerritsen had launched the band in the Hague as the Tornadoes, but had to change its name when the U.K.-based Tornados had a hit with "Telstar." They took Golden Earrings from a song by the English beat group the Hunters, and found success as a pop act at home and the U.K.
In 1969, the band dropped the s from its name and went full-on hard rock, earning an invitation to open the Who's 1972 European tour and record for their Track Records label, just in time to release 1973's Moontan and its single "Radar Love."
Kooymans' guitar work, performed on his black, three-pickup Gibson Les Paul Custom, with exposed pickups, helped propel the song to the upper reaches of the U.S. charts, where it hit Number 13.
Golden Earring's fortunes faded in the late 1970s, but they scored a strong comeback in 1982 with the single "Twilight Zone," from their album Cut. Though it was the group's last hurrah in America, Golden Earring have continued to find steady support at home, while "Radar Love" remains for many Americans the ultimate car song of all time.
Top Track: "Radar Love"'
Rudolf Schenker
He admits he's more about songwriting than guitar chops, but it would be unfair to exclude Rudolf Schenker from a hard-rock guitarist list.
As the main force behind Scorpions' 56-year run, he's kept the group focused on delivering enthralling hard-rock hits such as "Big City Nights" and "Rock You Like a Hurricane," as well as arena-rock power ballads like "Send Me an Angel" and "Still Loving You."
He's even turned in some stellar solo work on a few of those tracks, as well as on the band's worldwide hit "Wind of Change." In a band known for having its share of great lead guitarists, Rudy holds his own.
Given their success, it's easy to forget that the Scorpions were at one time both a hungry and decidedly edgy band. After enduring lineup hiccups in the early 1970s when Rudolf's brother Michael left to join UFO, they hired aggressively cosmic guitarist Uli Jon Roth and developed into a storming hard-rock band with 1975's In Trance.
A year later they followed that with Virgin Killer. Both of these developments would ultimately dovetail into 1979's landmark Lovedrive album, their most focused and groundbreaking work of the decade.
But it took a lot of jarring twists and turns to get there. Roth left the band in 1977, citing musical differences, and was replaced by Matthias Jabs. Michael Schenker rejoined in time for Lovedrive, where he mostly threw in a few leads here and there, but what monumental, brain-rattling leads they were!
His work is practically ground zero for all the insane shredding that was soon to come from all corners of the globe. Though Michael moved on, Rudolf used the momentum to develop Scorpions' amalgamation of power ballads and hard-rock over their next few albums, culminating in 1984's Love at First Sting.
With classics that include "Big City Nights," "Still Loving You," and "Rock You Like a Hurricane," it remains their biggest U.S. success and a testament to Rudolf Schenker's vision.
Top Track: "Big City Nights"
All the latest guitar news, interviews, lessons, reviews, deals and more, direct to your inbox!
Mark is a freelance writer with particular expertise in the fields of '70s glam, punk, rockabilly and classic '50s rock and roll. He sings and plays guitar in his own musical project, Star Studded Sham, which has been described as sounding like the hits of T. Rex and Slade as played by Johnny Thunders. He had several indie hits with his band, Private Sector and has worked with a host of UK punk luminaries. Mark also presents themed radio shows for Generating Steam Heat. He has just completed his first novel, The Bulletproof Truth, and is currently working on the sequel.