Here's Why XTC Carried the Torch of Psychedelic Rock in the '80s
Guitarists Andy Partridge and Dave Gregory turned the new wave rule book on its head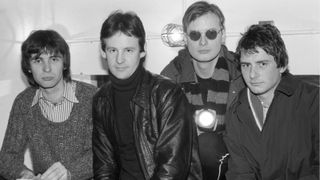 (Image credit: Peter Noble/Redferns)
If imitation is the sincerest form of flattery, then the Dukes of Stratosphear were the most heartfelt tribute to classic 1960s psychedelia.
The act was a side project for U.K. new wave band XTC, dreamed up by guitarist and singer Andy Partridge, who pushed bandmates Dave Gregory (guitar) and Colin Moulding (bass) to write and produce an album that sounded like it was made in 1967.
In 1984, plans were drawn up and boundaries set for the project, to be released under the Dukes of Stratosphear pseudonym.
"There's Syd Barrett's Pink Floyd, the Yardbirds, plenty of psychedelic Beatles, the Byrds, the Hollies," Partridge said at the time, rattling off the acts who influenced the effort.
"The criteria was to use older guitars, older amps and older techniques. We used the old thought as well. Everything was first take, which adds to that off-the-cuff feel a lot of those old records had."
The first Dukes release, the six-track mini-album 25 O'Clock (opens in new tab), appeared in 1985.
Partridge's guitar work always stood apart from his contemporaries, his angular, dexterous riffs and rhythms mixed with soloing that never took the obvious route. But in the Dukes, both he and Gregory considerably expanded their range.
Extended guitar wig-outs were always a little frowned upon by the new wave taste police, but no such constraints applied to the excesses of the late-'60s psych giants.
Although XTC's role in it was initially kept secret, 25 O'Clock outsold both that group's previous album and its next record, 1986's Skylarking (opens in new tab), on which XTC continued to reflect their love for psychedelia.
Skylarking producer Todd Rundgren, no stranger to excess, was tailor-made to focus the band's ambitions into a memorable album.
Partridge's "Season Cycle" would be the record's strongest indicator of XTC's willingness to embrace the joys of late-'60s pop. Its melody and arrangement seemed to hop from Beach Boys-worthy lush harmonies to Beatles-like melodic hooks.
"That's Really Super, Supergirl," meanwhile, managed to ally the trademarked XTC spikey rhythmic pulse to a lush, densely layered wall of vocals, and Gregory's effervescent solo – played on Eric Clapton's The Fool SG, then owned by Rundgren – injected a dose of infectious tomfoolery into the proceedings.
Partridge needed little persuasion to start working up songs for Psonic Psunspot (opens in new tab), the second Dukes album, released in 1987. The tunes were more tightly focused this time, but once again, the influences were everywhere and not too hard to spot.
The opener, "Vanishing Girl," was more mid-'60s pop than psychedelia, but "Have You Seen Jackie" took the band back firmly into the world of "Arnold Layne"-esque Floyd. There was plenty of Sgt. Pepper's-era Beatles as well, and the inevitable hint of the Byrds on "You're My Drug."
Partridge and Gregory didn't get as many opportunities to take flight on their guitars, and the album was much more song-focused than its predecessor, but they still crammed in a psychedelic masterclass, with magical fills, twists and turns.
XTC's Oranges & Lemons (opens in new tab), from 1989, was the logical conclusion of the four-album psych-cycle.
The group was still instantly recognizable as the one that turned the new wave rule book on its head, but the depth and breadth of songwriting and invention reached a new peak.
XTC seemed to be fully liberated from the need to observe any rules or conventions, letting the music take them wherever the muse led them.
In addition to creative freedom, it gave them a chart hit in the U.S. with "The Mayor of Simpleton," a track on which XTC found their voice between the excesses of the late '60s and the economy of the new wave aesthetic.
Browse the XTC catalog here (opens in new tab).
All the latest guitar news, interviews, lessons, reviews, deals and more, direct to your inbox!
Mark is a freelance writer with particular expertise in the fields of '70s glam, punk, rockabilly and classic '50s rock and roll. He sings and plays guitar in his own musical project, Star Studded Sham, which has been described as sounding like the hits of T. Rex and Slade as played by Johnny Thunders. He had several indie hits with his band, Private Sector and has worked with a host of UK punk luminaries. Mark also presents themed radio shows for Generating Steam Heat. He has just completed his first novel, The Bulletproof Truth, and is currently working on the sequel.