"I Didn't Like Playing a Whole Lot of Chords – I Just Liked Playing the Crap Out of Those Single-note Lines!" George Benson looks back
The smooth jazz pioneer on his roots, his crossover success and how he stays motivated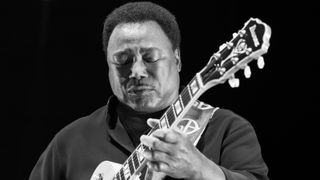 (Image credit: Oscar Gonzalez/NurPhoto via Getty Images)
In a long and highly successful recording career that began when he was just nine, George Benson has moved smoothly through various genres, initially playing straight jazz, usually in the small-combo format.
In 1976, with the album Breezin', he made a surprising switch to smooth jazz, a genre which he could almost be said to have invented, and emerged as a capable vocalist. The album went to the top of Billboard's Pop, Jazz and R&B charts, and produced the hit singles "This Masquerade" and "Breezin'."
This transition into a mellow pop/R&B groove saw Benson achieve huge global success and score a string of Grammys. It was also something of a revelation. Prior to then, few were aware of his vocal abilities, and he has continued to mix and match vocal and instrumental work throughout his subsequent releases.
With his latest studio album, 2019's Walking to New Orleans (Provogue Records), Benson delivered yet another surprise. Not only was it his first new release in six years, but it also found the guitarist making an unexpected diversion into classic R&B and 1950s rock and roll, with a focus on the music of Fats Domino and Chuck Berry.
The results are so satisfying that it begs asking why Benson hasn't ventured down this path before.
While the Domino tracks are an obvious fit for his own warm vocal tone, the Berry songs work with equal success. Opting for a mix of well-known and less-obvious covers, Benson stamps his identity over all the material, bringing effective, concise, jazz-inflected solos and scat singing to the hard-swinging band arrangements.
Remarkably, the idea for the record came not from Benson but from his label. "It was a record company idea," Benson says. "I thought myself that it was a little bit off the beaten path for a minute, but once I got into it, I could understand why they wanted to do it."
The following interview appeared in the August 2019 issue of Guitar Player…
Why focus on Fats and Chuck in particular?
They were both great vocalists who had an instrument in their hand, so they were making two statements at one time. Good bands, good vibes, great feel, great songs, y'know? They both had a tremendous crossover audience as well.
What was your selection process?
We picked tracks where I could bounce off the ideas that were originally recorded. You are talking about two icons. That actually made me shy away at first, as they were both so good at what they did. I wondered what I could do that would mean anything. But you never know until you get into it. Once I started playing, I could see that nobody had ever heard these songs from a different point of view. It was exciting to do it.
Did you reject anything as you went along because it wasn't working for your style?
Not really. We selected all the songs in the beginning, but a couple of them I didn't know. Chuck's "Havana Moon" was one that I'd never heard before. I think I knew all of Fats' songs, but Chuck Berry had quite a list of incredible material, and there was a lot that I wasn't aware of from his songbook. I did think we should stay away from anything of Chuck's that was too familiar, as you don't have a lot of freedom with this music. You could make one change and make a lot of people mad!
Was it as much fun to record as it sounds?
No doubt about that. I am so glad we went to Nashville to do it. I hadn't recorded there since I did some recordings with Chet Atkins a long time ago. The band members were so incredible that I didn't have to do a whole lot. They had been rehearsing the songs, and I just jumped right in the middle of them. We still worked out a few things after that though, making adjustments and adding a few ideas. But we didn't want to get too far away from the original song.
I assume you used your signature Ibanez guitars for the sessions?
Yes, I used the [Ibanez] GB10 and also a D'Angelico jazz guitar. For amps, I used Fender Twins. The Twin has always been one of my favorite amps, because it does everything so well. What it has is clarity. There's a lot of definition in the sound. I used a little darker tone on the album, and that's one of the few amplifiers you can get away with doing that. It still has the punch without going to a tinny sound.
What keeps you enthusiastic and drives you forward year after year?
I'm amazed that the ideas don't stop. Sometimes it gives me shivers. I'll think, Why couldn't I think like this 30 years ago? You start applying that to what you already know, or you bring things up to date, and it keeps you on top of it.
And there's so many great writers today. The themes are always the same, of course: how we live, the relationship between a man and a woman, emotional romantic songs or songs to dance to. But each generation has its own way of doing things. If you keep your ears and your mind open, which is what I do, you can learn some wonderful things and be a part of it instead of sitting on the sidelines.
Do you play a lot at home when you're not working?
Yeah, I play every day. The guitar is like my friend. It gave me the lifestyle that I live, though I do live a pretty modest lifestyle for the position I'm in. The guitar and my voice are what gave that to me. I always wanted to be like Charlie Christian. I didn't like playing a whole lot of chords. In recent times, I have seen the value of learning those chords and playing harmonic things. I see now how important that is for making the guitar stand out as a frontline instrument, but my first influences were Charlie Christian and Django Reinhardt playing the crap out of those single-note lines!
Do you have specific techniques that you work on? Are you trying out new things or working on your chops?
All of those things. When you do something new and different, people notice it right away. You get the comments, too, that show the truth in that. People will say, "Hey, man, I really like the way you changed such and such. Do more of that!" It keeps you motivated to be ahead of the game.
Looking back to that period in the '70s and '80s when you had global pop success, was it a conscious move in that direction, and did the criticism from the straight-jazz fraternity bother you?
There's always criticism, whichever way you go. If you go left, they say you should've gone right, and vice versa. Quincy Jones settled it for me. He asked me one question: "George, do you wanna make the greatest jazz record in the world, or do you wanna go for the throat and see how successful you can be on the world market?" I laughed and said, "Quincy, let's go for the throat, baby."
Prior to achieving success in the 1970s, you hadn't done much singing at all since you were a kid on those jump-blues recordings in the '50s. Had that always been an ambition waiting to be fulfilled?
I thought that was all past me. Yes, as you say, I started out as a singer and made records when I was 10 years old in the vocal-group era of the late '50s. To come back to it that late in life with "This Masquerade" and have Record of the Year at the Grammys, and to win 10 Grammys so far and have over 40 nominations – I never imagined my vocals would take me to that level.
Listening to those old songs from the '50s, I thought "It Should've Been Me" [written by Memphis Curtis and a 1954 hit for Ray Charles] would've worked great on the album.
[laughs] I never thought about that, but y'know, maybe it would! By the way, the guitar player on that record – I think his name was Carl – he made records with everybody during that period. I didn't play on those records in the '50s, but I met him during one of my sessions when I was young. I asked him if I could have a look at his guitar when we were recording.
I played a bit for him, and he said, "You're going to be a great guitar player." I met him five years later, when I was 15, on a vocal group thing that I did, and again played his guitar. He said it again: "You are really going to be a great guitar player." Things like that keep you going.
Given how successful you've been as a guitarist and a singer, if it came down to it and you had to go for one or the other, which would it be?
That would definitely be the guitar. I'm a guitar player before anything else.
All the latest guitar news, interviews, lessons, reviews, deals and more, direct to your inbox!
Mark is a freelance writer with particular expertise in the fields of '70s glam, punk, rockabilly and classic '50s rock and roll. He sings and plays guitar in his own musical project, Star Studded Sham, which has been described as sounding like the hits of T. Rex and Slade as played by Johnny Thunders. He had several indie hits with his band, Private Sector and has worked with a host of UK punk luminaries. Mark also presents themed radio shows for Generating Steam Heat. He has just completed his first novel, The Bulletproof Truth, and is currently working on the sequel.