"Every Artist Wants to Get Something Done That They're Proud of": Daniel Tashian Follows Three Guidelines on His Latest Solo Record, 'Night After Night'
Known for his work as a guitarist, writer and producer with artists like Kacey Musgraves and Brett Eldredge, the result is an album's worth of gems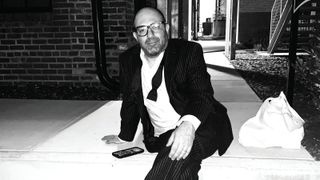 (Image credit: Daniel Tashian)
Tell a musician to follow the rules, and you'll invariably get a host of arguments that all boil down to the same dictum: Screw the rules. Yet Grammy-winning singer-songwriter and guitarist Daniel Tashian, who for the past five years has served as Kacey Musgraves' main collaborator and has had success writing songs for artists such as Josh Turner, Tenille Townes and Lee Ann Womack, is a firm believer in musical guardrails.
"I don't know if I ever got anywhere with 'no rules,'" Tashian tells Guitar Player. "When you think about it, we have lots of rules in society that are very helpful – and they exist for good reasons. Making music is very similar. I think when you're writing, you want to be very open-minded about letting melodies come to you, but making records is the second part of the process, and it's very different. I've found that certain rules can really help you get your point across."
On his newest solo album, Night After Night (Big Yellow Dog Music), Tashian got the chance to co-write with his longtime friend and childhood hero Paul Kennerley (known for penning hits for Emmylou Harris, the Judds and Marty Stuart, among others), but in doing so, he had to adhere to his idol's three golden rules of record making.
One: No minor chords. "Paul writes in a certain mode, and he thinks that minor chords really ratchet up the drama," Tashian explains. "When you take that tool out of the toolkit, you have to make up for it some other way, usually by having really good lyrics and catchy hooks."
Which brings us to Rule Two: Hard rhymes only. "If you rhyme, say, moon with you, it's kind of lazy and it just doesn't hit very hard," Tashian explains. "But moon and June nails it directly. It's solid and it sounds better."
Speaking of sound, there's the last rule: Each song should have at least three acoustic guitars, preferably six. "Paul says that it shouldn't be about drumming; it should be about strumming," Tashian says. "Let the sound of the rhythm guitars do the work of the drums. You'll get a really great propulsive sound. And it works."
That it does. Tashian's sturdy bed of briskly strummed acoustics – three panned hard right, three more hard left – form the basis for the album's immediately accessible and catchy tracks. By design, the record was constructed to evoke the spirits of some of Tashian's and Kennerley's influences – Buddy Holly, Bo Diddley, the Everly Brothers, early Beatles and Stones – and to be sure, they're all felt.
But in a funny (and not surprising) way, Tashian almost sounds like he's channeling Tom Petty. The effervescent rockabilly title track wouldn't have sounded out of place on Full Moon Fever, and the various treatments of country rock – whether freewheeling ("Thinking of You Too Much") or plaintive ("She's Sad," "Tumble and Fall") – call to mind the Traveling Wilburys.
Tashian dots the tracks with hooky and economical splashes of electric guitar, and he's joined by a pair of Nashville aces: Buddy Miller on baritone guitar and mandolin, and Russ Pahl on pedal steel.
Tashian's connection to Kennerley comes via his father, Barry Tashian, a one-time member of the '60s garage rock band the Remains (they opened for the Beatles on their final tour, in 1966), who later played guitar for Emmylou Harris, then Kennerley's wife.
"I've admired Paul since I can remember, and it was always my dream to work with him," Tashian says. "The way he operates and the musical knowledge he possesses, it always inspired me. I'm really thrilled and honored that I got the chance to make this album with him. Things kind of came full circle."
Your parents have a bluegrass duo, Barry and Holly Tashian, and your dad was in the Remains. It's safe to say that music is in your DNA, right?
Yeah, because of my dad, guitars were around all the time. I thought they were fantastic. I remember crawling over to them and brushing my fingers on the strings. I loved everything about them. I loved the way they smelled. The inside of a new guitar case is one of the best smells ever. It took me a while to actually start playing. When you're a kid, guitars are hard to play. They hurt your hands and fingers.
Was your father a built-in guitar teacher for you?
Yes and no. I don't think he was a very dogmatic person, like, "You should do it this way." He showed me some chord shapes, but after that, I didn't want to sit and have a lesson. I wasn't trying to play leads per se. I played "Honky Tonk" by Bill Doggett. He showed me that one, and he showed me "Rumble."
Beyond that, it was up to me to figure things out. He wasn't teaching me U2 songs. I had to look up in Guitar Player and see how to play "I Will Follow." I loved those sorts of leads like The Edge would play. Then I started recognizing names on album covers: Nile Rodgers, James Honeyman-Scott.
Nobody mentions James Honeyman-Scott, which is such a shame. He was a phenomenal player.
Absolutely. Eddie Van Halen loved James Honeyman-Scott, because he played hooks. I never gave a shit about Yngwie Malmsteen – plus, what he does is so difficult. I should clarify that: Anyone who can make a living with a guitar has my respect, but I never cared about speed. I cared about hooks.
What kinds of guitars were you playing?
My dad had some Japanese Fenders from the '80s: a Telecaster and a Squier. I have them now, actually. He also had a nice '50s Telecaster, but it got stolen. I had an Ibanez acoustic guitar that was really nice. It had great tuning pegs.
Oh, I have to ask: Did your dad have any cool stories about his time opening for the Beatles while he was in the Remains?
Yeah, the Remains played something like 14 cities in 14 days with the Beatles. They were on the plane with them. They would play a show, get on a plane, play a show, get on a plane. He got to know them, and he absolutely loved them. He thought that they were just the best people. He would smoke with George while they were waiting on the runway, and sometimes he'd go to John's hotel room and play records with him. He loved them.
That's amazing. When did you start teaching yourself how to write songs?
When I was a teenager. I was drawn in by the early '90s folk scene in New York – performers like Suzanne Vega, John Gorka and Shawn Colvin. I wanted to write my own songs, and I wanted to use the acoustic guitar in my music. I had a decent voice, and it seemed as if girls were interested in guys who sang lead. Singing my own songs helped me get through some of my teenage angst. It gave me something to focus on, and it helped me to communicate with girls.
Having a dad who's a guitar player, things can go one of two ways: He could either be encouraging, or he might say, "Music is a tough life. You've got to have a backup plan." How was he?
He never said anything about a backup plan, but he also said that it was tough. Still, he was encouraging, so it was everything except the backup plan part. I knew things could be tough, but my attitude was, I won't quit.
You grew up in Nashville. Did you move to New York City to pursue your career?
I spent some time in New York, and I spent some time in L.A., but no, I never moved anywhere.
What would you say was your first big break? The first real big break?
Having a song used in a commercial. It was a commercial for maybe Tide or something like that. It was a song with my band, the Silver Seas, called "Imaginary Girl." It was the first real money I made from music.
Your first solo album was produced by T Bone Burnett. Did he impart any kind of cool or quirky guitar things on you?
Yeah, he did. He's a wonderful guitar player. He's got these very manicured, elegant, long fingers, and he plays so beautifully. He showed me some cool rhythm stuff. One thing he showed me was how to place my rhythm halfway between swinging and not swinging like Chuck Berry would sometimes do.
The drums and the bass might swing, but the guitar was being played straight, like on "Sweet Little Sixteen." Straddling that line between swing and straight always confounded me. I think T Bone learned it from Marc Ribot.
Over the years, you've collaborated with a pretty nice list of artists. Why do you think they're drawn to you? What do you think you bring to the party?
I'm a clarifier. I have an opinion, and I think things should be done properly – or done a certain way. I like getting things done. Every artist wants to get something done that they're proud of, and to get there they need structure and encouragement: "You've got this. You can do it."
This is important, because when they're creating new music, they can be vulnerable. I try to help them get there and make them feel like what they're doing is meaningful. But I also provide structure.
Is that what Kacey Musgraves looks for?
I think she's looking for ideas and backdrops that she can paint her colors over. She wants frameworks and ways to articulate what she's trying to say as an artist. It could be instrumentation; it could be chords or modes. Or it could be support and providing a schedule.
She's very opinionated about what works for her and what doesn't, so she likes having somebody she can communicate with honestly. For instance, if she does a harmony and I don't think it's right, I'll say, "I think there are some better notes for you here." She might accept it, or she won't.
The point is, I have to be honest with her. She doesn't want somebody telling her something works if it doesn't.
I have to mention Blue Umbrella, the EP you did with Burt Bacharach. Writing songs with him, how do you not get intimidated?
You could get intimidated, but that's what everyone does, and I decided I wasn't going to go that route. He doesn't like it, and it doesn't help you get anything done. I let him know that he was very special to me, and that his music was very important to me, and that was that. We got down to work.
So do you find yourself being deferential?
I mean, you do a little bit because he's so good. He knows what to do. You have to just listen and do what he says, because he knows. I submitted the lyrics, but the melodies and the chords were his. If he says to do it a certain way, I do it the way he says. That's his part of it, you know what I mean? I don't step on his toes.
Let's get into your album. Paul's motto of "more strumming, not drumming" is so evident throughout the tunes. The acoustics really drive the rhythms.
They do. Usually a couple of Gibsons and Martins seem to do the trick. I have a wonderful J-200, and I've got a Martin 000-18 from '78. I've also got this beautiful Bourgeois acoustic. You stack them up and capo them in different positions, and they sound great. If you do the Paul method, it's six guitars: three on the left and three on the right.
Are you strumming the same pattern, or do you vary it a little?
I'm strumming the same pattern, but the voicings would be different for each one.
I hear minimal drumming on a few songs. Are you using a drum machine, or is that a live kit?
No, that's me on a real kit. I started playing drums when I was a kid because it was easier to play than the guitar. You're just banging on things, and you bang along with your favorite records. I know how to hit the drums.
I use a Ludwig kit – pretty much the same one I've had since I was 14. I try to play very machine-like because that's what that kind of music needs. J.J. Cale used a drum machine all the time. How funky is that stuff?
The album's title track features a nice twangy guitar solo. Is that Buddy Miller?
Oh, sure. You kidding me? He's so wonderful. He knows just what a song needs. I never have to tell him what to do. Let him go!
You play a few solos yourself.
A few of them. "She's Sad" – that's me.
That solo has a cinematic-sounding, echo-drenched solo – very The Edge. You mentioned him before.
I was definitely going for that. The Edge is the hook master. He's got more hooks than a bait shop. You can sing his stuff.
You get a great sound on that. What did you use?
A Gretsch 6120 through a '64 Fender Deluxe. That's always a good way to go.
"One Tear Fell" is a straight-up country waltz. Great pedal-steel solo by Russ Pahl.
Yeah, I usually stay away from waltzes, but I'm starting to appreciate them more. It's a wonderful song that was started by Paul. He saw a woman he knew who lived in his neighborhood. She was in her yard and she had a tear in her eye, like she was on the rocks with her boyfriend or something. It was a little slice of life.
We recorded that one during the pandemic, so nobody was in the same room. Russ has a studio in his house, so I could just send him a song and he'd have a go at it. He sent back three passes of the solo. I listened to the first one, and it sounded so good that I just said, "That's it." Paul said, "No, no. You have to listen to all three." But I didn't think that Russ could improve on the first one, so that was it.
The song "Pretty Thing" seems to have the kitchen sink in it. You've got your wall of acoustics, but there's also gorgeous, dreamy electric guitars and a lap-steel solo.
Yeah, it's got everything. Some of the electrics are me, and Buddy is in there, too. He's playing his baritone, I think. I might have played some lap steel, and there's a solo by Buddy. It's got all the elements.
You named a few guitars that you used on the record. Anything else?
There were a few others. There's the Japanese Telecaster and Squier. I was talking to [singer, guitarist and drummer] Joe Oblon, and he was telling me that he got such a great sound from these pickups. They're the Billy Gibbons custom pickups from Seymour Duncan. They wind 'em extra thick for Billy. I put them in my electrics, and they're amazing. They really make a difference.
How about amps? And do you have any particular miking techniques?
I used a '64 Deluxe and a '53 Champ. Oh, and I used one of the new Pro Junior amps. I think the amp should be off the floor and a condenser mic should be about two feet away. People try to close-mic guitars too much.
What about pedals? Are you a big pedals guy?
I like pedals. I use Chase Bliss pedals – a few of them. What else? I use the Supa-Trem2 by Fulltone. I like that one because you can go into each amp from one side of the tremolo, and it really has a wide sound.
Do you plan to tour with this record?
I'd like to play a few shows, sure. But at the moment, the question is how to handle it with the kids. I've got three daughters, so we'll have to see what I can realistically do. But I will be making music with them next. My oldest is 11, and we have two eight-year old twins. They like playing ukuleles. We're getting into music together. It's fun.
All the latest guitar news, interviews, lessons, reviews, deals and more, direct to your inbox!
Joe is a freelance journalist who has, over the past few decades, interviewed hundreds of guitarists for Guitar World, Guitar Player, MusicRadar and Classic Rock. He is also a former editor of Guitar World, contributing writer for Guitar Aficionado and VP of A&R for Island Records. He's an enthusiastic guitarist, but he's nowhere near the likes of the people he interviews. Surprisingly, his skills are more suited to the drums. If you need a drummer for your Beatles tribute band, look him up.