Ten of the Greatest Chicago Blues Songs
Return to the source of inspiration with these Windy City blues guitar classics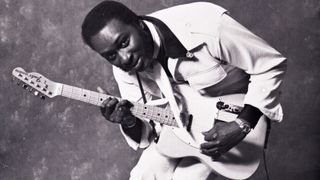 (Image credit: Gilles Petard/Redferns)
In September of 1950, 15-year-old Eddy Harrington (1935-2018) boarded a Greyhound bus in Birmingham, Alabama, a $15 one-way ticket in hand, and embarked on a northern journey that would change his life dramatically.
The migration of Harrington, who'd one day be known as bluesman Eddy "The Chief" Clearwater (pictured above) wasn't altogether unique, but it was undeniably one with purpose. Between 1900 and 1960, nearly five million other African-Americans did the same thing.
They brought more than their dreams and worldly possessions to Chicago. They brought their culture, and their blues. When Chicago blues came to life in the late '40s and early '50s, it was essentially amplified Delta blues worked into the framework of a small band, usually drums, piano, and bass. It eventually grew to encompass a subgenre, West Side blues, which often featured a louder, minor-blues sound anchored by gutbucket guitar.
"I had always heard from many people that Chicago was more like a promised land," said Clearwater. "That if you wanted to better your life and broaden your horizons, you went to Chicago, because there were so many opportunities, and so many different walks of life.
"Sweet home Chicago!"
1. "Rollin' and Tumblin'" by Muddy Waters
Few performers in recorded history in any genre can lay claim to having the kind of impact that Muddy Waters (1913-1983) had on Chicago blues. Powerful, immediate, and uncompromising, Waters' quintessential Chess recordings stand out as a veritable blueprint for much of the blues guitar discs that followed.
"In his living room [in suburban Westmont, Illinois], I used to play Muddy's old songs on my portable cassette recorder, just loud enough for him to hear them in the kitchen," wrote Waters sideman "Steady Rollin'" Bob Margolin in a 1995 article for Blues Revue. "Sipping champagne, he'd enjoy his songs – he said they were like 'old friends' – and then he'd come in and start pointing out parts to listen to, or telling stories about the recording sessions. You better believe I remember every word."
2. "Forty-Four" by Howlin' Wolf
Chester Arthur Burnett (1910-1976) was born in West Point, Mississippi, and named after President Chester A. Arthur, arrived in Chicago in the winter of 1953. It's unlikely that any other blues man in history could have been so simultaneously entertaining and downright frightening. At times, the ferocious-sounding Wolf, whose growling voice was augmented by vicious, rhythmic harmonica blasts, tipped the scales at nearly 300 pounds.
Two guitarists, Willie Johnson and Hubert Sumlin – the latter favored single-­note runs and played few chords – were instrumental in Wolf's art, as was songwriter Willie Dixon, who penned virtually all of the Wolf's recorded output from 1960 to 1965, including classics like "The Red Rooster," "Spoonful" and "Back Door Man."
3. "Damn Right I've Got the Blues" by Buddy Guy
In 2023, Chicago is still Buddy Guy's turf. And when it comes to onstage action, the 86-year­-old Guy has few contemporary peers.
It's hard to believe there was a time when the Louisiana native couldn't even find a worthwhile record deal. He went through most of the '80s without a domestic release to his credit. But, difficult commercial periods aside (Guy still laments radio's reluctance to give his music more airplay), his legacy and reputation as a formidable stage presence remain completely intact.
This tune, from 1991's Grammy-winning comeback album of the same name, marked the beginning of a resurgence that Guy enjoys to this day.
4 "Funky Bitch" by Son Seals
It's hard to deny the blues credentials of a man who'd had a leg amputated (due to diabetes) and been shot in the jaw. But Son Seals' recorded work is all he ever needed.
Hound Dog Taylor may be the most important artist in the history of Alligator Records, but Arkansas native Seals was only a small step behind. His early releases for the label, which proudly endure, demonstrate his stinging, staccato guitar style.
"Funky Bitch," which first appeared on 1978's incendiary Live & Burning, was given new life by Phish on 1999's Hampton Comes Alive. Frontman Trey Anastasio also lent his guitar work to a new version of the song that Seals cut for Lettin' Go, a 2000 release for Telarc.
Sadly, Seals died in 2004 from complications of diabetes.
5. "Soul Fixin' Man" by Luther Allison
Few players blended soul, rock, and funk sounds into blues as well as the late Luther Allison, who was possibly at the top of his game when he was diagnosed with inoperable cancer in July 1997. He died in a Wisconsin hospital a month later.
Allison's unlikely comeback, hatched in 1994, was more than a bit dramatic. He'd been living in France since 1980 (he enjoyed steady work in Europe), and American bookings were few and far between. But by the mid-'90s, Allison was born again.
Soul Fixin' Man, from 1994, his first American recording in nearly two decades, signified his triumphant studio return, and Blue Streak, released late the following year, kept Allison's fiery, stinging guitar and gritty vocals front and center.
He would soon become a festival favorite, and that momentum continued through 1997's Reckless, released just months before his passing.
6. "I Just Want a Little Bit" by Magic Sam
B.B. King (1925-2015) had the honor of closing the inaugural Ann Arbor Blues Festival in August 1969, but many contend that Magic Sam – whose last name was Maghett – actually stole the show, despite showing up more than an hour late for his afternoon set and performing with only a bassist and a borrowed drummer.
Sadly, the 32-year-old Mississippi native – whose family had moved to Chicago in 1950 – was dead by the first day of December that year, the victim of a heart attack. At the time of his death, his rising star was short of its apex. In 1967, he'd released his seminal West Side Soul, a record that still sounds fresh and vibrant. The following year he delivered Black Magic, yet another engaging soul-­blues elixir.
"When I first heard his records on WGES [Chicago's premier black radio station in the '40s and '50s], I thought his sound was so different from any blues that I'd ever heard," said Eddy Clearwater. "The sound that he made with his guitar, with the tremolo sound and minor-sounding chords. And he had this vibrato in his voice that coincided with what he was playing. It was just a different kind of approach to the entire thing."
7. "All Your Love (I Miss Loving)" by Otis Rush
Otis Rush (1934-2018) remembered visiting his sister, who was already living in Chicago, in 1949 or 1950, from his Philadelphia, Mississippi home. He promptly decided to stay, influenced by the blues legends his sister took him to see: Muddy Waters, harp master Little Walter, and Jimmy Rogers, among others.
"Man, after one of those first shows, I went out and bought me a little cheap guitar called a Kay," he recalled. "And that amplifier was so light, you'd play a note and it would almost jump off the floor and dance. I'd start practicing, and I just went from there.
"I started tryin' to make those sounds that they was makin.' I was up on the third floor of 3101 Wentworth in Chicago, South Side. The neighbors wanted to call the police on me, mad at me for making that noise. I was like, 'Man, I'm tryin' to learn how to play this guitar like Muddy Waters!"
8. "Two Bugs and a Roach" by Earl Hooker
Earl Hooker was only 41 years old when he died of tuberculosis in 1969. But he left an enduring legacy of precision slide playing, sporting a feathery touch that produced a clean, polished sound.
A former sideman as well – you can hear his slide handiwork on Muddy Waters' Chess classic "You Shook Me" – Hooker's true sound, at least according to some who jammed with him and saw him play live, was never truly captured.
Recalled Eddy Clearwater: "Earl Hooker was a mean son of a bitch with the guitar. Mean! He'd make sounds with that slide that would make your hair stand up. For some reason, they never captured him on record the way he really sounded, and I wish they would have.... There was much more to Earl Hooker than has ever been heard on record."
9. "Night Rock" by Jimmy Dawkins
Jimmy Dawkins was one of a dwindling number of old­-school West Side blues talents when he died April 10, 2013. Like Eddy Clearwater, he left the South for Chicago on a Greyhound bus. (In Dawkins' case, it was a ride out of Mississippi, in 1955.)
His 1969 Delmark debut, Fast Fingers, is considered among his finest efforts. The album came about after Magic Sam introduced Dawkins to label boss Bob Koester. A 1971 follow-up, All for Business, featured Otis Rush on second guitar.
"Night Rock" appears on Fast Fingers, which, incidentally, is probably not an ideal album title: Dawkins' playing, tasteful and soulful, is hardly rapid-fire, and seldom over the top.
10. "55th Street Boogie" by Hound Dog Taylor
This quote from slide master Theodore Roosevelt "Hound Dog" Taylor (1915-1975) is hardly new, but it bears repeating nonetheless: "When I die, they'll say, 'He couldn't play shit, but he sure made it sound good.'"
Indeed, the six-fingered Taylor made it sound good – simple, joy-inducing, party­-starting, slide-heavy blues played in open tunings.
"Hound Dog and [Houserockers band mate] Brewer Phillips pushed their guitars and amps into rough-edged distortion," wrote Alligator Records founder Bruce Iglauer in the liner notes to Release the Hound, a wonderfully infectious collection of live Taylor performances. "For them, the best volume setting was always 10."
"55th Street Boogie," one of Taylor's many magical moments, can be found on Alligator's first-ever release, Taylor and the Houserockers.
All the latest guitar news, interviews, lessons, reviews, deals and more, direct to your inbox!
Guitar Player is the world's most comprehensive, trusted and insightful guitar publication for passionate guitarists and active musicians of all ages. Guitar Player magazine is published 13 times a year in print and digital formats. The magazine was established in 1967 and is the world's oldest guitar magazine.
When "Guitar Player Staff" is credited as the author, it's usually because more than one author on the team has created the story.