"Anybody Would Say, 'That's Enough": At 86, Buddy Guy Says It's Finally Time to Come off the Road
"I'm still going to probably play some of the big festivals," maintains the blues guitar legend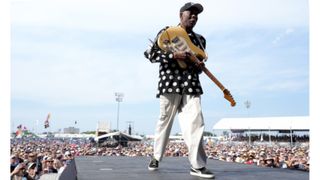 (Image credit: Jeff Kravitz/FilmMagic)
Blues legend Buddy Guy turns 87 on July 30, and he says it's time for him to come off the road after this year's Damn Right Farewell Tour.
"You get in the 80s, man, and the little aches that didn't used to ache, they come on and you don't know where they're coming from. I can play, but getting from point A to point B, the trips that take all day on the bus or the airport and all that… Anybody would say, 'That's enough.'"
Watching his forebears like Muddy Waters and B.B. King gave Guy a sense of how he didn't want to go out. "I think Muddy died at 70, and he was still okay," he says. "But B.B. King was 89 years old. Every time I would go play for a promoter that had him six months or a year before me, they'd tell me he was forgetting his songs.
"He was doing the same song three or four times a night. 'You Are My Sunshine' – that was his favorite. And everybody was afraid to tell him he was singing it three or four times a night, 'cause he was the boss at all times. So I started thinking about that, and I don't want it to be that way for me."
Guy – whose latest album, The Blues Don't Lie, came out last year – is quick to clarify that stopping touring does not mean the music will end. There may be more albums. "I think my record company is doing about as well as anything in the blues," he notes. His January residency at Legends will continue for as long as he can play, too. (In 1989, he opened Buddy Guy's Legends, where he spends each January performing a month of shows.)
And Guy predicts we'll see him on other stages occasionally. "I'm still going to probably play some of the big festivals," he says. "The New Orleans Jazz Festival wanted me to play there for the rest of my life. It's once a year, which is not too bad. So some of the festivals like that, I may still just go out and play them."
One of the most memorable live events in Guy's long career took place in late March 1969 when he joined Led Zeppelin, Jack Bruce, Eric Clapton and others for two days of filmed performance at a former linoleum factory in Staines, England.
The music documentary was eventually released under the title Supershow: The Last Great Jam of the '60s!
"I did that thing because the British were saying 'Bring it on!' America wasn't ready for Muddy, B.B. or anybody until the British had to come and tell White America who B.B. King and Muddy Waters were.
"There was an American television show called Shindig! and they were trying to get the Rolling Stones. And Mick Jagger said, 'I'll do it if you let me bring on Muddy Waters.' White America said, 'Who the hell is that?' and he got offended. He said, 'We named ourselves after his most famous record!'
"After I became friends with them, they told me they'd slept in a van to watch me play. I said, 'Man, y'all play better than me,' and they're like, 'No! We got it all from you! We didn't know it was possible to play the blues with a Strat until we saw you.'"
Don't miss Buddy Guy's Damn Right Farewell Tour this year. Order tickets here.
All the latest guitar news, interviews, lessons, reviews, deals and more, direct to your inbox!