"When I Hear This Track, I Hear Rockfield": Listen to Andy Fairweather Low's Vibey New Release, "Somebody Wants My Soul"
This brand-new track appears ahead of the legendary guitarist's forthcoming album, 'Flang Dang'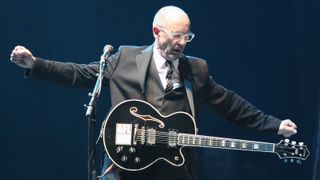 (Image credit: Harry Herd/WireImage)
The résumé of Andy Fairweather Low reads like a checklist of music stars.
Among those hundreds of musicians with whom the Welsh guitarist has played are the likes of Eric Clapton, Bill Wyman, George Harrison, Roger Waters, Jimi Hendrix, Jimmy Page, Jeff Beck, Buddy Guy, Bob Dylan, B.B. King, Joe Satriani, Clarence 'Gatemouth' Brown and Kate Bush.
His illustrious career began in the late '60s as a founding member and frontman of chart-topping rockers Amen Corner.
By the mid-'70s, Fairweather Low had struck out on a solo career, releasing his debut LP, Spider Jiving, in 1974.
Aided by Glyn Johns, he released his highly acclaimed sophomore album, La Booga Rooga, in 1975, followed by Be Bop 'N' Holla in 1976.
Fairweather Low's significant vocal contributions to the Who's 1978 top ten album Who Are You and rhythm guitar work on the band's 1982 LP It's Hard led to him becoming one of the most in-demand session players in the business.
With the phone ringing off the hook, the maestro managed to squeeze out another solo album in 1980 – Mega Shebang. But it would be 26 years later when the long-awaited follow-up appeared – the Johns-produced Sweet Soulful Music.
Zone-O-Tone by Andy Fairweather Low & the Lowriders arrived in 2013 and the band enjoyed a slot supporting Eric Clapton (with whom he has worked since the early '90s) on tour that year.
Maintaining his loyal fanbase, Fairweather Low managed to tour yearly ever since, until lockdown put the kibosh on gigging.
Like so many musicians during this difficult period, the guitarist was effectively forced off the road. But what better way to spend that time than writing and recording a new album?
"I'd always been writing and scribbling away," says Fairweather Low. "I do my demos at home on a Boss 1180, and I love my demos. They're not sort of high-tech quality sound, but they've got a thing about them."
Settling into Wales's storied Rockfield Studios, the Low Riders' Paul Beavis was drafted in to lay down drum tracks. Fairweather Low played all other instruments.
"The only thing I can't stand is the drum machine that I use," he explains. "So this time, I thought, I'll tell you what, I'll go to Rockfield, and I'll do my demos but at a better level – a better technical level – and with a proper drummer.
"I asked Paul Beavis, the Low Riders' drummer, if he'd come and sort of duplicate the drum patterns that I had, and he said yes, and off we went."
Entering the hallowed grounds of Rockfield was like a homecoming for Fairweather Low whose history with the studio goes back decades.
"In 1965, I was there. And the staircase that I put my foot on is still there," he recalls. "I put my foot on it again and it was a bizarre feeling, but it was also the perfect thing."
Although the guitarist hadn't planned on making an album, the stars suddenly aligned when Rockfield co-founder, Kingsley Ward, suggested he pay them a visit.
"Two years of Covid, and I didn't know what to do," continues Fairweather Low. "And then Kingsley suggested that I come down. And I thought, you know what? I think I'll take Kingsley up on his offer. And I did.
"'You don't have to pay, you know, you can have it for nothing, just come down and do something, it will be good to see you', Kingsley said. And it was like going home. It's become like part of a family really, part of the Rockfield family. It did complete a circle. It was just meant to be."
The result is Flang Dang – an album described in a recent review by our U.K. sibling magazine, Guitarist, as "a notable return to form" and "a joyful party."
Slated for release on February 24, 2023, via Last Music Company, the album's eleven tracks cross genres while maintaining Fairweather Low's eminently soulful touch.
"There are a lot of soulful and gospel-tinged songs, there's a bit of blues, there's a bit of ska, there's a bit of country, there's a bit of everything," he points out. "It's everything I've ever listened to.
"My perspective on music since Sweet Soulful Music has not really changed. It's always the same approach. It was my demos then, it's my demos now. And I have days when I'm sort of spiritual and I have days when I'm not.
"It's a constant conversation. So, I'm not tied down to anything."
Ahead of Flang Dang's release, Fairweather Low has unveiled the groove-laden "Somebody Wants My Soul."
Listen out for the vibey, fuzzed-out guitar solo from 2:20.
"When I hear this track, I hear Rockfield," he told us. "I hear the room. Love the groove. Love the guitar sound.
"What's not to l like? I'm souled!"
Pre-order Andy Fairweather Low's new album, Flang Dang, here.
All the latest guitar news, interviews, lessons, reviews, deals and more, direct to your inbox!
Rod Brakes is a music journalist with an expertise in guitars. Having spent many years at the coalface as a guitar dealer and tech, Rod's more recent work as a writer covering artists, industry pros and gear includes contributions for leading publications and websites such as Guitarist, Total Guitar, Guitar World, Guitar Player and MusicRadar in addition to specialist music books, blogs and social media. He is also a lifelong musician.