"Stop Thinking About the Guys You Idolize. Think for Yourself": Clarence "Gatemouth" Brown Pulls No Punches in this Incredible Interview From the GP Archive
The guitar legend defiantly stares down death, blues clichés, and brainless categorizations.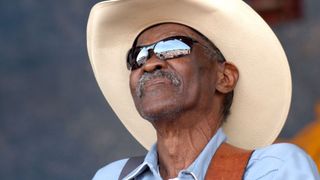 (Image credit: Jeff Kravitz/FilmMagic)
*** The following article originally appeared in the January 2005 issue of GP ***
"My mind works in many, many different ways," says 80-year-old icon Clarence "Gatemouth" Brown [1924-2005.] "That's why I get so mad when everybody refers to me as just a bluesman. They're 100 percent wrong. I don't do any of that hardcore blues stuff where they got a one-track mind talking about how a woman ain't nothing."
Brown does have a point, as he has been criss-crossing the lines of blues, jazz, country, and Creole since the 1940s. But ask anyone who has heard Brown's wicked electric guitar stylings – particularly his early Peacock sides such as "Okie Dokie Stomp" or "Dirty Work at the Crossroads" – and they'll tell you the man is the most unheralded figure in a long line of Texas blues-guitar legends that includes T-Bone Walker and Freddie King.
But if he is an under-appreciated icon of Texas blues, Brown simply doesn't care. To him, the blues is just another style he incorporates into a sound he calls, "American music/Texas life." His new record, Timeless [Hightone], is probably his most genre-bending yet, with his fiddle and guitar taking center stage on a collection of tunes ranging from honky-tonk to jazz standards.
Sadly, Brown is battling lung cancer (at the time of this interview, his doctors gave him only a few months to live), and he has opted to forego any treatment. "To hell with that shit," he exclaims. "I'm not going to let anybody cut me open! A man can cure himself if he tries hard enough, you hear that? You've just got to be positive."
To that end, Brown is still gigging (he just finished taping an Austin City Limits appearance), and still fighting easy categorization. "Pretty soon, I'm going back in the studio to record a bluegrass album," he exclaims. "Because if you're truly creative, you never stop."
Even though you're adamant about not being labeled as a blues guy, your early work is decidedly blues based.
Sure, but I had to sound like that because I was just starting out. That's the kind of stuff I was being asked to do, and seeing as how I was a newcomer, I obliged. But, after a while I thought, "Why do I have to be one of these old cryin' and moanin' guitar players always talking bad about women?"
So I just stopped. That's when I started having horns and pianos in my band, and started playing arrangements more like Count Basie and Duke Ellington, rather than some old hardcore Mississippi Delta stuff.
Who was the first guitarist that really knocked you out?
Well, he didn't knock me out, but he was the only guitarist I listened to a little bit, and that was T-Bone Walker. But you know what? He had a one-track mind, too! He always did the same ol' blues thing.
Did you ever play with T-Bone?
Yeah, we did a couple of shows together. And once in a while my manager at the time would stage these gigs called the "Battle of the Guitars." And you know what? I'd always come out on top. In fact, I remember one time in Atlanta, T-Bone's people pulled my amp's power cord out of the wall!
The same thing happened with Charlie Daniels a few years back. He got real smart, and said a word I didn't like. So I didn't get mad, I got even. All he wanted to play was the "Devil Went Down to Georgia." So I sent Charlie and the devil back there.
What do you feel is the essence of Clarence "Gatemouth" Brown's music?
It's thinking positive and not getting stuck with someone else's sound. I ain't out there trying to sound like this guy and that guy – I don't believe in that stuff. As an artist, you have to have your own identity. If anything, have people try to sound like you.
Stop thinking about the guys you idolize. Think for yourself. You have a mind, so use it.
Browse Clarence "Gatemouth" Brown's catalog here.
All the latest guitar news, interviews, lessons, reviews, deals and more, direct to your inbox!