Recorded During the Pandemic Simultaneously With 2021's 'Heavy Load Blues', Gov't Mule's Ambitious New Album, 'Peace…Like a River,' Is an Exercise in Taking Risks
It was also "a way of not going crazy," says Warren Haynes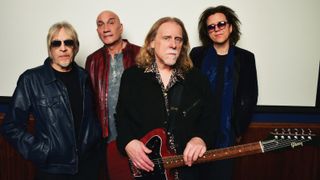 (Image credit: SHERVIN LAINEZ)
Deep in the midst of the pandemic, with touring halted and no clear indication of when the road may open up again, Gov't Mule guitarist Warren Haynes paced his New York state home like a caged tiger. He had to make some music.
Haynes was tempted when his wife and manager, Stefani Scamardo, suggested it may be a good time to record that blues album he had been kicking around for years. But he had also written stacks of new songs he was anxious to record after channeling all his restless musical energy into songwriting during the pandemic.
"I loved the idea of doing a blues album, but I was dying to record all these new Mule songs," Haynes says. "So I proposed doing two records at the same time, and everybody was into the idea. Which meant finding a place where we could set up in two different rooms with two completely different sets of equipment and make two records that sounded completely different from each other.
"Under normal circumstances, that would be a lot to take on," he continues. "But during lockdown, it was the perfect solution. We needed to be creative, play music and get in the studio, because we couldn't tour. It was a great way of expending our energy and being creative. And it was a way of not going crazy."
Working on both albums with co-producer John Paterno (Elvis Costello, Bonnie Raitt, Los Lobos), the Mule set up in two adjoining rooms at the Power Station New England, with no shared gear or instruments, keeping the two concurrent projects with their own unique identity and character.
Heavy Load Blues was released in November 2021 and nominated for a Grammy for Best Traditional Blues album. Less than two years later, this past June, the Mule released its companion album, Peace…Like a River. Haynes says he considers this, the band's 12th studio album, to be the true follow-up to 2017's Revolution Come… Revolution Go.
It's an ambitious album that hearkens back to Dose, Gov't Mule's 1998 second release, in its wide range and musical risk taking. Haynes, bassist Allen Woody and drummer Matt Abts formed the Mule in 1994, when Haynes and Woody were playing together in the Allman Brothers Band and longing for an outlet to stretch the boundaries of music and indulge in the power-trio music they loved from bands like Cream, Mountain and the Jimi Hendrix Experience.
After Woody's 2000 death, the band expanded to a quartet with the addition of keyboardist/second guitarist Danny Louis. Jorgen Carlsson has been the band's bassist since 2008.
On Peace…Like a River, the band is augmented by guests Billy F. Gibbons, Billy Bob Thornton, Celisse, Ruthie Foster and Ivan Neville. With its release, the ambitious, simultaneously recorded two-album song cycle is complete, and Haynes is excited to be back on the road and playing it all. Later in the summer, the group will appear with Willie Nelson on some of the Americana legend's Outlaw Music Festival dates, and tour with Dark Side of the Mule, an expansive exploration of the music of Pink Floyd.
Describe the process of recording two very different albums at the same time.
We set up in two adjacent rooms with completely different gear. In the small room, we set up all these little vintage amps: a Supro Tweed Champ, a Gibson Vanguard, a Gibson Skylark, an Ampeg B-15 for Jorgen, a piano and organ, and Matt had this tiny little vintage Ludwig kit.
It was a small room with low ceilings, and we set up really close to each other. I sang through a monitor; we used no headphones. Basically, every instrument was bleeding into every microphone, which forced us to keep everything we played: no punching in to fix things. We were stuck with the live performances, which is exactly what you want for a blues record.
Meanwhile, we set up all our normal Gov't Mule gear in an adjacent big room with a high ceiling. There was virtually no gear overlap between the two, except my '59 Les Paul, which I used on a few songs of each. Otherwise, the guitars, amps, keyboards and drums were all completely different.
We would go in around noon and work on Peace... Like a River songs till about 9 p.m., take a break, have a bite to eat and go next door to the little blues room and play blues for the rest of the night. That was every day for a few weeks.
Did playing blues all night impact you when you went back in the morning, or were you bifurcating your brain – get one thing out of the way and then go focus on something totally different?
It was a way of shutting off our brains after a long day of working on these songs with more complex arrangements and a lot of moving parts, where we're constantly rethinking about changing this or that section. At the end of the day, we'd just play blues and stop thinking, and it was the perfect remedy. I'm not sure I would recommend it under normal circumstances, but under these circumstances, it was perfect.
So you played the Les Paul some on both albums. What else did you use on Peace…Like a River?
I played my signature model Les Paul the most, as well as my blond Custom Shop 335, and played a bunch of non-reverse Firebirds, some with three P-90s and some with two Burstbuckers.
The '59 Les Paul is on three songs, I think, and I played the Grace Potter Flying V on "Blue Blue Wind." I played a Tele on one song and an Epiphone 12-string on a couple of songs. I also played a D'Angelico Excel on "The River Only Flows One Way," on the jazzy stuff.
Most of the acoustic stuff was on Danny's 1970 Gibson Hummingbird, and I used a J-200 on one song. I also borrowed Allen Woody's '70s Gibson 12-string. That sounded beautiful! I used a lot of different amps – some old Marshalls and my Homestead [HS100] and Diaz [CD100], always mixed in with my little Alessandro amp that I use in recording. I always like to blend the big amps and the small amp together.
It's great that you got a Woody instrument on there!
His daughter, Savannah, has his collection. On "Snatch It Back and Hold It," from Heavy Load Blues, I played his three-pickup SG that's exactly like the one I had when I was a teenager. And Jorgen borrowed an EBO and a purple Alembic, which is what he's playing for that Chris Squire-style bass stuff on "Same As It Ever Was." I think we borrowed three basses and three guitars and wound up using all of them. The 12-string acoustic is on "Your Only Friend" a little bit and maybe on "Under the Tent."
Peace…Like a River opens with "Same As It Ever Was," which is a really cool, complex composition, starting with gentle fingerpicked acoustic and then opening up into a prog feel. It feels like a statement about the album. Is that why you decided to open with it?
Sort of. I think a lot more about sequencing than most people probably do these days. I was brought up on the concept of an album having an overall personality and people listening to it in sequence. A lot of the world doesn't listen that way anymore, but I do, and I think that a lot of Mule fans do as well. This is our 12th studio record, so obviously, there are going to be a lot of things about it that are different from previous records.
It was Jorgen's idea to open with "Same As It Ever Was," and I thought that was really cool. As you said, it starts really mellow and acoustic, and as soon as the bass comes in, with this Chris Squire-style thing, it takes your head off and you go, "Oh, I get it!" It's very different from most of the stuff we've done in the past and I like that. There's some Yes influence, some Zeppelin, and one reviewer mentioned Procol Harum, which I had never thought of. But I really like them!
The other song that has a similar approach is "Made My Peace," though that's more of a Beatles-like feel. Do you see a connection between those two songs?
Yeah, especially in the way that they're very different from what we've done in the past. "Made My Peace" has the most Beatles and John Lennon influence that we've ever committed to in the studio. But it also has all these different moving parts and an ambitious arrangement that goes all over the place. There are several songs that have seven or eight different sections, which is kind of not the norm in most of today's music and is something that I fell in love with years ago.
That's why the album reminds me of Dose. Does that make sense to you?
Yeah, it does. It's kind of an odd choice, but the first four songs on Peace...Like a River have that ambitious arrangement concept where there's all these moving parts and a bunch of different sections. And rather than separate the ones that had the most of that, we put them all back to back to give you a sense of the personality of the record.
I'm curious about the composition of the ambitious songs. For instance, "Your Only Friend" has this great guitar riff that would often be the heart of the song, but it's just one component. Did you write that as a more standard song and then add everything else? Or did you go into it thinking, for instance, a string section would be perfect?
"Made My Peace" and "Your Only Friend" have strings, which we've never used before, and in both cases I had not thought of it until we were listening back. It just made sense. But the compositions themselves were largely written as cohesive songs.
In Mule's early days, you were dedicated to doing everything live in the studio. Do you still?
It's still predominantly live. I think I overdubbed three solos here and there – all short. All the jamming and long solos are what I played live on the track, and the only overdubs that we do are in addition. We don't go back and replace this or replace that. If we feel like we could add to it, we do. Even the effects are usually me stepping on a pedal, like I do onstage. It's all just kind of in the moment.
Let's talk about the guests on the album. Did you write the songs with these people in mind? Some of them fit it so well.
It was usually after the fact. Like, we would start working them up at rehearsal, and it would occur to me, "Oh, this would be cool with so and so." "Shake Our Way Out" obviously has some ZZ Top influence, so getting Billy [Gibbons] to sing on it was obvious.
With "Dreaming Out Loud," I wanted the verses to be like Sly and the Family Stone, with different people singing different lines, and then singing together in the choruses. And I thought about Ivan and Ruthie [Foster], 'cause they both sang on my solo record Man in Motion, and I love the way our voices work together.
With "The River Only Flows One Way," I had that kind of spoken-word, beat poetry idea for the verses, and I didn't think it should be my voice. Billy Bob [Thornton] just has one of those voices – that spooky, demented narration that draws you in – that I thought was perfect for it.
Celisse, the other guest, I've only discovered in the last couple of years. I watched some videos of her and was really knocked out. She only sang on "Just Across the River" – I thought it would be cool to have a female voice counter my voice to give it a gospel back-and-forth thing. I'd love to do some stuff with her playing, because she plays her ass off.
After a spring Mule tour, you're hitting the road this summer with Dark Side of the Mule, playing Pink Floyd. What spurred that?
I love doing it, but we all felt like it had run its course and we didn't think we would do any more of it. Then we were reminded that this is the 50th anniversary of Dark Side of the Moon. If you were ever going to do it again, now would be the time.
Dark Side of the Mule is not just us playing that album; it's really us playing whatever Pink Floyd songs we want to do, with this crazy production and laser show and an enhanced band that includes Ron Holloway on saxophone, T Bone Anderson on guitar, keys and vocals, and Machan Taylor, Mini Carlsson and Sophia Ramos singing background.
It's just this cool interpretation of the music. We're not trying to do exactly what Pink Floyd did, but we also don't want it to be too far from what people expect when they think of those iconic songs. It's fun trying to summon up the spirit of it while being yourself.
That's a line you're used to navigating after all your years in the Allman Brothers Band.
Yes, there are things that you have to play precisely or a song sounds wrong, but then you do your own thing. And I'm playing a Strat, which I hardly ever do. It's fun, and it's the only way to honor the spirit of David Gilmour.
It's great to see Mule with a full touring schedule after you had to cancel shows. [The band postponed its spring 2022 tour after Haynes fractured his shoulder blade, and canceled its New Year's Eve concerts due to a medical emergency.] How are you feeling?
I'm feeling very good, thanks – and very ready to get back on the road. I've never had to cancel shows until recently and it was really, really frustrating. Between being sick and breaking my shoulder blade, and the whole COVID lockdown – that was a lot of not touring. I'm psyched to get back.
Gov't Mule are on tour now. Click here for info and tickets.
All the latest guitar news, interviews, lessons, reviews, deals and more, direct to your inbox!