"In a Lot of Cases, Cheaper Guitars Sound as Good or Better Than Expensive Guitars": Warren Haynes Shares Some Invaluable Tips for Blues and Rock Guitarists at Every Stage of the Game
How do you get a great blues-rock sound on a budget? Why is it important to play in front of an audience? The Allman Brothers Band guitarist and Gov't Mule founder answers these questions and more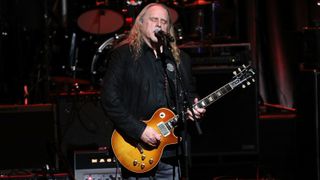 (Image credit: Taylor Hill/FilmMagic)
Warren Haynes has remained a busy and in-demand player for decades. Aside from his solo outings, he is known as a longtime guitarist with the Allman Brothers Band and has featured in Grateful Dead offshoots like the Dead and Phil Lesh and Friends. He's also worked with the Dave Matthews Band and the Dickey Betts Band and taken guest spots with everyone from Blues Traveler to Peter Frampton to Corrosion of Conformity.
And then, of course, there's Gov't Mule. Formed in 1994 the group has explored muscular hard rock, swampy blues and sprawling, highly improvisatory jam music, as well as R&B, soul, instrumental jazz, and dub and reggae styles.
Below, Haynes offers tips for blues and rock guitarists at every stage of the game.
But what's most important? Just play, he says. A lot. "If you're gonna do it at all, you have to give it 110 percent," Haynes advises. "All of the time."
The following appeared in the November 2019 issue of Guitar Player
Can you talk a bit about some of the benefits of playing in a group onstage, in front of an audience, as opposed to in a rehearsal space, or even just woodshedding in your bedroom?
Well, speaking for myself in the time period that I grew up in, improvisation was the key part of all my favorite music. Whether it was rock music, soul music, blues, jazz, it was all music that was created in the moment. And so learning how to play not just as an individual but with a band depended so much on learning how to play onstage.
It was about learning how to play together and listening deeply to what everybody was playing, and then responding to that, rather than just creating a part and sticking to it. You had to allow the music to go wherever it was going to go based on who you were playing with. So the more opportunities you have to play onstage, the better you get at that sort of thing. And for a variety of reasons.
Such as?
One being that when there's an audience, they bring this extra tier of energy to the situation that is very inspiring. It pushes you beyond what you're capable of in an empty room. Also, when you make a mistake in your bedroom, you're likely to make it again. But when you make it in front of an audience, you're likely to not make it again. [laughs]
So the pressure helps you. It's like playing a sport: When the pressure's on, you learn more.
Do you have any tips for players who are just beginning to learn how to solo in a blues or rock format?
When you're first starting out, it's very important to learn all the basics, stuff that at some point you might consider cliché but that is a very important part of the vocabulary. And it's also really important to develop a sense of melody and a sense of phrasing that sounds natural and familiar within normal musical structures and boundaries.
But the longer you continue to pursue the instrument, the more important it becomes to go beyond that and figure out ways to challenge the norms and color outside the box a little bit. For me, I've always listened a lot to guitar players who also were singers, or guitar players who were singing through their instruments. I gravitated toward the type of player that had that vocal-esque sense of phrasing and choice of notes and choice of melodies. And that had an influence on the sound I started to develop for myself.
Another thing that's important is to listen to as much music as possible. You know, a lot of what you learn as a musician happens through osmosis, from exposing yourself not only to a lot of music but also to a lot of different types of music. And as you log hundreds and, eventually, thousands of hours of playing time, stuff just starts coming out that you've stored away, that you've heard in the past. Maybe you don't even know where it came from, but now it's part of your musical vocabulary.
So I think it's just really important to listen to as much music as possible, to play as much music as possible and to play with as many musicians as possible, because it's all part of this huge learning experience.
You've managed to amass a great collection of guitars and other equipment over the years. But for someone that doesn't have access to this type of gear, how would you suggest they go about achieving a great blues-rock sound?
There are tons of ways to get a good sound on a budget. Actually, in a lot of cases, cheaper guitars sound as good or better than expensive guitars. There are less expensive Gibsons and Fenders and Epiphones that sound fantastic.
And you can get small amplifiers that sound really good, like the Fender Pro Junior – not that it's a cheap amplifier, but it's a small amplifier that I record with a lot. And it's hard to go wrong with a Fender Deluxe Reverb. I enjoy recording with small amplifiers, and in some cases they sound as good or better than the big amps.
But, generally, I find that you can get a really good sound with almost any guitar and almost any amplifier, as long as there's some amount of versatility there. A big part of it is just knowing what you're looking for. That's why when you hear a great guitar player plug any guitar into any amp, they can make it sound like themselves just by twisting the knobs and doing what they do.
As someone who's had such a long and varied career, what would you say is the key to being a successful working musician?
I've been fortunate that all the decisions I've made throughout my career have been based on what it was that I really wanted to do. I've never tried to second guess what would be the clearest path to moving up.
Let's look at Gov't Mule as an example. None of our decisions have been made based on what people expected of us or what the music business expected of us. I don't know that that's even good advice to give someone, but it's worked for me.
So one thing I can say is, if you're going to be a working musician, it's a lot of commitment and a lot of sacrifice, and in a lot of cases for very little reward. So when people ask for my advice, I tell them truthfully that if you think you might change your mind 10 years or 20 years down the road, then the music business is not for you. Just enjoy it as a hobby and don't put the pressure on your music of trying to make a living financially.
Only do it if you know it's what you're going to do for the rest of your life.
All the latest guitar news, interviews, lessons, reviews, deals and more, direct to your inbox!
Rich is the co-author of the best-selling Nöthin' But a Good Time: The Uncensored History of the '80s Hard Rock Explosion. He is also a recording and performing musician, and a former editor of Guitar World magazine and executive editor of Guitar Aficionado magazine. He has authored several additional books, among them Kurt Cobain: Montage of Heck, the companion to the documentary of the same name.