David Gilmour's Five Acts of a Legend
From borrowing his neighbor's guitar to the Rock and Roll Hall of Fame.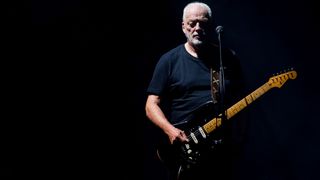 (Image credit: Roberto Panucci/Corbis via Getty Images)
Progressive rock's most expressive lead guitarist, David Jon Gilmour was born in Cambridge, England, on March 6, 1946. Joining Pink Floyd in 1968, Gilmour would go on to lead the band to international success as one of the highest-selling groups in music history.
Here are five reasons Gilmour is a guitar legend…
1. Early Starter
As a youngster, he became interested in music after hearing early rock and roll hits by Bill Haley, Elvis Presley and the Everly Brothers. At age 13, he borrowed his neighbor's guitar and never returned it, teaching himself to play using The Folksinger's Guitar Guide, a lesson book and record by Pete Seeger. While in grammar school, he befriended future Pink Floyd founders Syd Barrett and Roger Waters.
2. Prog Rock Pioneer
In December 1967, Gilmour was invited to join Pink Floyd as guitarist and co-vocalist to help cover for the increasingly erratic Barrett, who would leave the following year. The band became one of prog-rock's most influential and successful acts through albums like The Dark Side of the Moon, Wish You Were Here and The Wall. Following Waters' departure in 1985, Gilmour led the band through three more studio albums before they broke up in 2014.
3. Signature Style
During this time, Gilmour became known for his distinctive lead guitar style, characterized by bluesy phrasing and expressive note bends. His main electric guitar was his legendary Black Strat, which he purchased at Manny's in New York City in 1970 and modified frequently. His tone also relied on effects like the Binson Echorec delay, the Colorsound Power Boost, and rotary speakers by Leslie, Yamaha and Maestro.
4. Collaboration
In addition to releasing four acclaimed solo albums, including 2015's Rattle That Lock, Gilmour helped Kate Bush get her career started and has worked with artists including Roy Harper, Jimmy Page and Paul McCartney.
5. Rock and Roll Hall of Fame
Gilmour was inducted with Pink Floyd into the Rock and Roll Hall of Fame in 1996, and in 2003 was made a Commander of the Order of the British Empire (CBE).
Browse David Gilmour releases here.
All the latest guitar news, interviews, lessons, reviews, deals and more, direct to your inbox!
Guitar Player is the world's most comprehensive, trusted and insightful guitar publication for passionate guitarists and active musicians of all ages. Guitar Player magazine is published 13 times a year in print and digital formats. The magazine was established in 1967 and is the world's oldest guitar magazine.
When "Guitar Player Staff" is credited as the author, it's usually because more than one author on the team has created the story.