The Supro Delta King 8 Looks Like You Could Eat It With A Spoon And Now Has a Tasty $120 Off Too.
By Scott Rowley published
Who says amps have to be boring black boxes? This stylish and compact tube amp is versatile and more affordable than ever.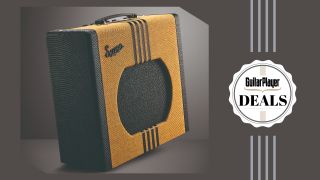 (Image credit: Future)
The new Supro Delta King 8 takes its visual cues from the 1950s Valco-made Supro Comet, with its TV-front cabinet and vertical racing stripes. But while the amp pays tribute to the blues roots that give it its name, Supro has updated the formula to make this 1-watt tube combo amplifier perfect for the bedroom guitarist, with all the crunch and attitude of early Supro amps without the unwanted volume.
The Delta King has a Class A power section, a custom 8-inch Supro speaker, and simplified controls to provide you with perfect tones right out of the box.
With an amazing $120 off at Sweetwater (opens in new tab), while stocks last, now's the time to snap up an amp that your partner won't mind seeing lying around the house.
Supro Delta King 8: was $449, now $329 (opens in new tab) (save $120!)
Stunning retro looks – also available in black and cream – the Delta King isn't just style over substance. It's a fun, stylish and compact tube amp with good versatility for its price and an appealing personality for a straightforward and affordable amp that can be dialed in for a range of blues, rock and roll, and alt-rock tones.

Want to shop around a bit more? Our experts have been testing the best amps of 2021. Or see what else is in the Black Friday Guitar Deals.
Scott is the Content Director of Music at Future plc, which means he's responsible for the editorial strategy on online and print brands like Guitar Player, Guitar World, Total Guitar, Louder, Classic Rock, Metal Hammer, Prog, Guitarist and more. He was Editor in Chief of Classic Rock for 10 years and Editor of Total Guitar for 4 years. Scott regularly appears on Classic Rock's podcast, The 20 Million Club (opens in new tab), and was the writer/researcher on 2017's Mick Ronson documentary Beside Bowie (opens in new tab).
Over the years Scott has interviewed players like Jimmy Page, Slash, Brian May, Poison ivy (the Cramps), Lemmy, Johnny Depp (Hollywood Vampires), Mark Knopfler, Robin Guthrie (Cocteau Twins), Will Sergeant (Echo & The Bunnymen), Robert Smith (The Cure), Robbie Robertson (The Band), Jonny Greenwood (Radiohead), Joe Bonamassa, Scotty Moore (Elvis Presley), J Mascis (Dinosaur Jr), Mick Jones and Paul Simonon (The Clash), Pete Shelley (Buzzcocks) and more.
Get the latest news, reviews and product advice straight to your inbox.
Thank you for signing up to The Pick. You will receive a verification email shortly.
There was a problem. Please refresh the page and try again.