"The Noise That We Make Has Been Dyed in the Wool for a Very Long Time": British Guitar Phenom Chris Buck Talks Being Back in Cardinal Black
The blues-rock marvel puts his old band back together for their sensational debut album, 'January Came Close'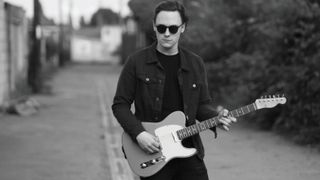 (Image credit: Cardinal Black)
For the past several years, British guitar phenom Chris Buck has made a name for himself in six-string circles as one of modern music's most expressive, emotive and exciting players, with a blues-and-soul-drenched style that he has showcased onstage and on record with his band, Buck & Evans, as well as in Friday Fretworks, his popular Instagram posts and YouTube video series.
And it's not just guitar fans who have been talking about Buck – it's also legendary players and peers, including Iron Maiden's Adrian Smith, Myles Kennedy, former Whitesnake man Bernie Marsden and, most prominently, Slash, who has jammed onstage with Buck and called him a "fucking amazing guitar player."
Buck's guitar playing, which is highlighted by his exquisite tone and impeccable taste, is deeply rooted in his love of classic rock and blues.
But with his newest project, Cardinal Black, he's also delving into his personal roots. Because while Cardinal Black have just released their first album, the band's history stretches back more than a decade, to when Buck and drummer Adam Roberts joined with singer Tom Hollister to write songs for what was, at the time, Hollister's university dissertation project.
But the musicians, then known as the Tom Hollister Trio, soon became something much more. Steve Winwood attended the trio's first gig, instantly becoming a fan, and invited the group to record at his own Wincraft Studios.
Soon enough, they were in the U.S., working on a debut album under the guidance of veteran Guns N' Roses manager Alan Niven.
But before the band could properly launch, Hollister bowed out and returned to the U.K. "It wasn't an acrimonious split, per se," Buck recalls, "but it wasn't particularly… whatever the opposite of acrimonious is." He laughs. "I guess crimonious?"
In the ensuing years, all three remained busy, with Buck, in his early 20s at the time, beginning his rise as a young guitar star. At the same time, he says, "we kept this friendship together, at least initially, and then rekindled that over the years as we did the inevitable 'function' band stuff: We'd play anywhere and for anything, celebrating any religion or wedding or corporate event."
While the musicians continued to follow separate paths professionally, "I think there was also always this sense of unfinished business kind of hanging over our heads," Buck says. They were able to address it seriously when COVID hit a few years back.
"It gave everyone a bit of a clean slate in terms of their schedules," he continues. "We just said, 'Well, none of us are really doing anything. At the very least, let's get together and start rehashing some of the old stuff.'
"Because there was a lot of material there that we felt very positive about, and we also felt it was a bit of a shame that we'd never really released it to any great degree. But when we got together, it very quickly became apparent that we weren't just going to be rehashing the old stuff. There was new music coming, as well."
The result is January Came Close (Bandcamp), the debut album from the freshly reunited band, now known as Cardinal Black and rounded out with the addition of bassist Sam Williams.
The 11-track effort is a mature, fully realized collection of blues-and-soul-steeped rock, with Hollister's rich, full-throated vocals and Buck's emotive playing hearkening back to classic sounds of the '60s, '70s and '80s, even as the tones and textures, as well as the overall atmosphere and energy, feel thoroughly of today.
"The noise that we make has been dyed in the wool for a very long time," Buck explains. "But we did make a very conscious decision that this would be as modern-sounding a record as humanly possible.
"So while we've always been very blues based, with a fair amount of improvisation, we aimed to make these songs very concise and fresh, for instance."
Additionally, while Buck has become known as a hot-shot lead player over the years, and he acknowledges that the band's early music contained "a lot of absolutely needless guitar solos," he says his approach on January Came Close is decidedly more focused on "playing for the song."
"We did not want this to be the 'Chris Buck Band,'" he points out. "It wasn't going to be a vehicle for my solos or for me to try to demonstrate any level of guitar prowess. It had to be about the band as an entirety.
"Because, you know, we've got keys, we've got backing vocals, and there's other stuff going on that sits within a quite small-frequency band. If I'm just layering up overdriven guitar parts, it all gets a little bit much.
"So the idea was, lay down one or two guitar tracks at the absolute most, but make those tracks count. Make them interesting."
When it came to his gear, Buck likewise kept things straightforward, but engaging. "I've always been a firm believer that it's not necessarily about having the best gear so much as it's about knowing the gear that you do have inside out – and, crucially, knowing how to get the best out of that," he says.
"And in this case, we'd just come off a tour with [British rock band] the Struts, and it was pretty much straight out of the back of the van into the studio. So I just relied heavily on my live rig."
On the amp side, that rig consisted, Buck says, "of a little 1x12 Fender Pro Reverb and a Victory Copper Deluxe, which is Victory's take on a slightly hot-rodded AC30. Those two together just work particularly well in terms of EQ, because there's a lot of low end and a lot of top end in the Fender, and the Victory has this aggressive, shouty midrange, which nicely fills into that particular frequency gap."
His main guitar, meanwhile, was his trusty Yamaha Revstar, which was built for him by the company several years ago and is loaded with P-90–style pickups. The P-90s, Buck says, "are thick and throaty, and there's a lot of midrange there, but they're not all-consuming and overpowering, like a humbucker can be. They're kind of an integral part of the Cardinal Black guitar sound."
Cardinal Black recently took that sound on the road in the U.K., opening up a string of dates for none other than Peter Frampton.
As for what's next, Buck says, "We're doing a kind of live-to-vinyl recording in Switzerland that will be interesting-slash-absolutely-terrifying. And then the plan is to just tour the ass out of the album next year."
And while guitar fans will find plenty of incredible playing to dive into on January Came Close, Buck also jokes that those desiring more notes per second should "watch the bloody weekly YouTube videos that I'm still putting out."
Or, he adds, just come see Cardinal Black live.
"I think the live show is something different," he says. "On the record, it's all about the songs. But we very much take the mantra that you can be a little bit more self-indulgent in a live show because it's a shared experience with the audience." He laughs. "And odds are, most of the people in our audience like a guitar solo or two."
Order Cardinal Black's January Came Close here.
All the latest guitar news, interviews, lessons, reviews, deals and more, direct to your inbox!
Rich is the co-author of the best-selling Nöthin' But a Good Time: The Uncensored History of the '80s Hard Rock Explosion. He is also a recording and performing musician, and a former editor of Guitar World magazine and executive editor of Guitar Aficionado magazine. He has authored several additional books, among them Kurt Cobain: Montage of Heck, the companion to the documentary of the same name.