Save $100 on an Epiphone Hummingbird EC Studio in the Guitar Center Black Friday Sale
By Scott Rowley published
Now this iconic acoustic is just $379 in Guitar Center's pre-Black Friday promo.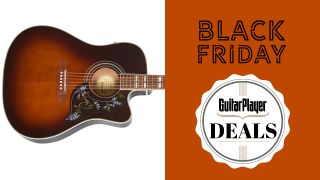 (Image credit: Future)
When it comes to acoustic guitars, few look or sound as distinctive as the Gibson Hummingbird. There's something about the look, sound and feel of the 'hummer' that acts like an auditory comfort blanket.
It doesn't come cheap though: Gibson's current Hummingbird will cost you about $4,000/£3,000. But what if you could pick up a similar version made by Gibson's sister company Epiphone for just $379 at Guitar Center? Now you're talking.
Epiphone's build quality has fast been closing the gap on Gibson's in recent years. It's 'burst finish, square shoulders and that gorgeous pickguard design make it both instantly recognisable and immediately desirable, with the powerful, direct tone we know from so many huge records by everyone from Keith Richards and Sheryl Crow to Taylor Swift, Chris Cornell, and Caleb Followill.
Whether it's your main acoustic or a spare, this is a lovely guitar and a great Black Friday guitar deal.
Epiphone Hummingbird EC Studio: $479, now $379 (opens in new tab)
Regardless of style, from heavy strumming to light fingerstyle, it's all nectar to the Hummingbird. This iconic acoustic looks like a dread and can sound like a dread, but it has a softer, more tender side too. Fantastic build quality, a solid spruce top and Fishman electronics make this 'bird an absolute bargain at $379 at Guitar Center.
Is the Epi version as good as the Gibson? Honestly, no. But is there a $3,600 difference? Um, no. The savings come from some cosmetic differences and its Far Eastern manufacture. This particular Hummingbird features a cutaway to improve access above the 15th fret – this model is a limited-edition that gives you that characteristically rich Hummingbird tone even at the dusty end of the 'board.
With a solid spruce top, mahogany back and sides and a Fishman Sonitone pickup and Sonicore preamp, a slim taper D-shaped mahogany neck and the Pau Ferro fingerboard, it's fantastic value.
Want an acoustic but not sure about this one? Try our guide to the best acoustic guitars of 2021 (opens in new tab).
Scott is the Content Director of Music at Future plc, which means he's responsible for the editorial strategy on online and print brands like Guitar Player, Guitar World, Total Guitar, Louder, Classic Rock, Metal Hammer, Prog, Guitarist and more. He was Editor in Chief of Classic Rock for 10 years and Editor of Total Guitar for 4 years. Scott regularly appears on Classic Rock's podcast, The 20 Million Club (opens in new tab), and was the writer/researcher on 2017's Mick Ronson documentary Beside Bowie (opens in new tab).
Over the years Scott has interviewed players like Jimmy Page, Slash, Brian May, Poison ivy (the Cramps), Lemmy, Johnny Depp (Hollywood Vampires), Mark Knopfler, Robin Guthrie (Cocteau Twins), Will Sergeant (Echo & The Bunnymen), Robert Smith (The Cure), Robbie Robertson (The Band), Jonny Greenwood (Radiohead), Joe Bonamassa, Scotty Moore (Elvis Presley), J Mascis (Dinosaur Jr), Mick Jones and Paul Simonon (The Clash), Pete Shelley (Buzzcocks) and more.
Get the latest news, reviews and product advice straight to your inbox.
Thank you for signing up to The Pick. You will receive a verification email shortly.
There was a problem. Please refresh the page and try again.