Positive Grid Celebrates Impressive 300K Milestone By Slashing The Price Of The Spark Amplifiers And Bias Software
For a very limited time, you can score huge savings on all of Positive Grid's most popular amps, bundles and amp modeling software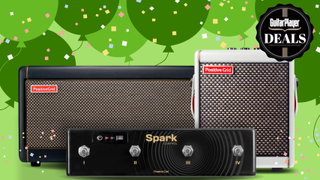 (Image credit: Positive Grid )
We'd go as far as to say Positive Grid is the current champion of the very competitive practice amp space, and it looks like 300,000 guitarists agree with us. The smart amp innovators have just hit a massive milestone with the original Spark 40 and its new tiny version, the Spark Mini, reaching 300,000 players worldwide! To celebrate this outstanding achievement, Positive Grid has slashed the prices on all their amplifiers, bundles and software – but you'll need to be quick if you want to take advantage of these deals as they are only available for a very limited time.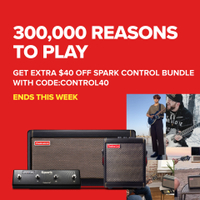 Positive Grid: Spark 300k Celebration Sale
To celebrate the legions of players who are creating and sharing their own sounds on ToneCloud, jamming with their own personal band using Smart Jam, and learning their favorite songs faster with Auto Chords, Positive Grid is now offering huge savings on their most popular products, including the Spark, Spark Mini, Spark Control and Bias software.
Some players may be surprised by this news, but not us. Positive Grid has continued to push the boundaries of what is possible with an affordable practice combo, and frankly, it's easy to see why this clever little practice companion has become so popular.
This sales event covers most of Positive Grid's range, with money off stand-alone amplifiers, bundles with accessories and headphones, and even their mega-popular Bias Amp 2 software, so we highly recommend having a look for yourself to see what is available.
To give you a taste of what you can expect, the original recipe Spark and Control footswitch is available with an extra $40 off – as well as a free bag – with the code CONTROL40. If software is more your thing, then you may want to take advantage of the 40% reduction of the ever-popular Bias Amp 2.
At the heart of the Spark 40 and Mini is the excellent Bias Tone Engine which serves up an array of tones from shimmering clean to crushing high-gain, harmonically rich blues and warm, mellow jazz - as well as a myriad of studio-quality effects including reverb, delay, chorus and tremolo to name a few.
Of course, with an amp as technologically advanced as this, you'd expect more, and boy, does the Spark deliver. Innovative features like Auto Chords - which figures out the chords from your music library or streamed songs - and Smart Jam, which listens to the notes you're playing and creates a backing track in a style of your choice, mean this amp will revolutionize your entire practice routine.
If you want to know more, you can check out our glowing 5-star Positive Grid Spark review and Positive Grid Spark Mini review to see exactly what we thought of them.
Discover more great gear with our buyer's guides
All the latest guitar news, interviews, lessons, reviews, deals and more, direct to your inbox!
First and foremost, I'm a guitar enthusiast – a fanatic, some might say. I'm a firm believer that most of the world's problems can be solved with a Gibson SG and a catastrophically loud amp. Before writing about guitars for a living as a Senior Deals Writer on Guitar Player, I worked in music retail for 7 years, giving advice on guitars, basses, drums, pianos, and PA systems. I also have a passion for live sound; I'm a fully qualified sound engineer with experience working in various venues in Scotland.