Whatever the situation and source material, the Spark Mini consistently wowed us with its full sound and deep set of audio features
Pros
+

Compact stereo format, with spacious and detailed sound. Loads of onboard amp models and effects and more available from the ToneCloud community. Bluetooth and USB audio add even more versatility
You can trust Guitar Player. Our expert reviewers spend hours testing and comparing guitar products so you can choose the best for you. Find out more about how we test.
The inventive minds at Positive Grid have been busy dreaming up new gadgets to make guitarists' lives productive, fun, and filled with great tone. Last month I looked at the company's new RIFF guitar audio interface and app. This issue, I'm checking out the new Spark Mini practice amp and Bluetooth speaker.
It's a more compact version of the desktop Spark smart guitar amp and app I reviewed in our July 2020 issue, but don't be fooled by its size – it packs all the same features into a handsome cube measuring a mere 5.76 x 4.84 x 6.49 inches and weighing just over three pounds.
In a nutshell, Spark Mini is a 10-watt stereo combo with 33 amp models and 43 useful guitar effects (including delay, reverb, modulation, compressor, noise gate, and much more) powered by Positive Grid's BIAS tone engine. No doubt you did a double-take at the term "stereo combo." Remarkably, Spark MINI delivers nearfield stereo sound from a pair of two-inch speakers angled eight degrees from one other.
On the bottom, a passive radiator pumps out omnidirectional bass. The cabinet sits on four feet with three contact points each that help decouple the speaker from whatever surface it's on. The result is a surprising amount of punchy and well-defined bass from the compact cabinet – I could feel it pumping on my desktop even at medium volume levels.
Overall, Spark Mini has a full-range sound with a pleasingly wide soundstage. Like its big Spark sibling, it has an auxiliary input for connecting external audio devices and Bluetooth connectivity for streaming audio. There's also a USB-C connector that allows Spark Mini to work as a simple 1x2 audio interface for recording at a CD-quality 16-bit/44.1kHz.
The main performance controls are on the amp's top, set in a glossy black panel with gold lettering. Here you'll find the 1/4-inch guitar input, individual volume controls for the guitar signal and external music, and a knob for selecting from the four guitar presets: Custom, Solo, Lead, and Rhythm. Around back are a stereo line out, a stereo aux in, and the USB connection that connects Spark Mini to your computer for recording and doubles as the charging input.
There's also a pair button for connecting with Bluetooth devices, including handheld devices running the Spark app (more on this below). Press the button once to engage pairing, or hold it to put the amp in Tuner mode. Finally there's the power button. Spark Mini reaches full charge in three hours to deliver up to eight hours of use with the volume set halfway or lower (play time decreases at higher volumes).
Like its big brother, Spark Mini is a handsome combo in a glass-fiber cabinet covered with Tolex and sporting a black-and-brown woven grille. (The amp is also available in Pearl with a white grille.) Build quality is excellent, and the unit feels solid and tough. I had no qualms about carrying it from room to room – there's a handy leather strap attached for just that purpose – or tucking it into a backpack when traveling.
So, you may be wondering, how does Spark Mini do so much with just a handful of controls? The answer is the free Spark app, which gives you a full set of virtual controls to fine-tune your tone, dial in presets and effects, and gain access to new presets from the online ToneCloud community.
The app also gives Spark Mini all the features that come with Spark, including the Auto Chords learning tool that analyzes songs and displays chords in real time, and Video Capture, which lets you record high-quality video and audio.
There's something new here as well. The original Spark included a Smart Jam feature that automatically generates bass and drum backing to your playing. The new Smart Jam Live adds a virtual drummer that analyzes your playing and changes in complexity and intensity, in real time, making the jam feature even more useful for practice and songwriting. The short story here is that Spark Mini sounds excellent and is a whole lot of fun to use.
The BIAS-powered amp models and effects provide unlimited tone tweaking, and the fact that the amp is portable and battery-powered makes it a great companion for travel and performance.
I took my test unit on a weekend getaway, along with my Fender Jazzmaster, an Arturia KeyStep Pro MIDI controller, and my laptop, and had a productive time writing, jamming, and recording using the Spark Mini as both my speaker and audio interface. Think of it as a Swiss Army knife for guitarists on the go.
In the weeks since I received Spark Mini, I've also plugged synthesizers and electric pianos into it, and used it to stream music from my laptop. Whatever the situation and source material, it's consistently wowed me with its full sound and deep set of audio features. For being small, versatile, and delivering loads of great tones and musical joy, Spark Mini gets our Editors' Pick award.
Specifications
CONTACT: positivegrid.com
PRICE: $229. Check website for current specials
OUTPUT: 10 watts
SPEAKERS: 2" custom design (x2), passive radiator
CONTROLS: Four programmable preset selector, guitar channel volume, music channel volume, power button, pair/tuner button
I/O: 1/4" guitar Input, 1/8" aux input, 1/8" headphone/line output. USB-C
ONBOARD EFFECTS: 33 amp models, 43 effects
WIRELESS: Bluetooth 5.0
USB: 1 in x 2 out audio interface, 16-bit/44.1kHz
DIMENSIONS: 5.76" x 4.84" x 6.49"
WEIGHT: 3.3 lbs
BUILT: China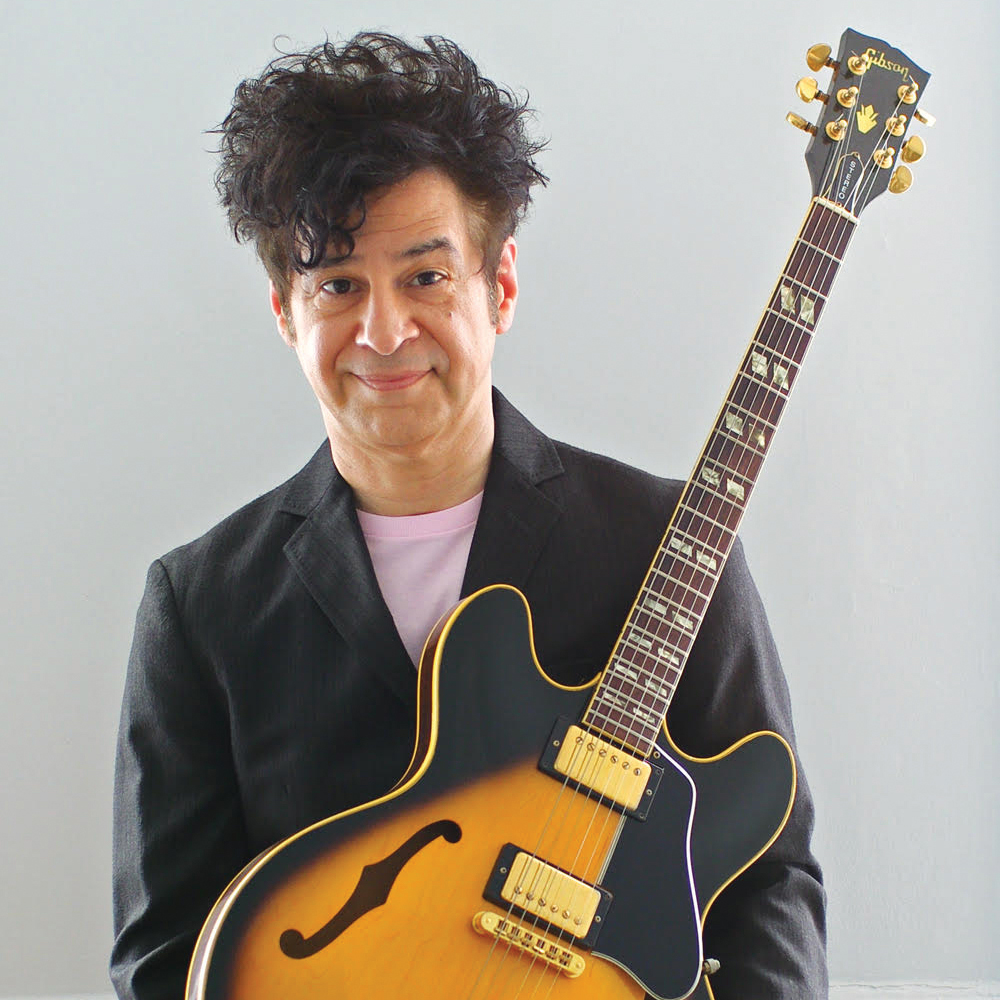 Guitar Player editor-in-chief
Christopher Scapelliti is editor-in-chief of Guitar Player magazine, the world's longest-running guitar magazine, founded in 1967. In his extensive career, he has authored in-depth interviews with such guitarists as Pete Townshend, Slash, Billy Corgan, Jack White, Elvis Costello and Todd Rundgren, and audio professionals including Beatles engineers Geoff Emerick and Ken Scott. He is the co-author of Guitar Aficionado: The Collections: The Most Famous, Rare, and Valuable Guitars in the World, a founding editor of Guitar Aficionado magazine, and a former editor with Guitar World, Guitar for the Practicing Musician and Maximum Guitar. Apart from guitars, he maintains a collection of more than 30 vintage analog synthesizers.