LPD Pedals Releases Expanded Seventy4 Deluxe – a Preamp Pedal Offering Two Channels of Vintage British Amp Drive
The amp-in-a-box specialist just doubled down on classic Plexi tones with an overdrive/distortion equipped with a versatile set of features.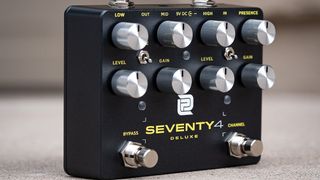 (Image credit: LPD Pedals)
LPD Pedals has unveiled a deluxe two-channel version of its Seventy4 overdrive/distortion, offering a guitar amp-esque control layout, complete with Presence controls and independent Voice switches for each channel to make for a more versatile pedal.
The Arizona-based effects company has delay and chorus pedals in its lineup but has made the amp-in-a-box overdrive pedal something of a specialty. The Arizona pedal company names them after the vintage years in tone that inspired them, such as the Eighty7, which put hot-rodded Marshall tones on the menu for giving your Van Halen tone a jump, or the Sixty8, described as Plexi-style stack-in-a-box.
The Seventy4 does something similar with the metal-faced Plexi and the first master volume JMP as its inspiration – adding more gain because, well, because why not? This is Pedalboard Land, and you can make anything happen down here.
With the Seventy4 Deluxe, LPD has added a second complementary channel, making for a fully functional preamp pedal. There are two footswitches on the housing, one for engaging and bypassing the pedal, the other for switching between the Red and Green channels.
Both channels have their own individual Level and Gain controls, plus the aforementioned and newly added Voice switches, with both sharing a global three-band EQ and Presence. The I/O jacks are located on the top of the enclosure.
The Red channel comprises the same circuit as the regular compact-sized Seventy4, while the new Green channel "adds low-mid girth".
The Seventy4 Deluxe is available now, priced $299.99. See LPD Pedals for more details. The regular Seventy4 is priced $210.
All the latest guitar news, interviews, lessons, reviews, deals and more, direct to your inbox!