Joey Landreth Proves He's Got It All With New Bros. Landreth Album 'Come Morning'
The handsome devil displays angelic chops on his band's latest release.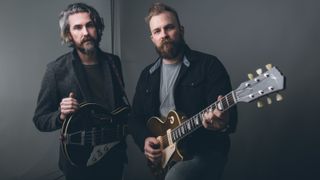 (Image credit: Birthday Cake Records)
A small coterie of guitarists like Vince Gill, John Mayer, George Benson and Bonnie Raitt hit the show-biz trifecta: instrumental wizardry, vocal virtuosity and, it must be said, good looks.
Add advanced songwriting skills and that list gets even smaller.
Canadian Joey Landreth is among the few who possess all four attributes.
He crafts harmonically interesting songs with great pop hooks, sings them like a soulful angel, and couches them in guitar textures and slide solos that have made him a poster boy for the six-string worship set.
And yes, he is a handsome devil.
Landreth's command of harmony originates with his father, a singer-songwriter and bass player for hire who started his son on guitar.
"He was into heavily harmonic music," Landreth says. "I was learning VI-II-V-I turnaround variations before 'Sweet Home Alabama.'"
Joey and his bass-playing brother, Dave, cut their teeth in their father's band and as sidemen for other artists.
Once on their own, the aptly named Bros. Landreth burst on the Americana scene in 2015 with an amazingly assured album, Let It Lie.
By 2019, Dave had burned out on touring but Joey kept going, releasing two well received solo records in rapid succession.
Later that year the brothers reunited to record the stunning but ill-fated '87. Although that album was released, touring and promotion were sidelined by COVID.
Whether recording solo or in the band, Landreth is a master of the mid-tempo, Memphis groove–based song.
One such tune, "Made Up Mind," from the brothers' first record, was just covered by the aforementioned slide wielder Bonnie Raitt.
The latest Bros. Landreth record, Come Morning (Birthday Cake Records), is full of surprising sounds and chord changes, as well as a few gorgeous slide solos directly descended from Ry Cooder, Lowell George and Derek Trucks, but they have a sound all their own, thanks to the guitarist's penchant for low tunings.
Landreth spoke with Guitar Player about those sounds, solos, tunings and more...
Did you develop your career in Canada as a solo artist, session player or both? And when did you get into playing your guitar in a low tuning?
Around 2014, I met "Champagne" James Robertson at a festival in northern Saskatchewan. The backline at the show was terrible, so I offered to let him use my Fender Deluxe.
He said, "I appreciate it, but I play slide in open C and wouldn't want to blow up your amp."
I said, "I would rather you played it and blew it up than didn't play."
We hung out backstage and passed guitars back and forth. A few weeks later, I called and asked if he would mind if I borrowed his tuning.
He said, "Go for it. I'm not the first guy to use it."
Are your acoustic guitars tuned down as well?
I have a Collings that is my main acoustic. It lives in open D. I've tried to make it go down to open C, and it sounds good, but it sounds better in open D or even D flat.
Tell us how Come Morning came together.
We weren't happy with the basic tracks for the record, but by the time we decided to recut some of the tunes, the pandemic had flared up, so we were working in small bubbles – just my brother, me and our producer.
We couldn't get a drummer in the room, so we put calls out to our drum heroes. The first to respond was Aaron Sterling [John Mayer's drummer since 2011].
It was a departure for us, because we usually make records with everybody in a room.
And yet the record sounds more intimate than your previous albums.
The studio I work in has an isolation booth that's lined with cedar. It doesn't sound huge, but it sounds beautiful. I wanted to use a lot of the room sound instead of big washy plate or spring reverbs.
I hoped if people listened on headphones, they would feel like they were in that booth.
The guitar tone on "Corduroy," for example, is pretty big considering how small the room is.
I'm very honored you heard that because it's a point of pride for me.
On the tune "Stay," it sounds like there is a chorused electric.
Actually, that is a subtle Prophet keyboard with chorus.
Live though, I use a Boss VB-2 Vibrato – the Mike Landau vibrato pedal.
I almost bought a vintage one, but I talked myself out of spending 800 bucks and got one of the Waza reissues. I get chorus sounds by using a mixer to blend in the clean tone.
What are you using for the high electric arpeggios on "Stay"?
That's a Josh Williams Mockingbird, which is a 335-style hollow-body with Firebird pickups.
I was on a session in a studio that had a Tele with a set of Firebird pickups that really killed, so when Josh asked what pickups I wanted, I said Firebird pickups.
That guitar records so well, especially rhythm tracks. That sound is me doubling the harmony up an octave.
The slide sounds a bit like a steel guitar.
That was a volume pedal for swells, and a Fairfield Circuitry Shallow Water, which is a randomized chorus pedal with a low-pass filter envelope that adds a subtle warble to the front of the note.
The guitar is a Mulecaster by Matt Eich from Saginaw, Michigan; it's a totally hollow stainless-steel Tele-style thing with a Bigsby Palm G bender and a B bender.
I do my best impression, but if a real steel player heard it, they'd say, "Get off my lawn!"
Is that a dobro on "Shame"? Yeah.
That's another Mule. Matt also makes steel-bodied resonators that are reminiscent of the old Nationals but built to modern standards.
I lean on that resonator anytime I want that sound. I've got a couple of old ones, but they get neglected these days.
That one lives in C tuning, although sometimes I will knock it down to B because it can take it and has pretty heavy strings.
On "Corduroy," there are licks and fills on both acoustic and electric guitars. Do you do a whole pass of acoustic playing fills in certain spots, but consciously leave space for the electric? Or do you fill all the way through with an acoustic and an electric and then decide which you want to use where?
A lot of those parts are from my demo, where I was conscious of not filling up all the space, knowing we would want to put some other stuff in.
I tried to stay out of my own way. I wound up trying to play off the other parts as they were layered up.
There's a Stratocaster on one side and that Josh Williams 335 on the other. They play well together, for the most part.
How do you get that nasty slide tone on "Corduroy"?
There's the slide part in the center, a direct guitar, and a wah-wah guitar filling that out. I'm a huge Little Feat fan. [Landreth released All That You Dream, an EP of Little Feat and Lowell George tunes, last year.]
Lowell George broke a lot of traditional guitar rules by plugging directly into a desk and getting these ugly guitar sounds that work in a mix.
The main slide guitar is my Sorokin [LP Wraptail] Goldtop, which is my number one electric, plugged into a prototype for a signature Two Rock amp I'm working on.
Since you have a fan base of people who want to hear lots of guitar, can you conceive of doing a guitar record?
Absolutely, we've been talking about doing an instrumental record. On this record, I kept looking for moments for that guitar thing to happen and didn't see them.
There's a dedicated guitar moment in "After the Rain," and one in the outro of "Corduroy," but in the bodies of the tunes there are no extended moments. There will probably be too many of those in the live show.
In the last couple of months, I've found myself jonesing to play out a little more, so there's definitely going to be a vehicle for that, whether it's on the next Bros. record or on this instrumental thing we've been threatening to make.
Order Come Morning by the Bros. Landreth here.
All the latest guitar news, interviews, lessons, reviews, deals and more, direct to your inbox!