J. Rockett Effects Pedals Now Better Than Half Price in Sweetwater's Incredible Black Friday Deal
By Rod Brakes published
With $60 off these high-quality stompboxes are now only $59!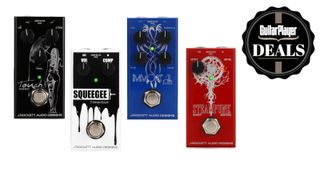 (Image credit: Sweetwater/J. Rockett)
Sweetwater have cut the price of several J. Rockett Audio Designs effects pedals down to $59 in this amazing Black Friday deal. These high-quality stompboxes are normally priced at $119 – that's a massive reduction $60!
The J. Rockett Touch Overdrive, J. Rockett Immortal Echo, J. Rockett Squeegee Compressor, and J. Rockett Steampunk Boost/Buffer are now available at an incredible price of just $59.
J. Rockett Audio Designs was founded by session musicians Chris Van Tassel and Jay Rockett around 15 years ago with the aim of building products that met their own expectations about what high-quality gear should sound like.
The four pedals on offer here are typical of the high-quality J. Rockett's customers have come to expect in recent years.
J. Rockett Effects Pedals: $119.00, Now $59
Get an instant saving of $60 on J. Rockett Audio Designs effects pedals in Sweetwater's better than half price Black Friday deal. In this awesome money-saving offer you can pick up the Touch Overdrive moderate-gain pedal; the Steampunk Boost/Buffer; the Squeegee Compressor; and the Immortal Echo delay for just $59 each. These boutique-designed stompboxes come in tough steel enclosures and feature a super durable finish.
The Touch Overdrive is a moderate-gain overdrive unit that responds dynamically to the player's touch. This dirt box also cleans up nicely using the guitar's volume control, allowing you to explore all those great shades of tone from 10 downwards.
The Steampunk Boost/Buffer pedal is a straightforward booster that allows you to kick up your guitar signal with a 20dB push without compromising definition and clarity. Great for pushing the front end of an amp into natural breakup, a volume jump for solos, or driving the signal on pedalboards.
The Squeegee Compressor can be used in a subtle way for natural-sounding transparent compression in order to balance the guitar sound or in more obvious ways for the kind of spongy clean tone heard on classics such as "Sultans of Swing" and "Sweet Home Alabama."
The Immortal Echo pedal provides up to a substantial 680 milliseconds of analog-style delay time, meaning you can dial in all those classic sounds from retro slapback to long, spacious repeats. Courtesy of the Mix knob players can also adjust the wet/dry balance.
If you're looking for more great deals like this then check out our Black Friday Guitar Deals page where you can browse hot bargains on all kinds of guitar-related products.
Rod Brakes is a music writer with an expertise in all things guitar-related. Having spent many years at the coalface as a guitar dealer and tech, Rod's more recent work as a journalist covering artists, industry pros, and gear includes writing hundreds of articles and features for the likes of Guitarist magazine, MusicRadar, and Guitar World, as well as contributions for specialist books and blogs. He is also a lifelong musician.
Get the latest news, reviews and product advice straight to your inbox.
Thank you for signing up to The Pick. You will receive a verification email shortly.
There was a problem. Please refresh the page and try again.