'GP' Presents Al Di Meola, June 11 in San Francisco, CA – Win Tickets!
The guitar icon plays a pair of shows at SFJAZZ Center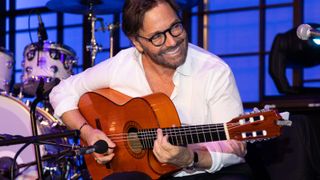 (Image credit: Joshua Sammer/Getty Images)
Al Di Meola topped the charts of the GP Reader's Choice Awards so many times in various categories he was retired to the Gallery of Greats in 1982. Di Meola is a rare breed of virtuoso equally adept on electric or acoustic. Highlights of his ridiculous resume include pioneering fusion with Chick Corea in Return to Forever, and his fabled acoustic trio with Paco de Lucia and John McLaughlin that recorded one of the all-time great guitar showcases in 1980, Friday Night in San Francisco.
2022 saw the release of a follow up curated and produced by Di Meola, Saturday Night in San Francisco. Previously unheard, he culled it from an archival performance recorded the following night.
He'll surely get a hero's welcome when he returns to San Francisco on Sunday for a pair of shows. Guitar Player Presents is very pleased to partner with SFJAZZ to welcome Di Meola back to the City by the Bay.
Di Meola's latest studio album is his second batch of re-imagined Beatles tunes, Across the Universe (2020). He told GP:
"Their catalog is so vast and incredible. The first Beatles record I did was like scratching the surface. You record one song and you immediately think of three more you could do. So the idea of doing another one appealed to me from a conceptual standpoint, but when All Your Life [2013] became a big seller, it became a no-brainer. This is music that I love, and people all over the world want to hear it. The Beatles just make you feel good."
Read the full interview here.
Di Meola will play music from across his astounding career on Sunday at SFJAZZ. The first hit is at 4pm and the second is at 7pm. They will sell out soon. Secure your seats.
WIN TICKETS!
For a chance to win a pair of tickets to see the 4pm show at GP Presents Al Di Meola in San Francisco, send an email to gp@jimmyleslie.com with "Di Meola" in the subject and simply include a sentence about yourself and why you want to go.
Phone contact greatly appreciated for confirmation.
Winner must provide his or her own transportation to SFJAZZ Center in San Francisco, California on Sunday, June 11, and have his or her own accommodations in the Bay Area.
Best of luck!
EVENT DETAILS
Guitar Player Presents Al Di Meola
Sunday, June 11
SFJAZZ Center Miner Auditorium
201 Franklin Street at Fell Street
SF, CA 94102
4pm and 7pm shows
Free GP magazines, Martin strings
All the latest guitar news, interviews, lessons, reviews, deals and more, direct to your inbox!
Jimmy Leslie has been Frets editor since 2016. See many Guitar Player- and Frets-related videos on his YouTube channel, and learn about his acoustic/electric rock group at spirithustler.com.