Al Di Meola Returns to His Italian Roots and Inspires New Guitar Design
The fascinating story of Theo Scharpach's custom-made La Porta flamenco guitar.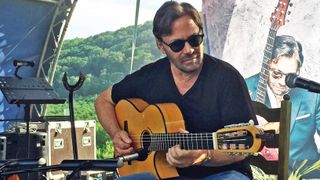 (Image credit: Theo Scharpach)
In early June 2017, Al Di Meola visited the commune of Cerreto Sannita, located in the Campania region of southern Italy, about 40 miles north of Naples. The renowned jazz guitarist didn't take a trip there to play a concert date but rather to make a long-overdue return to the town that his grandfather, Michelangelo Di Meola, had left behind in the early 1900s to seek a new life in America.
"I always wanted to go there," Di Meola says. "It's where my grandfather grew up. He was only 20 when he boarded a ship and left for the United States to start a family. I never knew my grandfather or grandmother because they died before I was born. All I knew were stories I heard my father tell about my grandfather growing up in Cerreto."
The morning after his June 4 performance in Naples, Di Meola, his wife, Stephanie, and their one-and-a-half-year-old daughter, Ava, took a short drive north through the hills to Cerreto Sannita. "I had a couple of days off after that show," he explains. "I thought we were going to visit like tourists, but Stephanie had made special arrangements on her own with people from the town before we left. When we got there, they had this big welcoming party waiting for us. The local police were directing traffic and holding people back on both sides of the street. I couldn't believe that all of those people were there to see me.
"I met a lot of relatives I had never known about," he continues. "My grandfather had 16 brothers and sisters, but only two of them went to the United States. That left 14 siblings who stayed behind in Cerreto, and they had children, and their children had children. Cerreto is a small village of maybe 3,000 people, but almost half of the town is related to me! They were so happy to finally meet me. They knew all about me for the last 40 years, thanks to my endeavors in the music world, and they were very proud of that."
After a lavish buffet lunch with his relatives and new friends, Di Meola was whisked off to Cerreto's courthouse for yet another surprise. "The mayor, Giovanni Parente, and the town council were there to greet me, sitting behind these big, official-looking wooden desks," he says. "As I stood before them, each one voted me in as an honorary citizen. The whole time I was whispering to my wife, 'Can you believe this?' It was a very organized and serious matter."
During a day full of numerous emotional peaks, the most touching moment for Di Meola happened shortly after his honorary citizenship ceremony, while his relatives were taking him on a tour of important places from his grandfather's past, including his church and other places where he spent his time as a young man. Walking uphill along Strada Provinciale toward the northeastern edge of Cerreto Sannita, just past the Church of Santa Maria Mater Christi, his relatives brought him to a set of modest, three-story row houses with well-weathered facades.
One of those homes was where his grandfather once lived.
"Right before me was the doorway that Michaelangelo walked through almost 120 years ago," Di Meola reminisces. "The very last time he closed those doors was when he left to catch a ship from the port of Naples to New York and start his new life in America. I was simply overwhelmed with emotion when I realized that.
"I had heard stories of Cerreto all of my life from my dad," he continues. "They were stories that my grandfather had told my father, which he told me maybe a thousand times. My relatives in Cerreto told me those same exact stories, and they had it all documented. Seeing the actual place where my grandfather lived brought all those stories to life. That was something I will never forget."
The day after his arrival, Di Meola posted a story about his experience on Facebook. Guitar maker Theo Scharpach was so touched by it that he decided to build a very special guitar to commemorate this homecoming event. Best known for the exquisite custom archtop, classical and flamenco guitars he builds in his workshop in Schaijk, in the Netherlands, Scharpach has been a friend of Di Meola's since they met at one of the jazz guitarist's concerts about 25 years ago. Over the years, Scharpach has created several instruments for him.
"I read the story that Al published on Facebook, and it impressed me very much," Scharpach says. "The first guitar that I made for him back in the '90s was a small-body nylon-string instrument with custom abalone purfling and headstock inlays, which he still has in his collection. For this, I thought that a more traditional flamenco-style guitar would be ideal. Al liked that idea, but he wanted it to have a very extreme cutaway, which is something he prefers to have on his nylon-string flamenco guitars. I designed the deepest cutaway the guitar could possibly have while preserving great sound and a traditional shape."
Scharpach was particularly moved by the photo Al posted of him and his infant daughter Ava seated in front of the arched stone doorway to Michelangelo's former home in Cerreto Sannita. "When I read that Al's grandfather left Italy through that doorway, I knew that the guitar had to incorporate a reference to that door in some way," Scharpach says. "The arched shape of the doorway inspired me to develop a unique headstock design with a unique story behind it. I used inlays of different veneers to simulate the arch's stone construction. To represent the massive steel doors, I inlaid an ebony veneer into the center of the headstock. The doorway also inspired the name of the guitar, which I called La Porta."
While the doorway inspired both the guitar's name and headstock design, the overall construction was influenced by the work of Spanish guitar master builder Santos Hernandez. In 1912, while he was employed in the workshop of Manuel Ramírez, Hernandez built a guitar that Ramírez gifted to classical guitar maestro Andrés Segovia when the performer was only 18 and that he played for the next 25 years of his life. Considered one of the elite Spanish guitar luthiers of the 20th century, Hernandez was known for making flamenco guitars with unusually sweet tone, rich warmth and full body.
"Some collectors I know have loaned me Santos Hernandez guitars from 1925 and 1935 that they own," Scharpach says. "I have carefully studied their construction and design, and those guitars were my source of inspiration for this guitar's design. La Porta is made in the tradition of the old masters. It has a standard 650 mm scale length, and most of its other dimensions are also standard. I also used traditional fan bracing, with seven struts."
For years, Di Meola's main flamenco guitars have been Conde Hermanos negra instruments built with spruce tops and rosewood backs and sides. For La Porta, Scharpach decided to build him a blanca flamenco guitar, featuring a back and sides made of cypress wood. "I feel that a spruce top and cypress sides and back create a very clear and pure sound," the luthier says. "That quality of tone is what most players want from a flamenco guitar. I also wanted to give Al something that was different from the other flamenco guitars he usually plays. La Porta was built with some of the finest materials in my workshop. My workshop is well stocked with woods that are 40 to 50 years old, just waiting around to be used one day."
While the traditional designs of Santos Hernandez inspired La Porta's overall construction, Scharpach added a few modern embellishments to satisfy Di Meola's preferences. One of his biggest challenges was making the action as low as possible to suit the guitarist's lightning-fast playing style. Scharpach also cut a sound port on the side of the upper bass bout to make it easier for the player to hear the guitar's natural acoustic tone onstage.
In addition, the guitar maker created a unique modern rosette design. "I wanted the rosette to have a simple, strong design that was also distinctive and slightly different than my standard rosette, just to set the guitar apart and give it its own identity," he says. "The rosette is inlaid with small ebony veneers – just very simple and plain. The challenge was keeping the design simple while still being distinctive and telling its own story.
"One of the most important features is the RMC Acoustic Gold hexaphonic pickup," Scharpach elaborates. "Al also uses the RMC Poly-Drive II to control a guitar synth. Without that, he would not be able to use the guitar onstage. Over the last few years, he and his sound engineer, who is always traveling with him on tour, have developed a very good amplified acoustic sound together. Even on the biggest concert stages, he manages and controls the natural sound nuances of the acoustic flamenco guitar very well, which is not very easy to do."
Scharpach completed work on La Porta just before Di Meola was scheduled to play several concerts in Germany in May 2018. "I presented La Porta to Al during one of his concerts in Berlin," he explains. "Al noticed the high quality of the guitar immediately, which pleased me very much. He is a very talented, sensible and delicate player, and it is always a very tricky thing to build a guitar for a player of his caliber. He is very particular about the guitars that he plays. If he doesn't like something, he won't play it."
Fortunately, La Porta has earned Di Meola's seal of approval. He has played the guitar several times onstage since he received it, and he regularly keeps the instrument onstage with him. He's used it several times to perform "Cerreto Sannita," the song inspired by his homecoming trip, and which he recorded for his critically acclaimed 2018 album, Opus. A photo of the fabled arched doorway appears on the back cover of the record jacket.
"Al is breaking in La Porta more and more during his concerts," Scharpach says. "Of course, he still tends to prefer the Conde Hermanos that he has played for the last 25 years, so La Porta still has some years to go before Al becomes more familiar with it and feels more comfortable playing it. He and I have known each other for so long now. I am pleased that after so many years we finally did something together again. For it to be a project like La Porta, which has so much personal importance to him, was truly an honor."
Click here for more information on custom-made Scharpach instruments.
All the latest guitar news, interviews, lessons, reviews, deals and more, direct to your inbox!