'GP' Presents Sonny Landreth and Cindy Cashdollar on Thursday, March 2, in Berkeley, CA – Win Tickets!
'Guitar Player' welcomes slide luminaries to the Freight & Salvage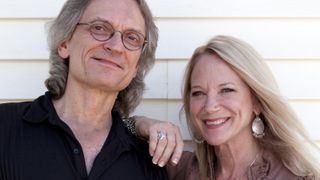 (Image credit: Future)
Slide by slide! Sonny Landreth and Cindy Cashdollar are making an exclusive appearance where the Louisiana wizard's otherworldly bottleneck and Cashdollar's lap steel talents come together in virtuosic glory. They only do this duo for a few shows each year, so it's always a special occasion, and they've developed a singular combination.
Landreth is well known to GP readers, having appeared in its pages for numerous features including a cover, and as the subject of several GP Presents promotions in San Francisco and New Orleans. Landreth's generous spirit of cooperation has made him a favorite foil for legends including Mark Knopfler, Eric Clapton and Peter Frampton.
Cashdollar is a lap slide ace that excels at playing give and take as well, having worked with the likes of Bob Dylan, Van Morrison and Rod Stewart. She garnered five Grammy awards with the western swing group Asleep at the Wheel, and in 2011 she was the first woman to be inducted into the Texas Steel Guitar Hall of Fame.
Landreth says: "The show with Cindy is all collaborative and we cover a lot of ground. National made her a baritone resonator that sounds awesome. She also has a lap slide and a Dobro. I play a Beltona resonator that Mark Knopfler gifted me around 1996 on the beginning of the set, and then I'll switch to electric guitar as the night progresses.
"I keep one in G, and then I have a Stratocaster with a Hipshot Trilogy tuning bridge that allows me to flip back and forth through a few different tunings. It's really cool to combine all that. We cross over a lot of genres and have developed a special chemistry. We lean mostly on roots and blues material, plus some originals as well."
Watch Sonny Landreth and Cindy Cashdollar play "Walking Blues" from October 2022…
All in all, this show is an absolute must see for fans of steel on steel. If you're planning to be in or around the San Francisco Bay Area on the second day of March, call a friend and make plans to be present.
Tickets are cheaper when you buy 'em in advance, and the show of support is much appreciated.
Get yours now here.
WIN TICKETS!
For a chance to win a pair of tickets to see GP Presents Sonny Landreth and Cindy Cashdollar send an email to gp@jimmyleslie.com with "Sonny and Cindy" in the subject and simply include a sentence about yourself and why you want to go.
Phone contact greatly appreciated for confirmation.
Winner must provide his or her own transportation to the Freight & Salvage in Berkeley, California on Thursday, March 2, and have his or her own accommodations in the Bay Area.
Best of luck!
EVENT DETAILS
Guitar Player Presents Sonny Landreth and Cindy Cashdollar
Thursday, March 2
Freight & Salvage
2020 Addison Street, Berkeley, CA 94704
8:00pm; All Ages; Health & Safety Info
Free GP magazines, Martin strings
More info: info@freightandsalvage.org
All the latest guitar news, interviews, lessons, reviews, deals and more, direct to your inbox!
Jimmy Leslie has been Frets editor since 2016. See many Guitar Player- and Frets-related videos on his YouTube channel, and learn about his acoustic/electric rock group at spirithustler.com.