Cindy Cashdollar Explains the Evolution of the Steel Guitar
The slide master talks favorite guitars and why gaining acceptance as a female in the industry can still be a little tough.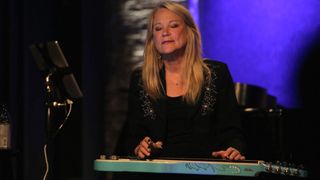 (Image credit: Al Pereira/Getty Image)
As one of the world's top-call Dobro slide and non-pedal steel players, Cindy Cashdollar has worked with Bob Dylan, Van Morrison, Asleep at the Wheel, Ryan Adams, Rod Stewart, Leon Redbone and many others. Considering the range of musicians she's performed with, it's no surprise that she's equally at home playing country, blues, rock, folk and Texas swing. In addition to being an amazing sideman, she can shred like the best of them.
When did you start playing slide?
I started playing guitar when I was in sixth grade, and then I heard somebody playing Dobro, and I liked it. So I took up Dobro when I was about 19 or 20. There were these mini music festivals that you could go to on this woman's farm outside of Woodstock, [New York], and the Paul Butterfield Blues Band would be playing. That really made an impression on me. There was also a lot of bluegrass, country and folk at those shows.
Can you explain the evolution of the steel guitar?
A lot of folks refer to it as a Dobro, but that's a bit confusing, because Dobro is a patent name. The steel guitar was developed [by Joseph Kekuku near the end of the 19th century] and used to perform Hawaiian music. Acoustic blues musicians began to follow suit by using a slide to fret their strings. Then the pickup was invented, and the six-string lap steel became prominent.
And then they just kept adding strings. A non-pedal steel guitar has necks in different tunings, and you're constantly switching between the necks for the tuning that you need. So the instrument went from a six-string neck to an eight-string neck, and then to a double-neck and a triple-neck. There's even been a four-neck non-pedal steel. It's like a coffee table! My triple-neck steel has a three-way pickup switch, so I can switch necks right in the middle of a solo.
What are your favorite guitars?
I've got a bunch of different kinds of slide guitars, both electric and acoustic six-string, and I just love them all for different reasons. I've got the funky old Stella square-neck six-string and an old metal-body National Tri-Cone. I had a double-neck non-pedal steel – a six-string Asher lap steel. They were made in the '20s, and they have a hollow neck. It's a really beautiful sound, almost like a baritone. I'm also really fond of my new lap steel made Harvey Citron of Citron Guitars
Do you have any female steel-guitar influences?
Marion Hall was the first steel player that I was aware of – a female playing all that cool, western-swing rockabilly back in the '50s and '60s. Marion told me, "I always showed up on time, I was always in tune, and I always played to the singer." Those were her three rules.
I still think it's a little tough getting acceptance as a female in the business. You have to have your shit together, or you have to show that you're willing to work hard. When [Asleep at the Wheel front man] Ray Benson heard my demo tape, he said, "Well, I can tell you're a Dobro player, but I'll give you six months." He saw that I was trying so hard and working my ass off, and I think the rest of the band did, too. They knew I was serious.
Buy Cindy Cashdollar's Waltz For Abilene here.
All the latest guitar news, interviews, lessons, reviews, deals and more, direct to your inbox!